Summary: On Friday, crypto long positions worth north of $500mn were liquidated, as fatigue spread in the crypto market. Not helping was speculation that exchanges may be forced to censor certain transactions on Ethereum in the future. Speaking of transactions, the demand for them on Bitcoin and Ethereum has decreased significantly, weakening the fundamentals of particularly Ethereum.
---
Traders standing in line to be liquidated
The crypto market, notably Ethereum, recovered partially in July and August until last week. From a low of 17,600 (BTCUSD) and 880 (ETHUSD) in June, Bitcoin and Ethereum surged to a local high of 25,200 and 2,030 on the 15th and 14th of August, respectively. Following new local highs, the market was seemingly becoming exhausted last week. Since then, Bitcoin has plunged by 15.6% to 21,270, whereas the Ethereum price has declined by 23.3% to 1,565. On mainly Friday, crypto derivative exchanges saw red. On this day, long positions were liquidated worth a combined $562mn in 24 hours. This is almost as much as the day in June, when Celsius halted withdrawals, even though the market movement to the downside was larger in June. This means that the crypto market has been extremely leveraged to ride the uptrend the past month and that party came to a halt on Friday. It seems that traders have particularly leveraged Ethereum trades going into the merge.
Can exchanges censor certain Ethereum transactions?
Two weeks ago, the US sanctioned the most used mixer on the Ethereum network called Tornado Cash. The latter has often been linked to money laundering; however, it was frequently used by private individuals to engage with the Ethereum network privately. The Tornado Cash protocol cannot by default be shut down, since it is a smart contract, so the sanctions involve that no US person or entity is allowed to engage with transactions originating from Tornado Cash. Afterward, speculation arose about what could possibly be next in line to be sanctioned. The ultimate sanction could be to censor certain Ethereum transactions, thus possibly shutting down the Tornado Cash protocol for good.
At the moment, it would not be possible for governments to directly censor such transactions, however, it might be possible for them, as soon as Ethereum adopts proof-of-stake instead of a proof-of-work framework in the middle of September, known as the merge. This is because the majority of the Ether staked, hence Ether used to verify transactions, is done through exchanges or other intermediaries by clients handing over their Ether to these companies for them to verify transactions on Ethereum. For instance, Coinbase handles close to 15% of the total amount of Ether staked. Governments can technically make Coinbase adhere to such sanctions by ensuring it does not verify transactions related to Tornado Cash on a network level. Without going into too many details, in our opinion, it is very unlikely that this will occur, both from a societal and technical point of view. Yet, if it in reality occurs, then everything in the industry is at risk since the main selling proposition is full decentralization without intermediaries. In case certain transactions are ruled out from the network, we need to look ourselves in the mirror and ask if this industry has then anything to offer at all. The speculation in this matter did arguably contribute negatively to the price development of Ethereum in the last week.
Brian Armstrong, Coinbase's co-founder and CEO, commented on this on Twitter last week. Here, he said that Coinbase would possibly exit its staking operations if governments came to enforce the sanction of transactions on-chain, as Armstrong stated, "to focus on the bigger picture" by keeping Ethereum decentralized. If all staking providers do this, then it will presumably not be a problem, as the network will be kept online by solo stakers.
When prices drop, fees follow suit
For the majority of the year, the crypto prices have been on a downward trajectory. Transaction fees paid on particularly Bitcoin and Ethereum have followed suit. In November last year, Bitcoin generated around $500,000 - $1mn in fees daily, while Ethereum set at around $50mn - $80mn in transaction fees daily. Now, Bitcoin averages around $150,000 - $300,000 daily, while Ethereum sits at around $2mn - $3mn daily. This emphasizes that most activity on Bitcoin but primarily Ethereum is highly speculative and strictly linked to the prices of cryptocurrencies.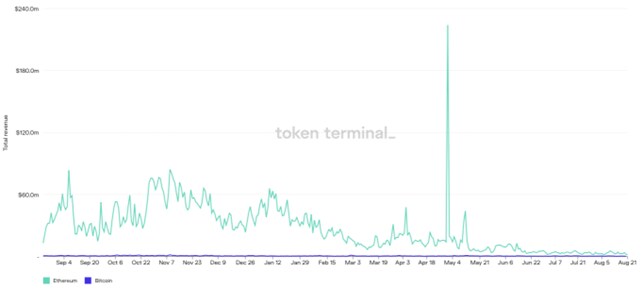 For Bitcoin, there are no direct consequences of lower total transaction fees in the near term. However, it might have consequences in the next decades, since the network might not be able to sufficiently compensate miners. For Ethereum, the lower transaction fees result in less Ether burned, effectively meaning less is removed from the supply. This makes the fundamentals of Ethereum weaker. For instance, Ethereum has for the past year burned 4.71 Ether per minute from transaction fees, whereas it has only managed to burn 0.89 Ether per minute in the past 30 days.