Dutch TTF Gas is resuming uptrend taking out July peak testing the 0.618 Fibonacci retracement at around €242.75.RSI has broken its falling trend and is likely to trade out/cancel the divergence since mid-July.
If Dutch gas closes above the 0.618 retracement the 0.764 retracement at around 281.82 is next level likely to be reached. The upper rising trend line is likely to be reached and possibly broken in a gas price that seems to accelerate.
To reverse the uptrend a close below 187.50 is needed.
However, a correction over the next couple of days is not unlikely given the Spinning Top Candle formed yesterday. IT is often a top and reversal indicator but needs to be confirmed by a bearish candle the following day. IF Dutch Gas closes above its peak the potential top and reversal is demolished.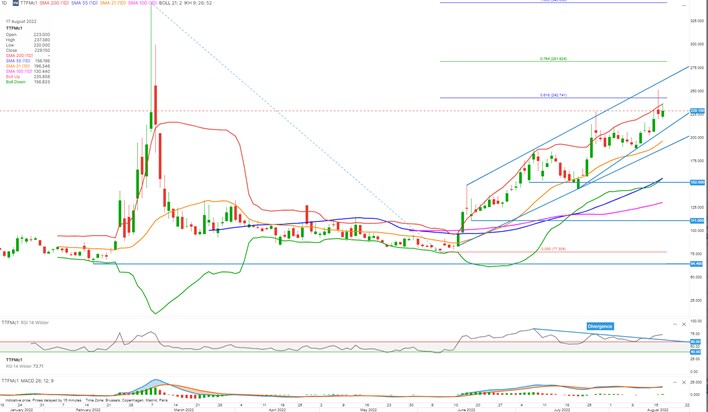 Henry Hub Gas has taken out resistance at the 0.618 retracement at around $8.90 and now also 0.764 retracement indicating previous highs at $9.66-9.75 are likely to be tested. If Henry Hub Gas closes above previous highs new price targets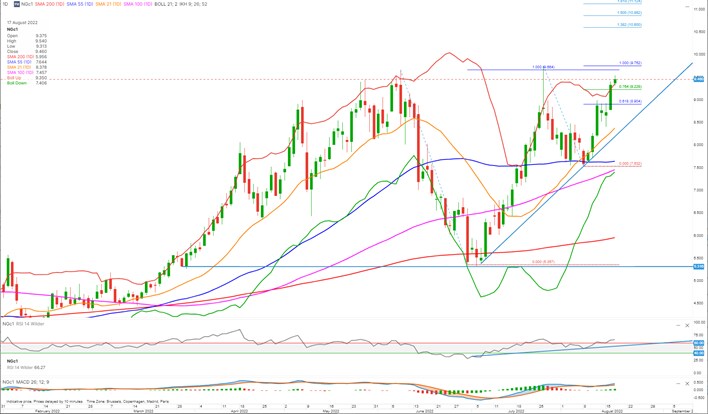 Brent Crude oil continue its downtrend closing in on support at around $90. RSI is testing previous lows. There is divergence indicating a weakening of the downtrend but if RSI makes a new low the $90 support could be broken. Next support would be at around the 0.764 retracement at 85.76
To set the downtrend on pause a close above 100.38. That will most likely not reverse the trend but merely just put it on pause.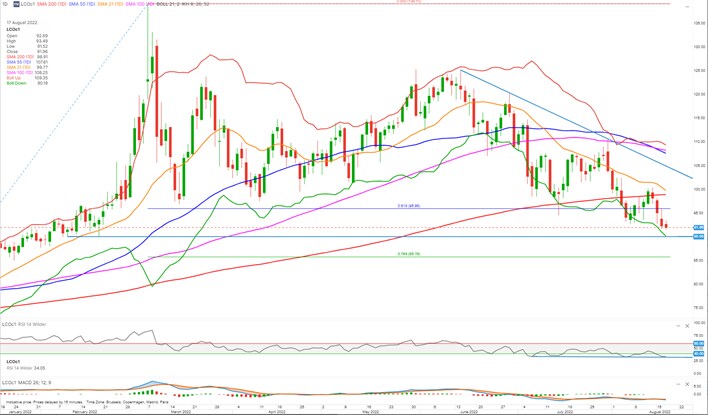 WTI Crude oil was rejected at the short-term falling trendline and is now back below the 0.618 retracement. Next support at 81.90. There is divergence on RSI indication the downtrend is weakening. However, if RSI closes below
If WTI closes back above the 200 SMA i.e. above $95 thereby also breaking above the short-term falling trendline, a larger correction to around 105-110 is likely.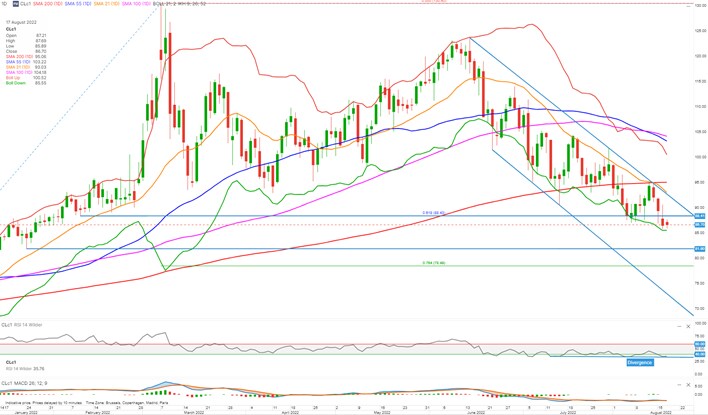 Carbon Emissions broke its falling trendline last week and has now also broken above resistance at 92.75 closing in on its all-time high just below €100. RSI is entering over-bought territory but there is no divergence indicating higher levels (above 100) is likely. However, do expect a correction from just below previous highs.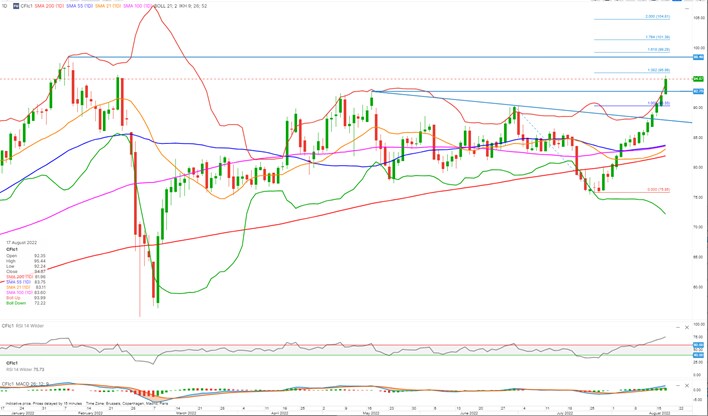 Source: Technical Update - Natural Gas powers higher. Oil downtrend weakening, close to and end? Carbon Emission close to all-time highs