According to the World Health Organization (WHO), as of 2021, there were a total of 90,498 confirmed cases of COVID-19 in China. However, it is important to note that this figure may not reflect the full extent of the outbreak in China, which could have been far greater. As a result, Chinese authorities have imposed a number of restrictions that may have affected population mobility.
Among the measures taken by the Chinese government were the imposition of quarantine for people traveling from places where there was a high incidence of infection or which were considered outbreaks, the closure of borders to people traveling from abroad, the introduction of mandatory wearing of protective masks in public places, the closure of schools and universities and other educational institutions, the restriction of movement between cities and towns, the suspension of all mass public events and parties, or the suspension of cinemas, theaters and other cultural institutions. These and other measures have been put in place to limit the spread of the virus. Due to the restrictions, demand for oil in China has fallen by about one million barrels this year, according to Rob Thummel, portfolio manager at Tortoise Capital.
Read next: India's Investing In Program For The Green Hydrogen Industry | Covid Situation In China Is Getting Serious| FXMAG.COM
"The factor that will drive China's oil demand higher will obviously be the reopening of the economy, but more importantly, the building of inventories," - Thummel said. "Oil stocks around the world are low, and I think the world has figured out that energy security is quite important," - Thummel added. "So that's going to be a big driver in both China - and India - going forward, and it's going to drive demand growth going forward. And once again, it's likely to drive prices up," added the portfolio manager at Tortoise Capital.
China reduces restrictions
China announced Monday that it will end quarantine requirements for incoming travelers starting Jan. 8, raising the demand outlook for the world's largest oil importer. On the supply side, more than 30% of Gulf Coast refining capacity in Texas has been shut down in recent days due to winter storms, according to Bloomberg. The prospect of a production cut by Russia could also support oil prices, as the country may reduce output by 5% to 7% in early 2023 in response to price caps imposed by Western countries, RIA news agency reported, citing Deputy Prime Minister Alexander Novak.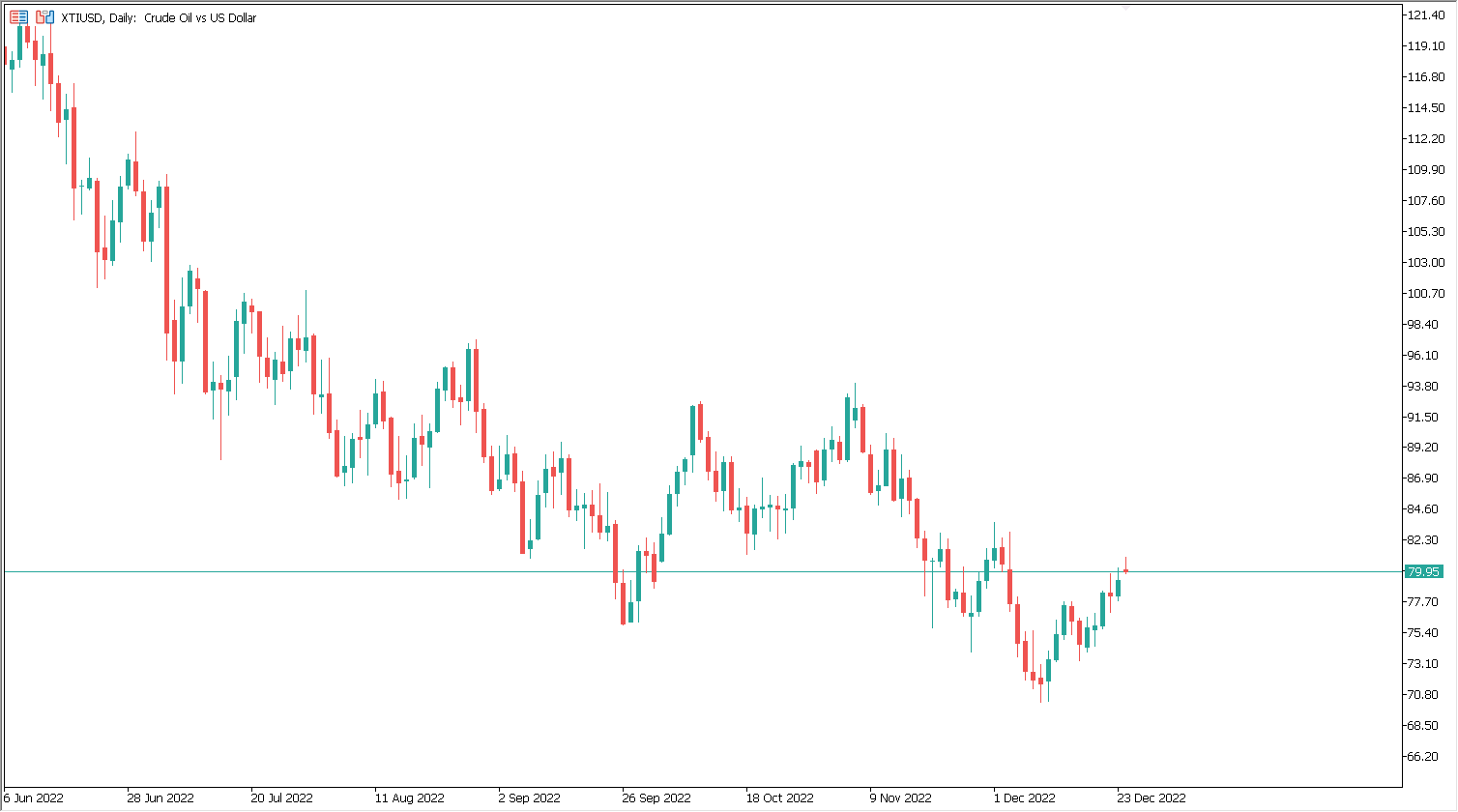 Source: Conotoxia MT5, XTIUSD, Daily
Tuesday morning, WTI crude oil futures remain in the region of $80 per barrel. Meanwhile, investors may remain cautious about the growing risk of a global recession next year, as major central banks may further tighten monetary policy. This, in turn, could depress oil demand.
Daniel Kostecki, Director of the Polish branch of Conotoxia Ltd. (Conotoxia investment service)
Materials, analysis and opinions contained, referenced or provided herein are intended solely for informational and educational purposes. Personal opinion of the author does not represent and should not be constructed as a statement or an investment advice made by Conotoxia Ltd. All indiscriminate reliance on illustrative or informational materials may lead to losses. Past performance is not a reliable indicator of future results.
CFDs are complex instruments and come with a high risk of losing money rapidly due to leverage. 75,21% of retail investor accounts lose money when trading CFDs with this provider. You should consider whether you understand how CFDs work and whether you can afford to take the high risk of losing your money.