Brent Crude oil has broken above its short-term falling trendline and seems to start reversing the down trend trading around the 0.382 retracement level at USD104.38. Next key resistance is 110.67-112.32, the latter is the 0.618 retracement of the June-August Bearish move. A close above those levels 120-125 is in the cards.
If Brent oil drops back below the falling trend line the uptrend is likely to be reversed. If closing below 98.14 it is reversed and 90 is likely to be tested.
RSI is still below 60 and needs to close above to underline the uptrend.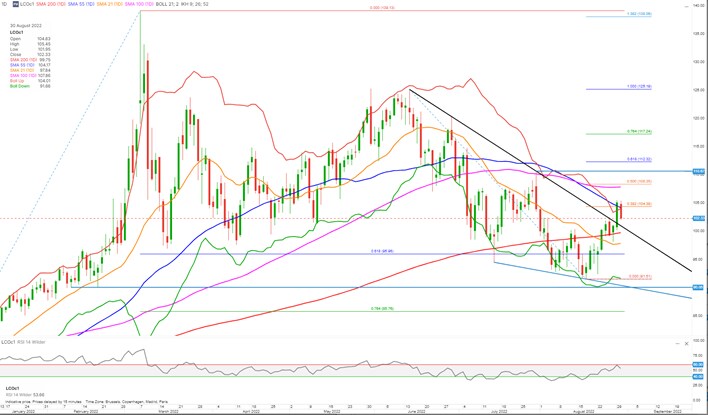 On the weekly chart we can see that Brent Oil retraced 0.382 of the bullish trend since 2020. RSI is testing its falling trend line and a close above is an indication of Brent resuming its medium- to long-term uptrend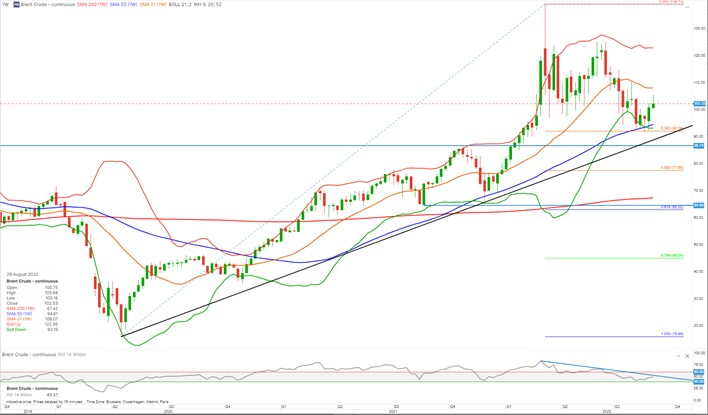 WTI Lights Sweet Crude oil that broke out of its falling trendline last week is now in a confirmed uptrend (higher highs and higher lows). However, RSI has not yet confirmed the trend by closing above 60. Resistance at around USD100.23. If buyers can lift WTI above that level the big test is can it move above 55 and 100 SMA's. If that scenario plays out a move to 0.618 retracement at around 109.18 is likely.
If WTI closes below 91.13 the downtrend is likely to resume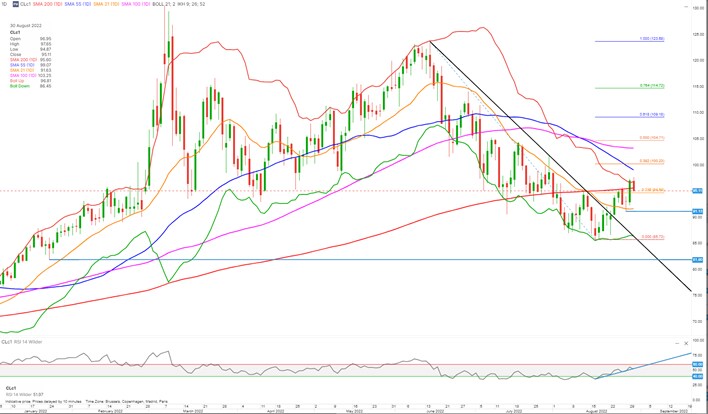 WTI only retraced around 0.236 of the 2020 extreme low (where WTI oil went to minus 40.32) till (so far) 2022 peak. RSI is still above i.e. in positive sentiment and could test its falling trend line with in a week or so.
If WTI loses steam and closes below 85.41 a bearish move to 75.27 and even 65.25 could be seen.
Dutch TTF gas has peaked out a few Euros below previous peak at EUR345 – at least short-term - and has since retraced. A correction down to around 240 which is the 0.382 retracement level and a test of the short-term rising trendline is likely. However, a correction down to test the medium-term (black) rising trendline is not unlikely before uptrend quite possibly resumes.
RSI is at the time of writing below its rising lower trend line but there is no divergence indicating we could see higher price levels in coming weeks.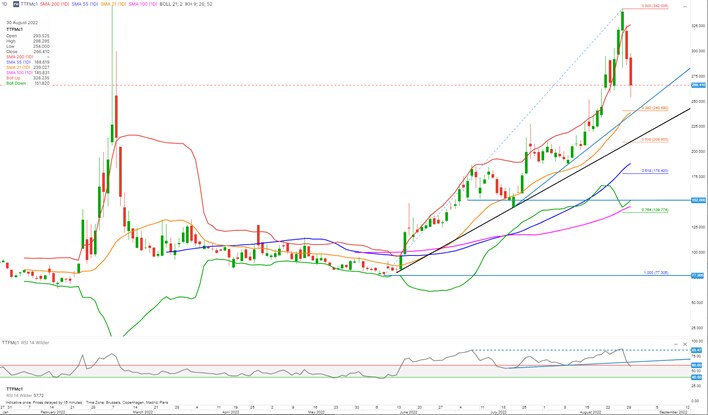 Henry Hub Gas is having trouble closing above USD10 and could be set for a correction. If breaking the steep rising trendline and drops below 8.87 a correction down to 8.23 is likely but could spike down to around 7.68-7.55 key support.
RSI is at the time of writing breaking below its rising trendline and if closing below it support the correction picture. However, there is no divergence on RSI indicating higher levels after a possible correction.
Source: Technical Update - Oil breaking falling trendline, building uptrend. Gas rejected at previous peaks but higher prices are in the cards