Why do we voluntarily disclose our clients' loss ratios?
Why rather click on an ad from a brokerage firm that states that 70% of their clients' accounts are loss-making than an ad from a broker that does not disclose this statistic at all? Come with us to delve into the ins and outs of broker licensing and learn what protections you are legally entitled to as a client.
Broker's licence
The operation of a brokerage company involves many minor acts anchored in legislation. From the operation of the broker as a firm with employees; arranging the opening of client accounts to handling client deposits and managing the online platform through which clients trade. For all of this, a broker needs a license. While this can be issued by almost any state authority, licences of some states are more desirable than that of others. And that is due to variety of reasons.
Licenses issued in so-called offshore states allow brokers to provide their clients with very attractive trading conditions. For example, the financial leverage that allows a client to multiply his or her trading position and with it also potential earnings (as well as losses) can often go as high as 1:1000 for offshore licenses. However, when it comes to client protection, offshore licenses fall somewhat short.
Client protection takes many forms and one of them is the wording of the mentioned disclaimer. Thus, if you see a disclaimer below the image of an advertisement that does not state the percentage of loss but only somewhat vaguely warns of the potential risk, it is very likely that the broker to whom the advertisement belongs has an offshore license.


Image: Purple Trading banner ad (see disclaimer below the button)
What is a disclaimer
The short phrase "XY% of client accounts lose money" and its other small permutations, which you can see for example under our online advertisements, are part of the so-called disclaimer. The disclaimer takes many forms, from a single sentence under a banner ad on Facebook to a multi-paragraph colossus in the footer of the broker's website.
The purpose of the disclaimer is simple - to highlight, to those interested in trading on financial markets, the potential risks of this activity and to disclaim broker's responsibility for their client's eventual failure. However, the overall message of the disclaimer might be written differently. Because sometimes we see loss percentages under the advertisement of Broker A, while Broker B's disclaimer merely tells us that trading is risky. No percentage, nothing more.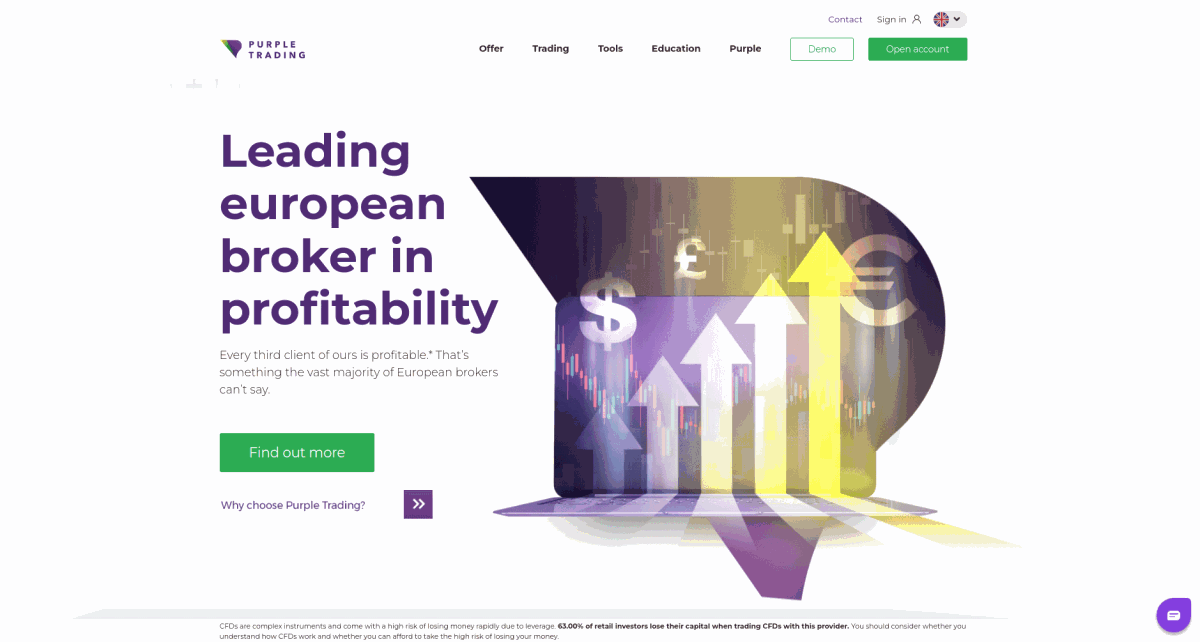 Image: Sample of a shorter disclaimer on the broker's page
Offshore vs EU license
The European Union's legal environment is characterized by a much stricter regulatory approach. This applies to the control of pharmaceuticals, and foodstuffs, but also, for example, to the control of brokerage companies. This sector is dealt with by ESMA (European Securities and Markets Authority), to which the regulators of all countries within the EU have to answer (including the regulator of Purple Trading, the Cypriot CySEC).
It is ESMA that takes it upon itself to protect consumers (in this case, investors and retail traders in the financial markets). And it does so in all sorts of ways. The aforementioned client account loss ratios on brokers' marketing materials are one of them.

Other ESMA protections include:
Reduced financial leverage
Financial leverage is the ratio of the amount of capital a trader puts into an account to the funds provided by the broker. In simple terms, it is essentially borrowed capital from the broker, which is not reflected in the balance of money in your account, but allows you to trade a greater volume of transactions than you could with your own money.

More experienced traders can use leverage to increase their profits many times over. However, as well as profits, leverage also multiplies losses, so less-experienced traders should be wary of using leverage generously. That's also why ESMA capped leverage limit for retail clients at 1:30 in 2018, and higher leverage (up to 1:400) can only be provided by brokers to clients who have met a number of strict criteria to qualify as a so-called Professional Client.


Protection against negative balance A key aspect of client protection. If a client's trade that he had "leveraged" fails and the multiplied loss puts him in the red, the broker will pay the entire amount that is "in the red" from his pocket. Thus, the client can never lose more money than he has deposited in his account and consequently become a debtor.

Negative balance protection is compulsory for all brokers operating in the EU. It is not compulsory for offshore brokers, which, combined with the high leverage offered there, can lead to very unfortunate situations.


Segregation of client deposits Forex and online trading, in general, has come a long way since its beginning in 2008. Especially in the early days, the online trading environment was highly unregulated and it was not uncommon for brokers to use capital from client deposits to fund their operations. More than that, there were also cases where the client's capital was outright misused to enrich a select few.

Brokers operating in the EU are obliged to secure clients' funds in many ways. One is depositing client capital in accounts segregated from the capital brokers use to finance their operations.
What if the broker fails to provide his clients with these guarantees?
Brokers subject to such strict regulatory authorities as CySEC (cypriot based regulator under ESMA) must undergo regular audits. As part of these audits, the regulator monitors whether all the measures resulting from the licence granted by the regulator are being complied with. Should this not be the case, the broker is usually subject to a hefty fine and often even the suspension of its licence. This means that broker cannot really afford not to comply with the client protection principles of the EU regulatory environment.
Conclusion
Voluntary disclosure of client account loss rates under broker advertisements may seem odd. However, it is a positive signal that lets you know that the broker in question is highly regulated. Therefore, if you choose to trade with them, you are protected by a number of legislative regulations that the broker will not dare to violate.
See which EU broker has the best disclaimer number