Summary: Global earnings are down 10% from the peak and we expect more weakness during the Q2 earnings season as companies are still under margin pressure from higher energy prices, rising wages, supply chain disruptions, and high logistics costs. Our key focus during the earnings season is the energy sector which still enjoying big earnings growth due to rapidly rising energy prices. In today's equity not we are also zooming in Micron Technology's disappointing outlook and what it means for the technology sector.
---
Earnings expectations are not reflecting reality
The Q2 earnings season starts in two weeks and will likely be dramatic following the worst first half of a year in US equities since 1970. Earnings in the MSCI World Index are down 10.8% since the peak in Q2 2021 and we expect earnings to continue lower in Q2 2022 as the main theme remains margin pressure driven by higher energy prices, elevated logistics costs, wage gains, disrupted supply chains driving up inventory levels, and an economic slowdown due to lower consumer confidence. EPS expectations are still too high with MSCI World EPS estimate 12-month forward being $176.31 which is 14% higher than the current earnings. With margin pressure coming no matter whether the world slips into a recession or inflationary pressures persist due to commodity prices and wages it seems unlikely that these estimates can be met by companies. Equity valuations have come down but are still above their long-term average which is still out of touch with where financial conditions are and thus underscoring that expectations remain too elevated. This increases the downside risks going into the Q2 earnings season.
We expect sectors such as communication services, information technology, consumer discretionary, industrials, utilities, and real estate to be the hardest hit sectors while we expect strong results from the materials, energy, consumer staples, and health care sector. Financials are likely mixed due to a mix of factors such as economic slowdown and widening credit spreads, while on the positive side interest rates are coming up and thus also net interest margin.
The energy sector is our key focus during the earnings as energy prices and Chinese equities have been the best two pockets in financial markets in Q2. Earnings in the global energy sector have come back to the levels before the energy sector crisis of 2015 and despite special taxes being applied on the sector in various countries, we expect profitability to rise in Q2 and attract more inflows as the global energy sector remains very cheap relative to cash flows and dividends.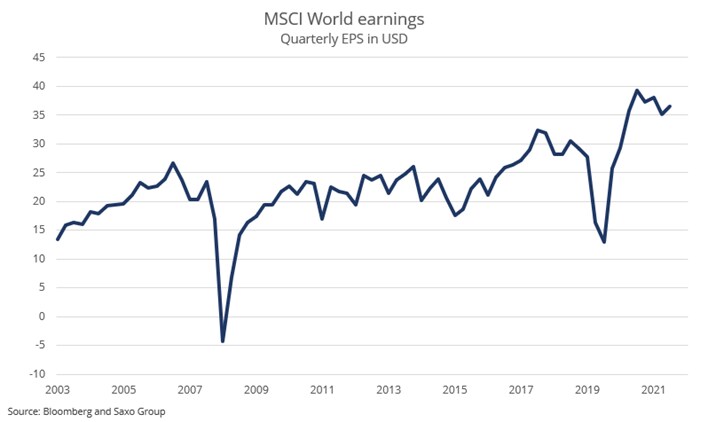 Earnings in MSCI World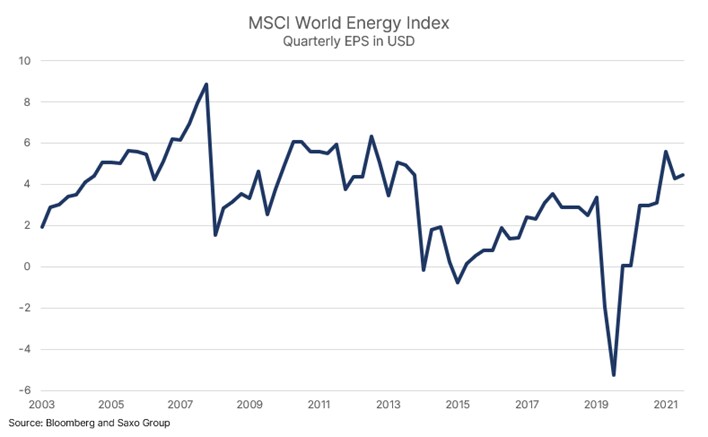 Earnings in the MSCI World Energy Index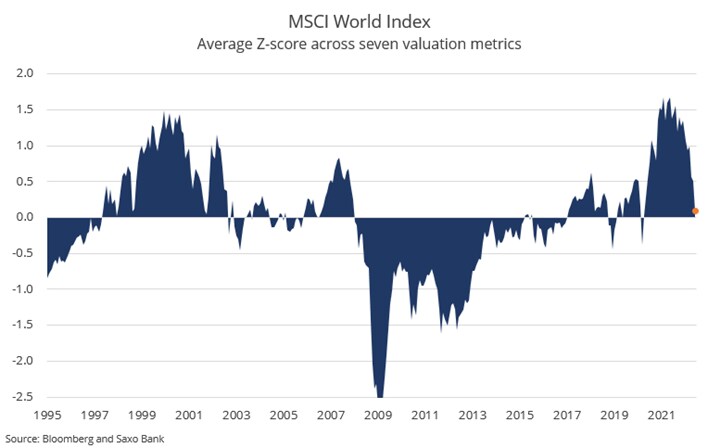 Equity valuation
Micron sends a warning signal for investors
Micron, the memory chip manufacturer, put out a disappointing outlook last night with Q4 revenue guidance (ending 31 August) of $6.8-7.6bn vs est. €9.1bn expected driven by material weakness in the global smartphone and PC market. Micron is expecting 130mn less smartphone units this year than previously estimated and the company also expects the PC market to decline by 10% this year. Shares were down 2% in extended trading reflecting that the market had already anticipated the majority of the weakness in the guidance underscoring that it is sell-side analysts that are way behind relative to reality.
Micron's outlook is also reflecting that the technology sector has now moved on to cut capital expenditures. The sector started cutting down on marketing expenses and then went on to lay off people, with layoffs accelerating in the past three months, before moving on to R&D and now also capital expenditures. The weak outlook is also well aligned with the low consumer confidence figures we are observing which are feeding through to consumer demand.
Micron Technology weekly share price | Source: Saxo Group
Source: Q2 earnings preview rosy expectations and energy focus | Saxo Group (home.saxo)