Summary: Disney has been through some tough years and over the past year the stock price has fallen significantly as investors are waking up to higher interest rates and a more negative outlook for video streaming. We take a look at Disney and what to expect tonight. The entertainment company has joined a group of fallen angels, which are companies that have experienced a significant drawdown and have negative total return over the past three years. Things will continue to be ugly for equities as long as inflation remains hot and financial conditions tighten.
---
Disney is back to square
It has been some turbulent years for Walt Disney reporting FY22 Q2 earnings (ending 31 March) tonight after the US market close. It announced its Disney+ video streaming service in April 2019 pushing the company's valuation much over the subsequent 9 months as investors were expecting a new distribution channel that could fuel growth. Then came the pandemic and Disney's physical assets went into a tailspin, but things improved for Disney driven by low interest rates (increasing equity valuations), and later the vaccine which sped up the reopening of society. Meanwhile the pandemic had turbocharged its subscribers for Disney+ delighting investors. Sentiment got supersized to the point where investors were willing to pay a little more than 70 times next year's earnings.
Read next: Tech Stocks Plunging!? Trade Desk Earnings Announcement Pushes Tech Giant Stock Down, Russian Ruble Strengthening and Ford Motor Co.
With financial conditions tightening significantly and video streaming being challenged (read our equity note on Netflix earnings outlook) Disney's equity valuation has come down to earth as a function of the stock price down 46.7% from its March 2021 peak. Tonight investors are expecting revenue of $20.2bn up 29% y/y as Disney is still gaining from base effects related to the reopening of societies, but the q/q growth is expected to by -7.8%. EBITDA is expected to be $4.1bn up from $2.7bn a year ago as the operating margin is expanding back to pre-pandemic levels. Given the recent outlook from technology and entertainment companies, Disney could surprise negatively tonight.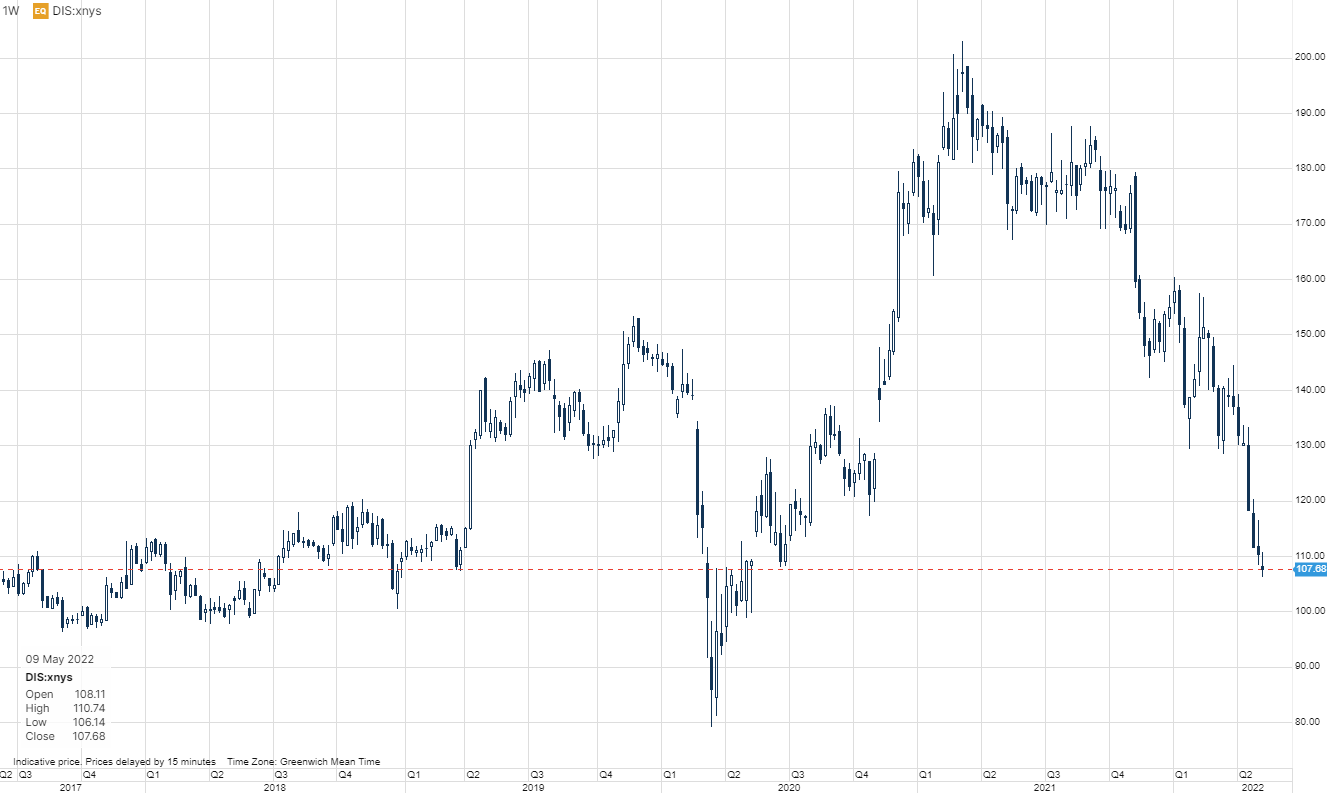 Source: Saxo Group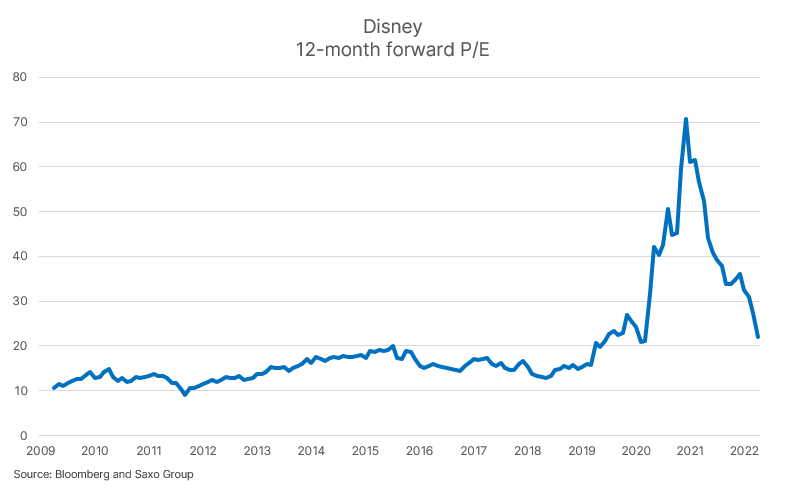 Almost 10% of S&P 500 is down over the past three years
Yesterday we looked at technology companies with large setbacks, but it got us to go deeper and the equity destruction is quite big when you broaden the lens. In the S&P 500 there are now 43 companies with a drawdown larger than 30% over the past 200 days and that are down on a total return basis over the past three years. As the table below shows there are some quite big names on that list such as Walt Disney, Comcast, Citigroup, PayPal, Starbucks, General Electric, Netflix, Boeing, Ecolab, and Illumina.
Read next: (BTC) Bitcoin's Price Tanks Along With Equities. U.S. Stock Market Awaits CPI Report, Poor Performance From The FTSE 100.
As long as financial conditions and interest rates move higher we remain defensive on equities and will continue to argue that investors need commodities to balance their portfolios. We have described in several equity notes that the period 1968-1982 was very bad for equities in real terms due to inflation. Time will tell whether we get an equally long period with zero real rate returns for equities, given the factors such as urbanization, green transformation (ESG), decade of underinvestment in the physical world, and deglobalization of supply chains to pandemic and lately Chinese Covid-lockdowns, inflation will remain high (3-5%). Forces the cost of capital higher and thus equity valuations down. While US equities have still delivered 40% real return since early 2019 the real returns are eroding fast at these inflation levels. Today's core CPI m/m print at 0.6% is suggesting inflation will remain elevated for quite some time eating into returns. For bonds the situation looks even more grim (see chart below) and investors are basically losing out on everything except for cash and commodities.
Source: Bloomberg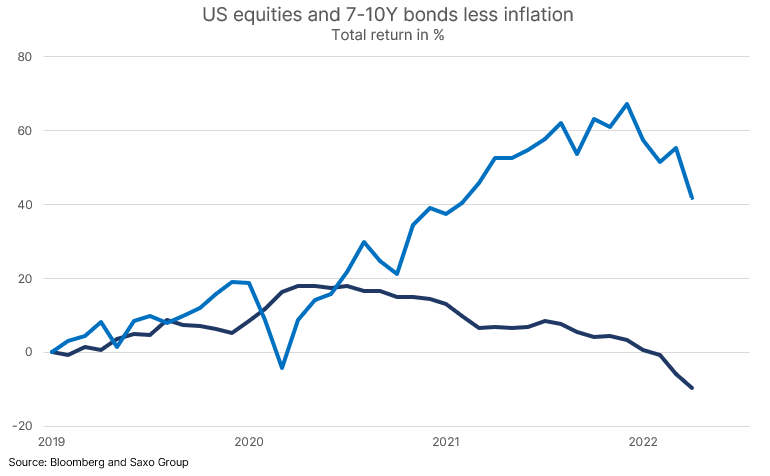 Source: Saxo Bank