Summary: Semiconductors have fallen from the pink skies as rising interest rates have compressed equity valuations making semiconductor stocks the fifth worst theme basket in our universe of themes. However, Samsung showed this morning in its Q2 results that things are maybe a bit less bad than feared, but the outlook comes with dark clouds and massive uncertainty. It does feel like it will get worse because it gets better for semiconductor. We still remain very bullish on semiconductors long-term due to the ongoing digitalization.
---
A horrible year
Semiconductors were a hot theme going into 2022 and one of our preferred equity themes based on long-term growth drivers such as electric vehicles adoption (EVs use 5x more semiconductors than normal gasoline cars), more datacenters, Internet of Things, and continued growth in consumer electronics. However, these rosy assumptions faced stiff headwinds this year from rallying bond yields compressing equity valuations in semiconductor stocks causing our semiconductor theme basket to decline 34% this year making it the fifth worst basket this year.
Samsung has reported preliminary Q2 results this morning and South Korean electronics maker reported KRW 77trn in Q2 revenue up 21% y/y and a 1% decline q/q from Q1. This was a bit better than expected, but operating income was KRW 14trn up 11% but lower than estimates of KRW 14.6trn suggesting cost pressures are larger than expected. While the market has rewarded Samsung for its Q2 results management sounded uncertain on the earnings call warning investors of immense challenges over its outlook due to inflation and the war in Ukraine. Samsung also said that consumers and enterprises are reducing their spending due higher interest rates and inflation are hitting disposable income.
Samsung's results show that the industry is still growing but that considerable downside risks exist and that it could get worse for semiconductors before its gets better. Long-term we remain very positive on the semiconductors industry as it is a pivotal industry for the continued digitalization of the world, which is a trend that will continue at full speed the next decade.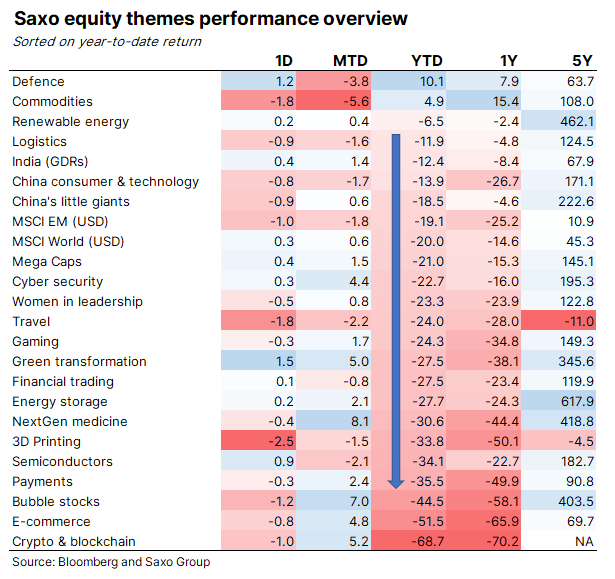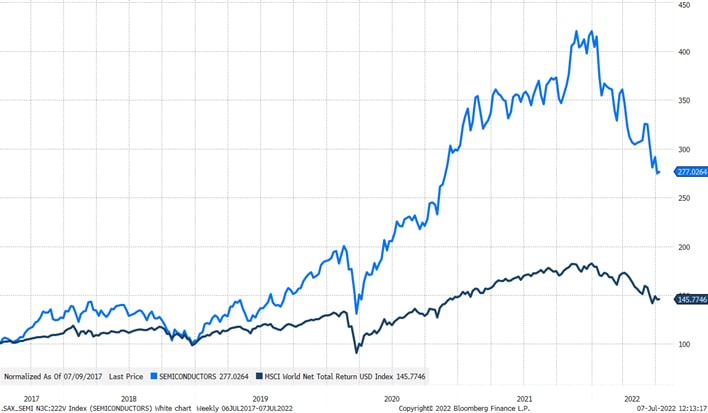 Saxo Semiconductor theme basket vs MSCI World | Source: Bloomberg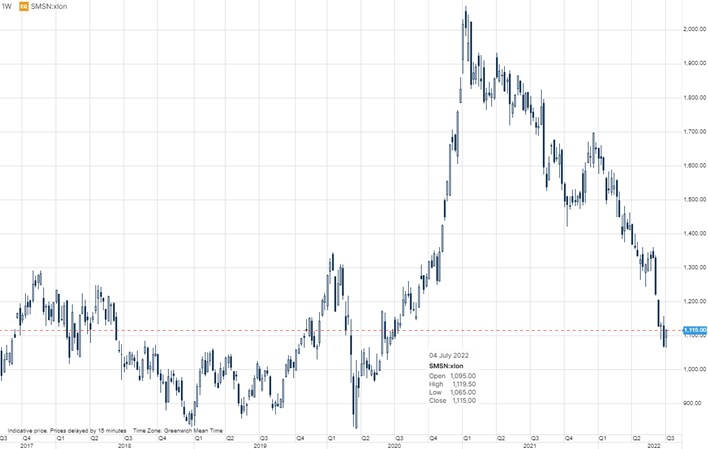 Samsung share price (London listing) | Source: Saxo Group
Source: Can Samsung Q2 results stop the bleeding in semiconductors | Saxo Group (home.saxo)