Summary: The Q1 earnings season is getting serious next week with earnings from Apple, Amazon, Microsoft, Alphabet, and Meta which not only be important for the overall equity market, but especially sentiment on technology stocks as preliminary data suggest that technology companies are seeing a less impact on margins compared to MSCI World. On Friday we get important earnings from Exxon Mobil and Chevron were hopefully both oil majors will increase their capex for 2022.
---
Can Nasdaq 100 solidify its minimal impact on margins?
The Q1 earnings season kicks into its highest gear next week with earnings releases from the major US technology/consumer companies with the heavyweights such as Microsoft, Alphabet, Visa, Meta, Apple and Amazon stealing the show. Outside the technology and consumer sectors, the Friday's earnings releases from Exxon Mobil and Chevron are important for tracking capex plans for 2022 because the world economy desperately needs more investments in energy.
The preliminary data on Q1 earnings show that net profit margins are rolling over in the S&P 500 and MSCI World while holding up for the Nasdaq 100. This is a key thing to watch next week when the major US technology companies are reporting earnings, because profit margin insulation for technology amid galloping inflation could be a game changer for sentiment on the US technology sector. EPS growth in Q1 q/q is also only positive right now for Nasdaq 100 while down for the MSCI World and S&P 500. While profit margin insulation for technology companies could become the new hot topic and what drives a comeback for technology stocks, the opposite force at play are rapidly tightening financial conditions and discount rate on cash flows.
One thing is for sure, we are in for a very exciting next week as there are also mounting pressures coming from the strengthening USD and more bottlenecks in our global supply chain due to lockdowns in China.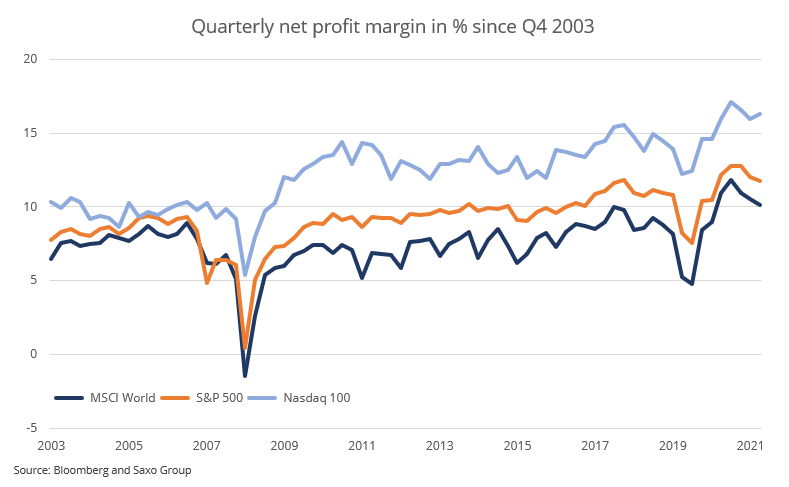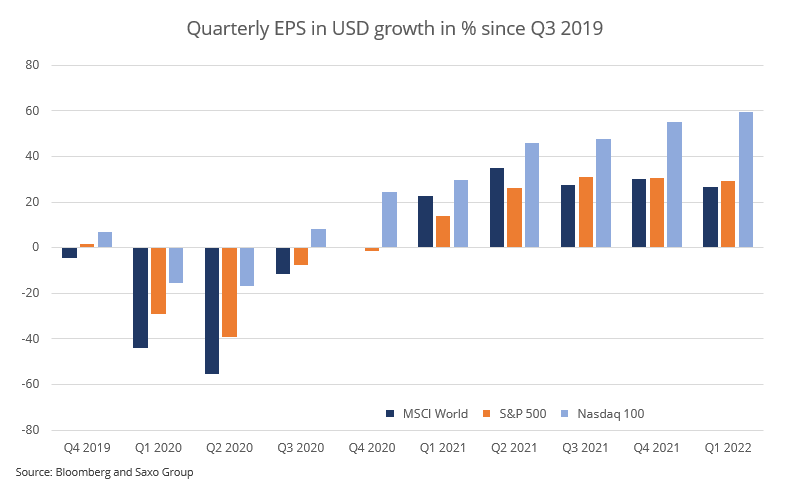 The list below shows the most important earnings releases out of the almost 600 earnings releases next week in the earnings universe we cover.
Monday: Deutsche Boerse, Philips, Coca-Cola, Activision Blizzard, Cadence
Tuesday: Kweichow Moutai, Ganfeng Lithium, First Quantum Minerals, Tryg, FANUC, Canon, HSBC, Banco Santander, Iberdrola, Atlas Copco, Novartis, UBS Group, Kuehne + Nagel, Microsoft, Alphabet, Visa, PepsiCo, UPS, Texas Instruments, Raytheon Technologies, General Electric, Mondelez, Chubb, 3M
Wednesday: LONGi Green Energy, Teck Resources, DSV, Novozymes, Kone, Dassault Systemes, STMicroelectronics, Deutsche Bank, BYD, China Shenhua Energy, China Petroleum & Chemical, UniCredit, Keyence, GlaxoSmithKline, Lloyds Banking Group, Yara International, Iberdrola, Assa Abloy, SEB, Credit Suisse, Meta, Qualcomm, Amgen, Boeing, PayPal, ServiceNow, Ford, Southern Copper
Thursday: Nokia, Sanofi, TotalEnergies, Denso, Hitachi, Barclays, Nordea, Apple, Amazon, Mastercard, Eli Lilly, Thermo Fisher, Merck, Comcast, Intel, McDonald's, Linde, Caterpillar, Hershey, Twitter
Friday: ICBC, China Yangtze Power, Midea Group, WuXi AppTec, TC Energy, Imperial Oil, Orsted, Neste Danske Bank, BASF, China Construction Bank, Agricultural Bank of China, Ping An Insurance, COSCO Shipping, Eni, AstraZeneca, BBVA, Hexagon, Exxon Mobil, Chevron, AbbVie, Bristol-Myers, Honeywell, Colgate-Palmolive