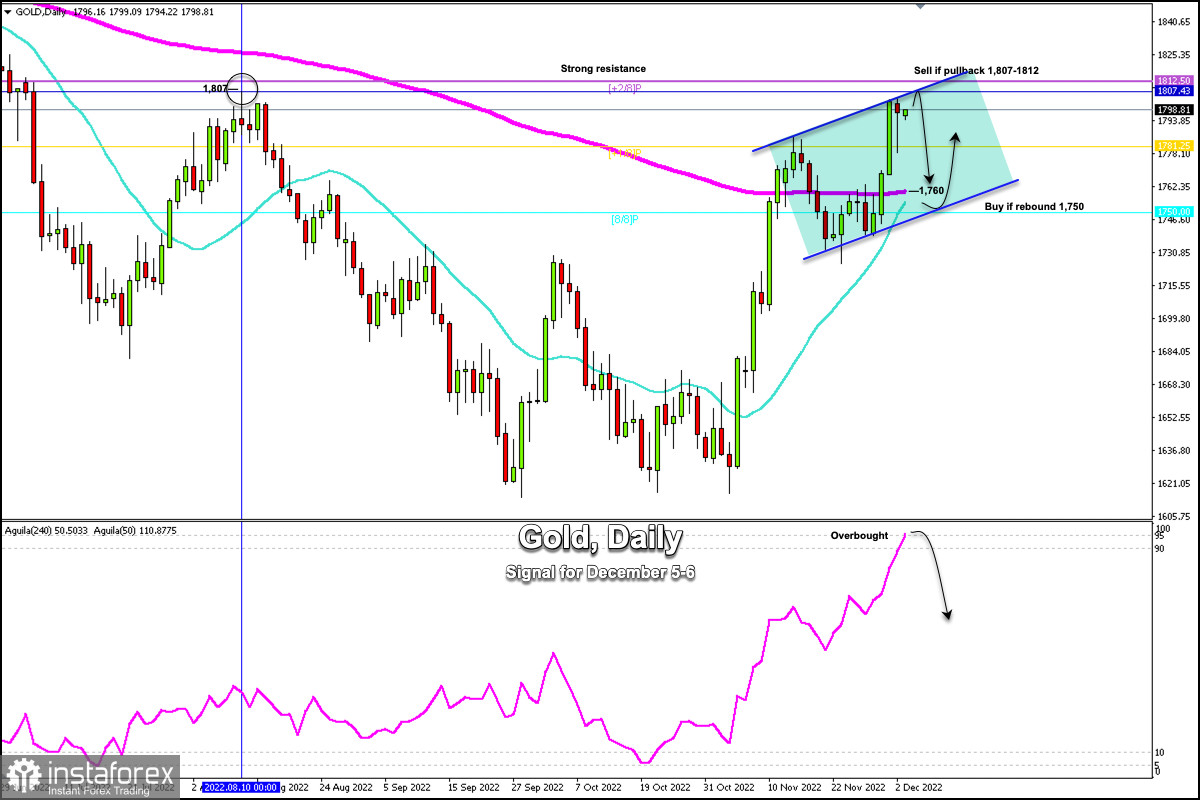 Early in the European session, Gold (XAU/USD) is trading around 1,798.81 with a bullish bias and it is likely that it could reach the August 10 high at about 1,807.
Last week's US Non-Farm Payrolls (NFP) report showed that the economy added 263,000 new jobs in November, above the consensus of 200,000.
At the moment of knowing this data, the market reacted in favor of the dollar, which caused a fall in gold towards the area of 1,780. The market expects the Fed to soften its monetary policy in the short term. Thus, the market reacted against it and stopped taking refuge in the dollar, which benefited gold.
Gold is likely to face a strong barrier this week, as it has strong resistance between the area of 1,807-1,812.
According to the daily chart, we can see that gold is reaching extremely overbought levels, so we expect gold to have a strong rejection around the area of 1,807 - 1,812. The last barrier around 1,812 is located +2/8 Murray and acts as strong resistance and also represents the high for the month of June.
In case gold falls below 1,812-1,807, we could have an opportunity to sell, with targets at 1,781 (+1/8 Murray) and the 200 EMA located at 1,760 (200 EMA).
On the daily chart, we can see that gold has been trading within an uptrend channel since November 19. The metal is likely to find resistance around 1,810 and the price could fall towards the support zone of 1,750. In case this scenario occurs, gold could find a technical bounce around the 8/8 Murray and then resume its bullish bias.
Our trading plan for the next few hours is to wait for gold to reach resistance levels around 1,807-1,812 and wait for a consolidation to occur below this level to sell, with targets at 1,781 and 1,760. The eagle indicator is showing an extremely overbought signal which supports our bearish strategy
Relevance up to 05:00 2022-12-10 UTC+1 Company does not offer investment advice and the analysis performed does not guarantee results. The market analysis posted here is meant to increase your awareness, but not to give instructions to make a trade.