Kim Cramer Larsson
Technical Analyst, Saxo Bank
Summary: Gold and Silver rejected at Fibonacci levels after bullish break out. Platinum in bearish mood but Palladium looks to building upside momentum. Copper range bound
---
Gold XAUUSD was rejected a few cents below the 2,000 mark and the 0.618 Fibonacci retracement. Uptrend is still intact however, RSI showing positive sentiment and no divergence indicating Gold is likely to resume uptrend after what is likely to just be a correction. Uptrend will be intact if we do not see a daily close below 1,913.
The longer term scenario on Gold expressed in our Quarterly Outlook is still intact . Read it here: https://www.home.saxo/insights Extract: Gold has formed what looks like a cup and handle pattern: B is the bottom of the cup and C is the handle.
The cup and handle pattern is confirmed if gold performs a daily close above peak A at $2,078. If this scenario plays out, we can then calculate possible targets. As a minimum gold should reach 1.618 projection of the handle height—in other words, a price target of around $2,328. Based on the full cup the price could potentially reach 1,618 projection of the distance between A and C—around $2,578. If demand deteriorates and gold breaks below $1,673 (the bottom of the handle), this cup and handle scenario is busted and a downtrend will unfold towards $1,500-1,350.
Source: Saxo Group
Silver XAGUSD rejected at the 0.764 retracement. Further down side to touch the 55 SMA i.e. down to around 24.65 is quite possible before XAGUSD is likely to resume uptrend. RSI still positive sentiment and no divergence support the bullish Silver scenario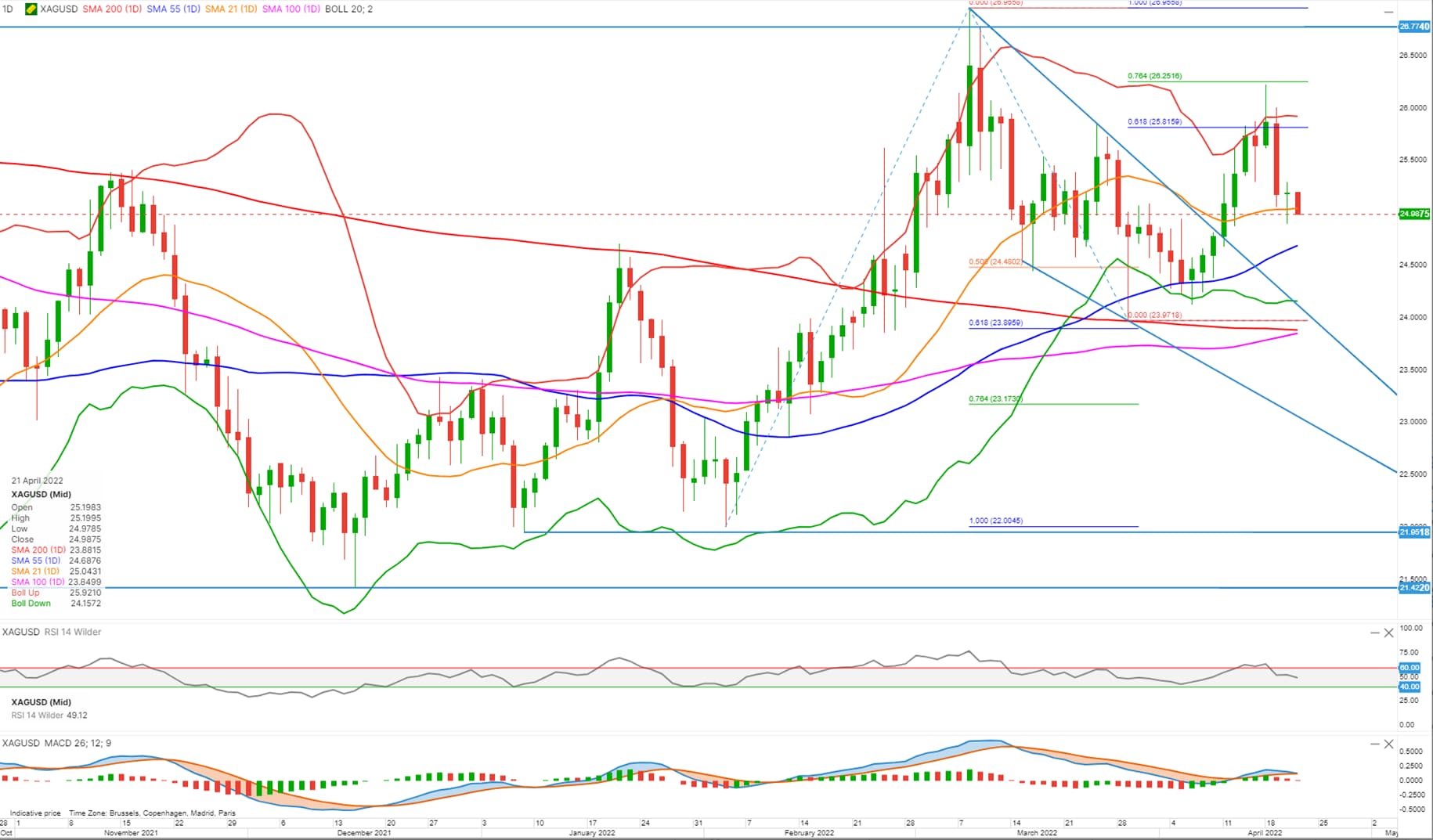 Source: Saxo Group
XAUXAG Gold/Silver ratio keeps trading in months long symmetrical triangle pattern. Wait for breakout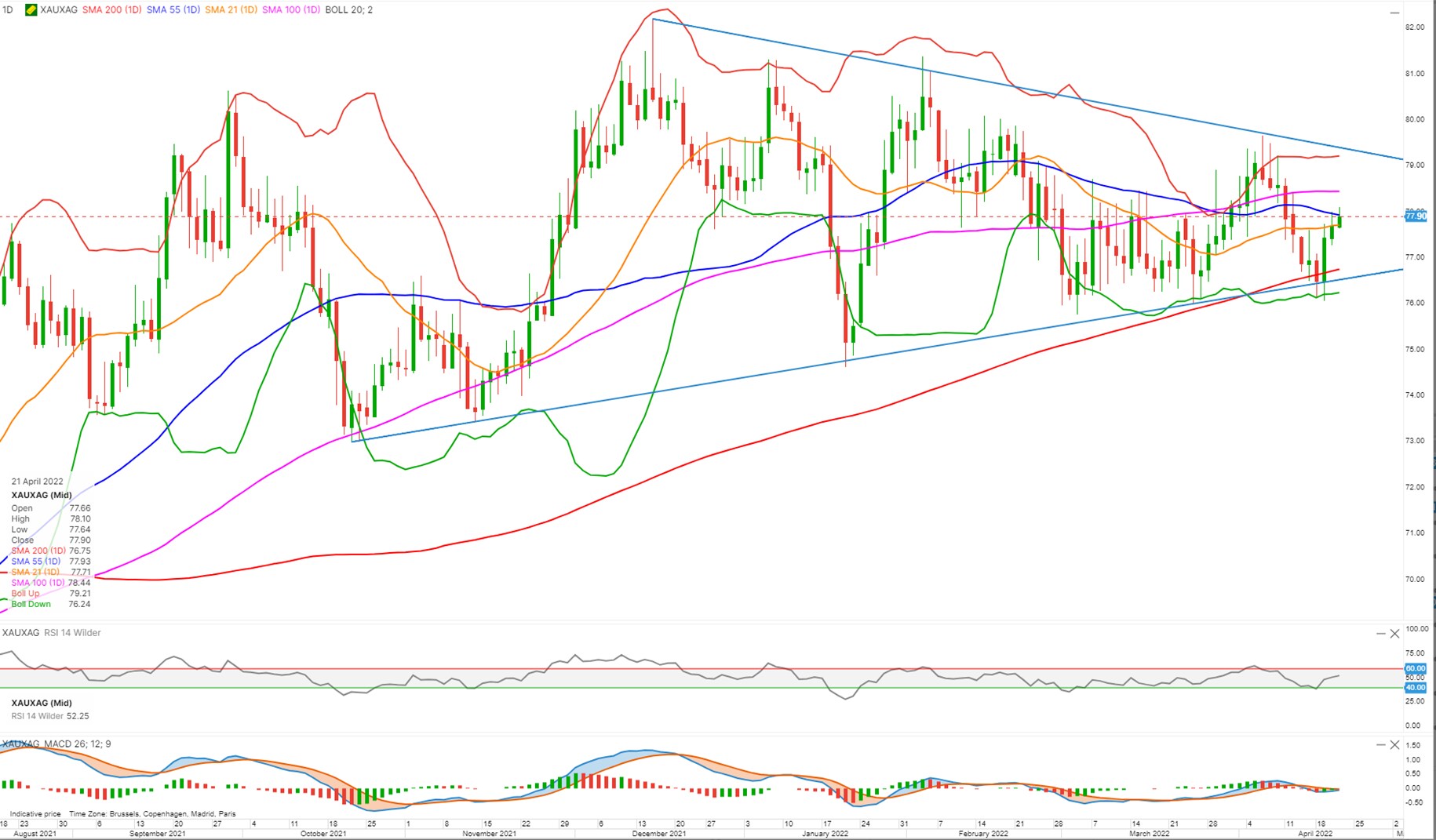 Source: Saxo Group
Platinum XPTUSD spot struggling to gain upside momentum. RSI indicator is showing negative sentiment and no divergence indicating lows around 950 could be tested. For Platinum to reverse the bear mood a daily close above 1,026 is needed.
Check out Trade Signals module on SaxoTrader platforms for short term trade ideas on Metals spot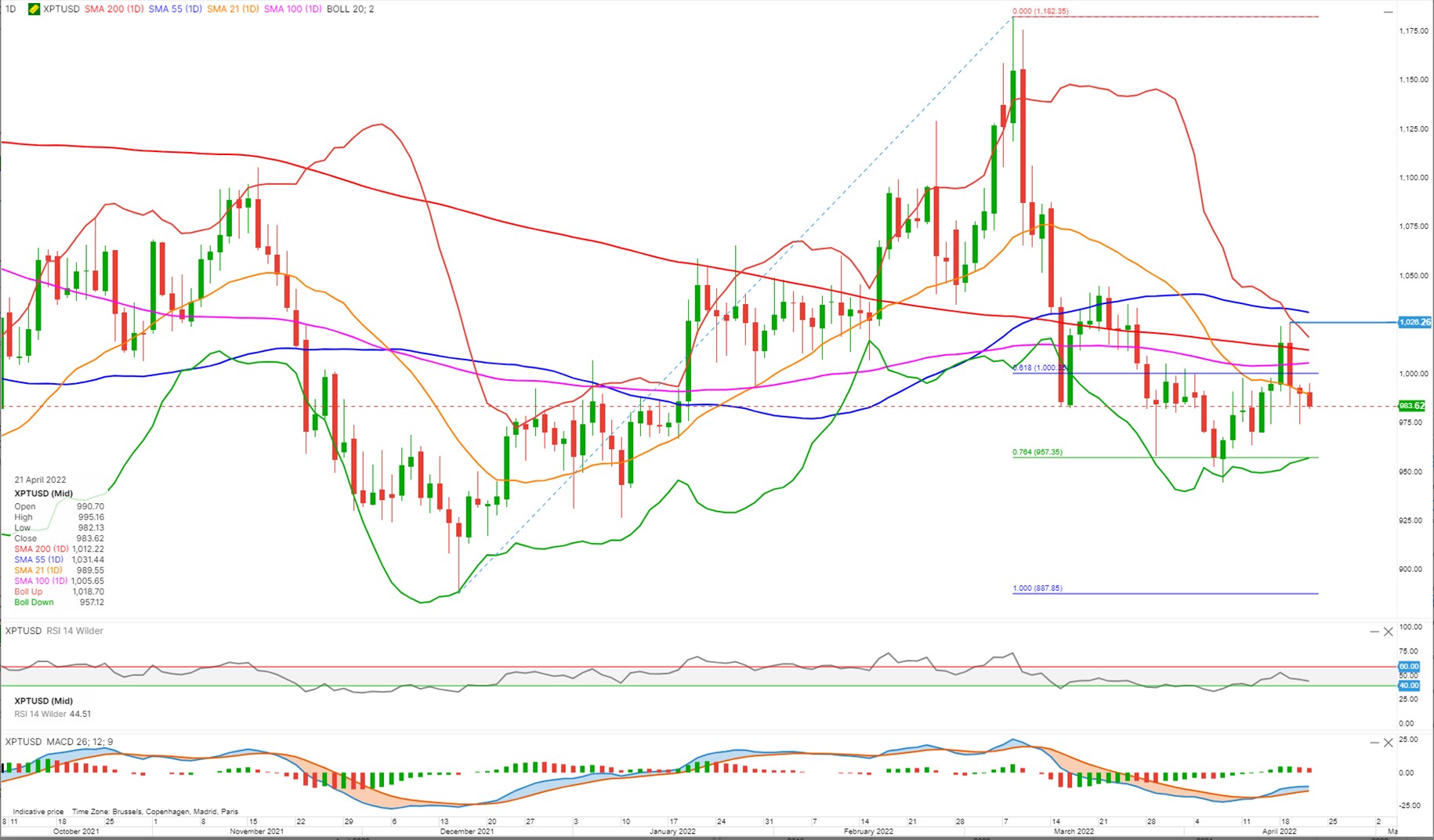 Source: Saxo Group
Palladium seems to slowly building upside momentum. Confirmation if Palladium breaks above 2,534. If the scenario plays out RSI is likely to break above 60 threshold thus indicating positive sentiment.
Resistance at 2,639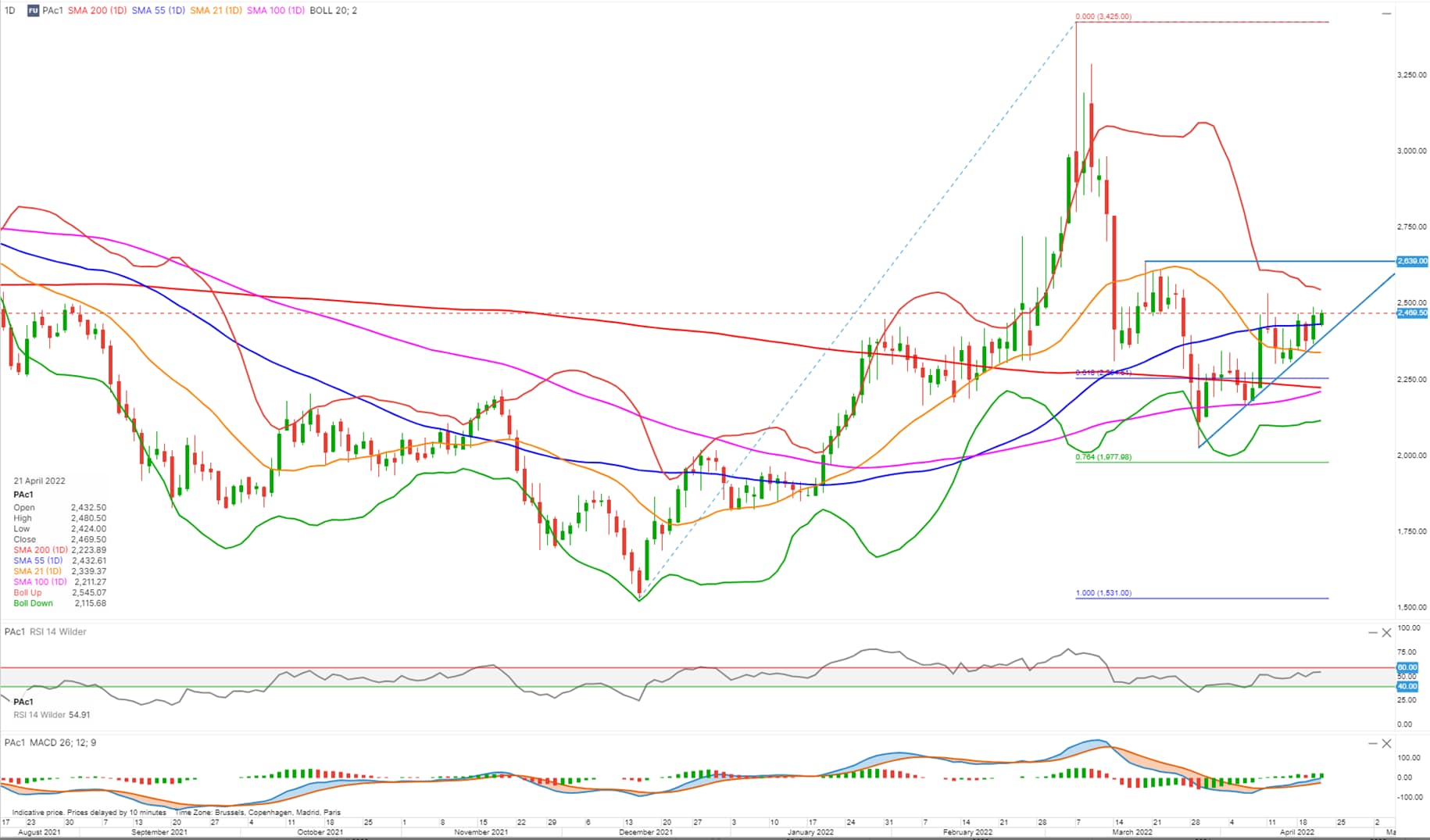 Copper seems to be range bound between 462 and 485. A break out of this range is needed for direction. RSI is still showing bullish sentiment indication break out is likely to be to the upside.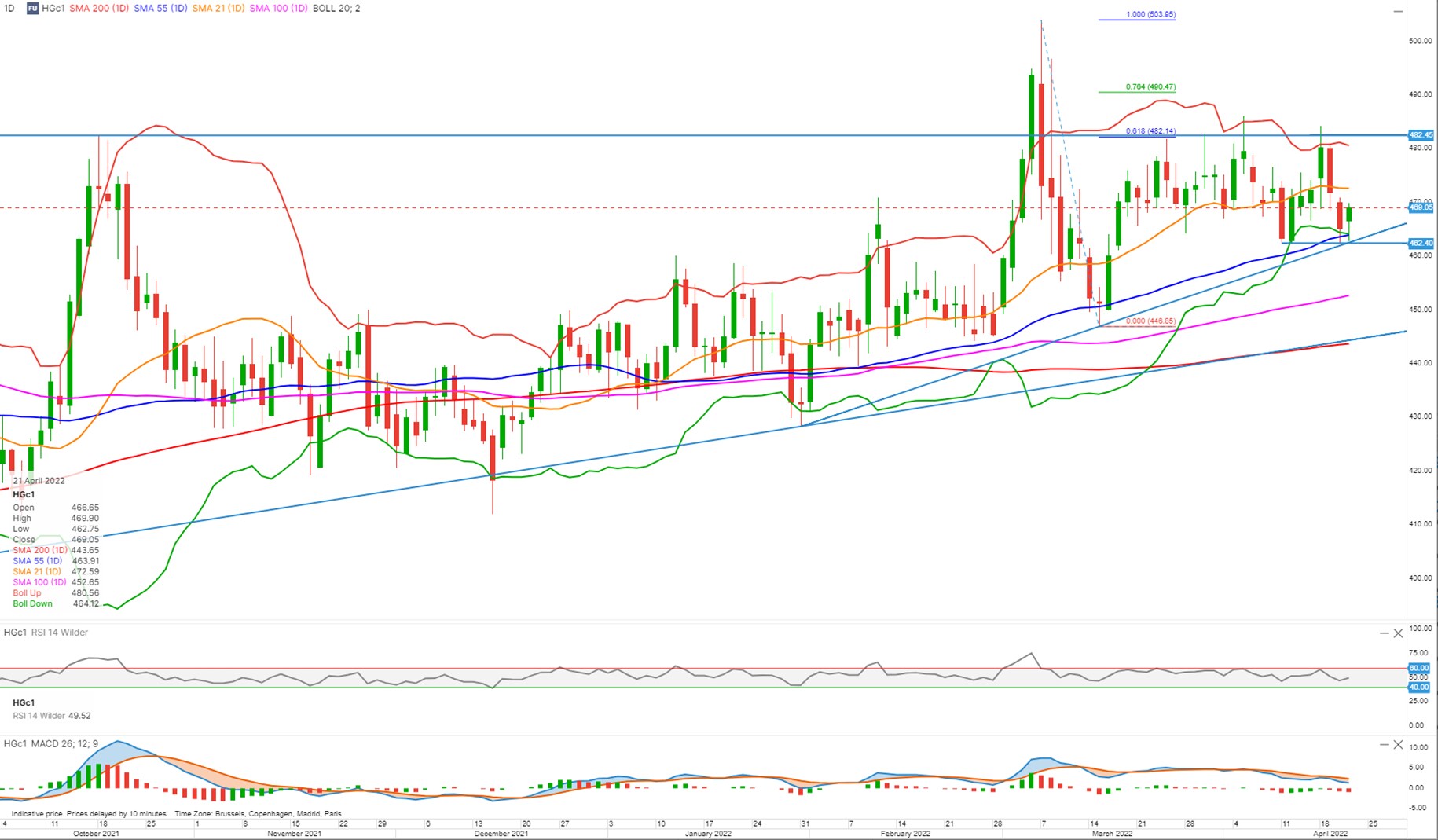 Source: Saxo Group