Precious metals, which could be part of an investment portfolio, can count as November's successful ones among others. We are mainly talking about gold and silver priced in US dollars, whose prices in the eleventh month of this year have definitely increased. Although the month isn't over yet, we're already having a look at what the December statistics may indicate.
Gold may be in the spotlight in November, as prices appear to be heading for their biggest monthly increase since mid-2021, currently at around 7.5%. Gold seems to have been gaining recently, thanks to a weakening dollar and to declines in U.S. bond yields. The market may be assuming that the Fed would not be able to keep interest rates at around 5% for quite some time, and there may be cuts in the federal funds rate in 2023. With this narrative, gold appears to be entering December, a month in which the metal has had a positive return for five years in a row. As Bloomberg calculates, December has averaged a 4.2 percent gain since 2017. Gold saw its biggest December price jump in 2020, appreciating by almost 7% then, while the smallest increase took place in December 2017, at 2.23%. In contrast, December 2016 ended with a decline of 1.91%.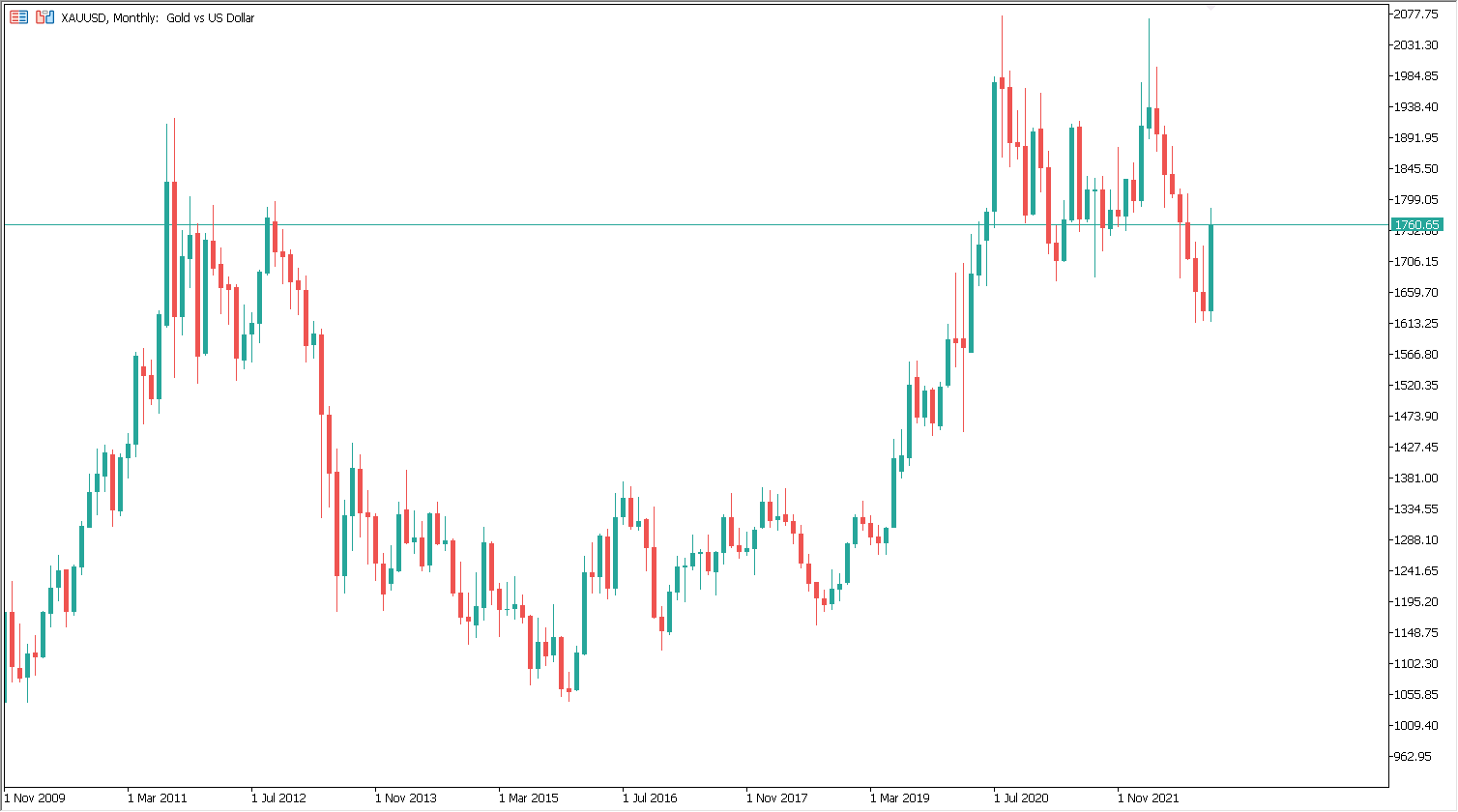 Source: Conotoxia MT5, XAUUSD, Monthly
Silver with more volatility than gold?
Silver, like gold, also ended every December up since 2017, with an average return of 7.1%, Bloomberg reported. The best December statistically in this period was December 2020, when silver rose 16.61%. In contrast, silver rose 3.15% in December 2017, while the price fell 3.39% in 2016. In November, silver seems to have led the rise among popular futures contracts. To date, since the beginning of the month, the price has risen more than 13% above $21 per ounce. In contrast, year-to-date, silver denominated in USD is losing about 7.5%.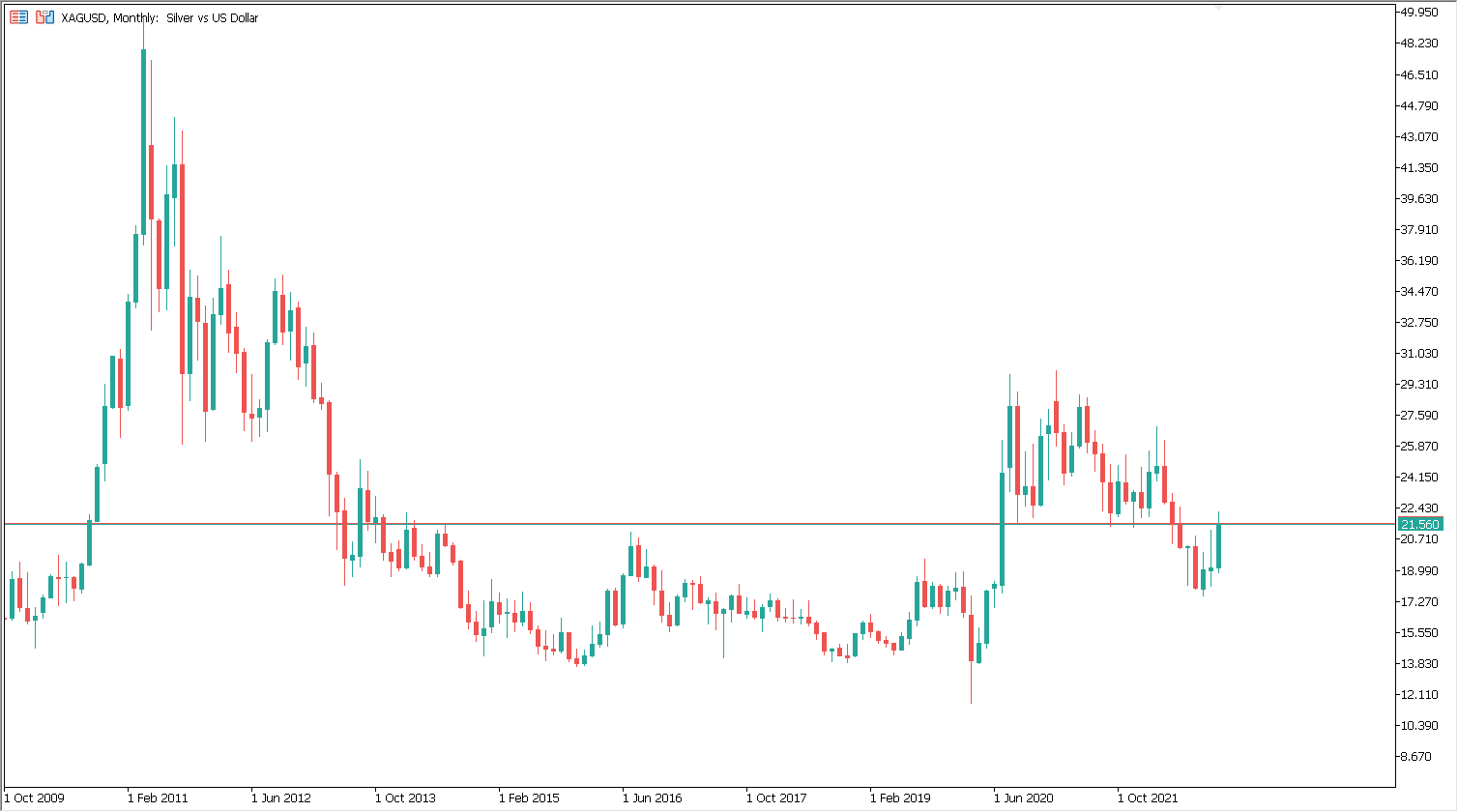 Source: Conotoxia MT5, XAGUSD, Monthly
In the silver market, one curiosity may be that a one-ounce Silver American Eagle coin is valued at more than $35. Meanwhile, silver in the form of a one-ounce contract costs about $21. This gives a price difference between a physical ounce and a paper ounce of silver of more than 65 percent, according to data from the Monex service, such a discrepancy has not been seen for at least a decade. This could be one of the favorable factors for silver in the coming month, improving December's precious metals statistics.

Daniel Kostecki, Director of the Polish branch of Conotoxia Ltd. (Conotoxia investment service)
Materials, analysis and opinions contained, referenced or provided herein are intended solely for informational and educational purposes. Personal opinion of the author does not represent and should not be constructed as a statement or an investment advice made by Conotoxia Ltd. All indiscriminate reliance on illustrative or informational materials may lead to losses. Past performance is not a reliable indicator of future results.
CFDs are complex instruments and come with a high risk of losing money rapidly due to leverage. 75.21% of retail investor accounts lose money when trading CFDs with this provider. You should consider whether you understand how CFDs work and whether you can afford to take the high risk of losing your money.
Read the article on Conotoxia.com