Although Korea's exports growth decelerated in May, it is expected to rebound to double-digit growth in the short term as China's lockdown measures are eased and idiosyncratic negative factors are resolved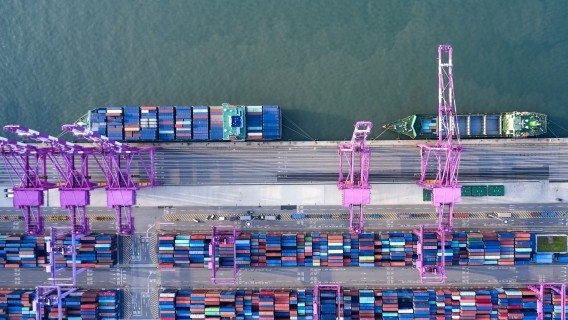 June saw a temporary slowdown in port activity due to trucker strikes earlier in the month
5.4%

Exports

%YoY

Higher than expected
Korea's exports rose in June
Export growth slowed to 5.4% year-on-year in June (vs. 3.8% market consensus) from 21.3% in May, partly due to adverse calendar effects and a temporary slowdown in port activity due to trucker strikes earlier in the month. We therefore expect a positive technical payback in the coming months. Global IT demand still appears strong, and the recent relaxation of China's lockdown measures should normalise the supply bottleneck for exports.
Trade balance stayed in the deficit zone for the third consecutive month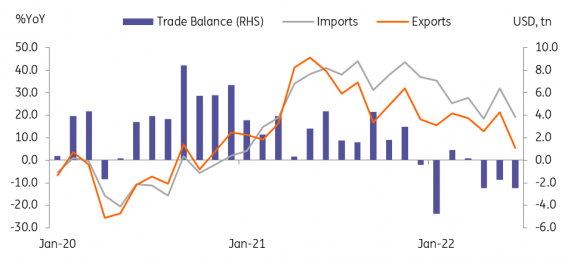 The details suggest that underlying export momentum remained healthy
Six out of 15 major export items recorded gains in June. Petroleum exports grew the most with an 81.7% increase, while overall IT exports, including semi-conductors (10.7%), wireless communication devices (10.6%), and computers (9.6%), remained solid. Meanwhile, automobiles (-2.7%), auto parts (-3.8%) and machinery exports (-11.7%) showed a particularly weak performance as the industries most affected by the recent strikes.
By export destination, exports to ASEAN (16.7%) and the US (12.2%) rose firmly, suggesting the global demand recovery is continuing. However, exports to China (-0.8%) and the Commonwealth of Independent States (CIS) dropped on the back of China's lockdown and the Ukraine war. More specifically, exports to Russia and to Ukraine contracted -64.9% and -72.3% respectively.
Imports increased by 19.4% YoY in June (vs. 32.0% in May) mainly due to higher import commodity prices. Three major energy imports – crude oil, gas, and coal – rose 53.4%. The rapid growth of imports led to a trade deficit for the third consecutive month. In June, the deficit widened to US$2.5bn from $1.7bn in May. We think that Korea's trade balance will remain in the deficit zone for quite some time by the end of the year.
Implications for the Korean won and the Bank of Korea
The Korean won (KRW) has been fluctuating around the 1300 level but could extend its rise over the near-term, then possibly rise further in 3Q22. As the KRW is highly correlated to global growth expectations, recent market fears over a US recession will remain a major driver of the KRW depreciation. In addition, in a situation where the trade deficit is expected to continue for the time being, this will act as a factor hindering the appreciation of the won. We think that the Bank of Korea will look more closely at the pace of the devaluation and the driving force behind it, rather than the KRW level itself. But, the prolonged trade deficit will be used as a factor supporting interest rate hikes for the Bank of Korea.
Terms of trade vs KRW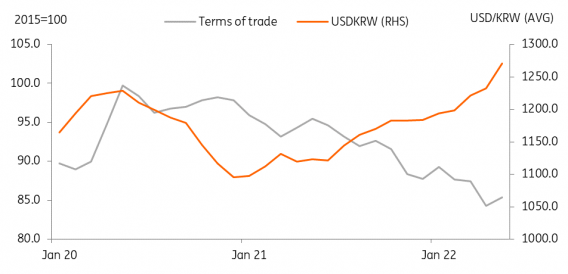 Read this article on THINK
Tags
Korean Won Korean trade Exports Bank of Korea
Disclaimer
This publication has been prepared by ING solely for information purposes irrespective of a particular user's means, financial situation or investment objectives. The information does not constitute investment recommendation, and nor is it investment, legal or tax advice or an offer or solicitation to purchase or sell any financial instrument. Read more