US labor data came out good on Friday. In the non-agricultural sector, 315,000 new jobs were created against the forecast of 295-300,000, unemployment increased from 3.5% to 3.7%, but due to a solid increase in the share of the economically active population to 62.4% from the previous 62% one. The average hourly wage for the month increased by 0.3%. The market laid down a 43% chance of a 0.50% Federal Reserve rate hike at the September meeting (against 27.0%) a day earlier. The probability of a rate hike by 0.75% was 57.0%. The S&P 500 was down 1.07%, outperforming other markets in risk aversion. The dollar index fell by 0.05%, the euro closed the day with a rise of 10 points, but as a result of a fall from the peak of the day by 80 points. The US market is closed today for a national holiday.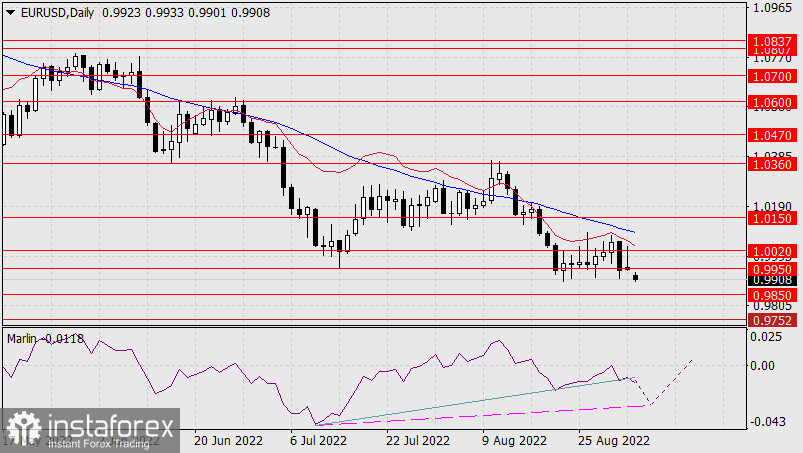 On the daily chart, the price broke below the target level of 0.9950 with a gap, the signal line of the Marlin Oscillator under the turquoise line forming the convergence, in order, according to one of our scenarios, to form a convergence a little lower.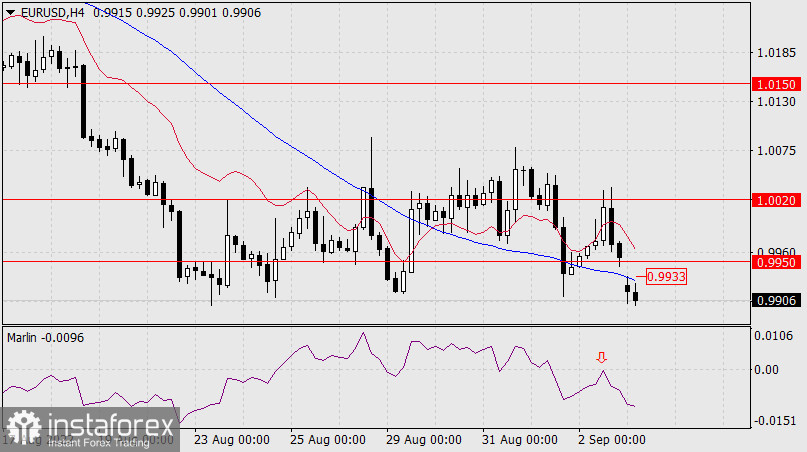 The price intends to consolidate under the MACD line (0.9933) on the H4 chart. Formally, the 0.9850 target has already been opened. Further decline to the 0.9752 target is possible. The signal line of the oscillator turned down from the zero line. Due to the gap and a holiday in the US today, the efforts of European players can be directed to closing the window and closing the day under the MACD line (0.9933).
Relevance up to 04:00 2022-09-06 UTC+2 Company does not offer investment advice and the analysis performed does not guarantee results. The market analysis posted here is meant to increase your awareness, but not to give instructions to make a trade.