Relevance up to 14:00 2022-06-10 UTC+2 Company does not offer investment advice and the analysis performed does not guarantee results.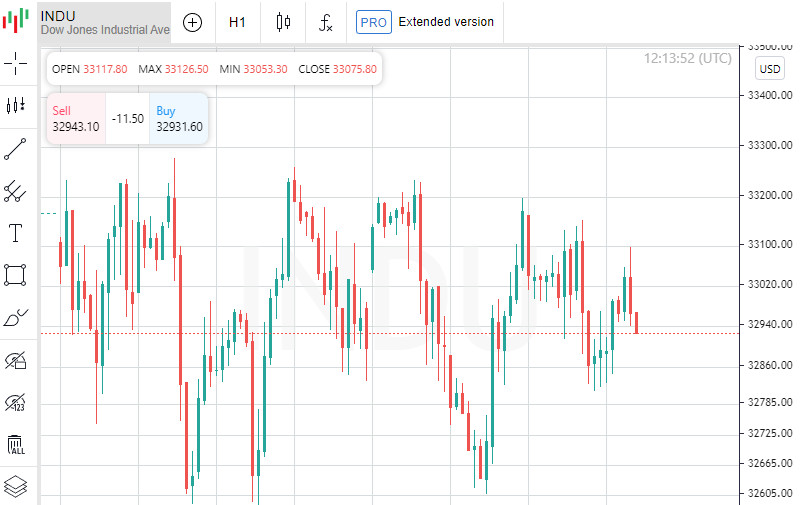 At the close on the New York Stock Exchange, the Dow Jones fell 0.81%, the S&P 500 fell 1.08%, and the NASDAQ Composite fell 0.73%.
Caterpillar Inc was the top gainer among the components of the Dow Jones in today's trading, up 2.70 points or 1.19% to close at 229.80. Salesforce.com Inc rose 2.04 points or 1.09% to close at 189.19. Nike Inc rose 0.73 points or 0.60% to close at 122.40.
The losers were shares of Intel Corporation, which lost 2.30 points or 5.28% to end the session at 41.23. Shares of Goldman Sachs Group Inc climbed 2.12% or 6.83 points to close at 314.68, while American Express Company shed 1.62% or 2.73 points to close at 165.96.
Leading gainers among the S&P 500 index components in today's trading were Las Vegas Sands Corp, which rose 4.35% to 37.39, Wynn Resorts Limited, which gained 4.18% to close at 70.28. as well as Etsy Inc, which rose 4.17% to end the session at 84.88.
The drop leaders were shares of Altria Group, which fell 8.37% to close at 49.49. Shares of Carnival Corporation shed 6.17% to end the session at 12.93. Quotes of Expeditors International of Washington Inc decreased in price by 5.68% to 103.10.
Leading gainers among the components of the NASDAQ Composite in today's trading were HeartCore Enterprises Inc, which rose 114.71% to hit 2.19, Qutoutiao Inc, which gained 71.58% to close at 1.63, and shares of VivoPower International PLC, which rose 40.00% to end the session at 2.24.
The biggest losers were Integrated Media Technology Ltd, which shed 67.50% to close at 3.65. Rigel Pharmaceuticals Inc lost 60.20% to end the session at 0.70. Quotes of Loyalty Ventures Inc decreased in price by 45.42% to 6.02.
On the New York Stock Exchange, the number of securities that fell in price (2281) exceeded the number of those that closed in positive territory (863), while quotes of 114 shares remained virtually unchanged. On the NASDAQ stock exchange, 2026 companies fell in price, 1767 rose, and 225 remained at the level of the previous close.
The CBOE Volatility Index, which is based on S&P 500 options trading, fell 0.25% to 23.96, hitting a new monthly low.
Gold futures for August delivery added 0.13%, or 2.45, to $1.00 a troy ounce. In other commodities, WTI crude for July delivery rose 2.68%, or 3.20, to $122.61 a barrel. Futures for Brent crude for August delivery rose 2.89%, or 3.48, to $124.05 a barrel.
Meanwhile, in the forex market, the EUR/USD pair remained unchanged 0.15% to 1.07, while USD/JPY rose 1.26% to hit 134.26.
Futures on the USD index rose by 0.23% to 102.56.