Relevance up to 08:00 2022-06-13 UTC+2 Company does not offer investment advice and the analysis performed does not guarantee results. The market analysis posted here is meant to increase your awareness, but not to give instructions to make a trade.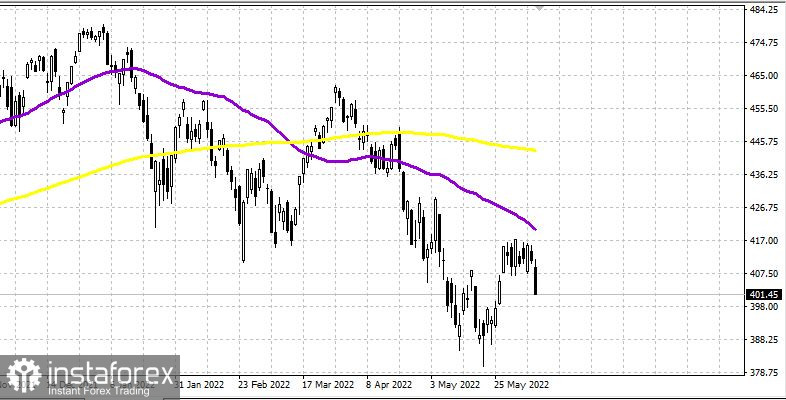 S&P500
Outlook for June 10th
The US stock market plunged ahead of US inflation data. The dollar shows growth. The euro tumbled after the ECB decision.
Major US stock indices fell sharply on Thursday: the Dow lost 2%, the NASDAQ dropped by 2.8%, and S&P500 fell by 2.4%.
The S&P 500 now trades at 4,017 and is expected to move in the 3,960-4,060 range.
All stock markets plunged on Thursday. On Friday morning, Japan's stock market tumbled by 1.4%.
The US market has lost momentum and moved into a range. Investors could go long after a breakout of the highs of last week or try aggressive buying with a stop order below the lows recorded in the middle of May.
The market awaits the US inflation report today.
According to the latest US unemployment report, initial jobless claims increased to 229K, and continuing ones were unchanged at 1.3 million.
Energy: crude trades higher, with Brent at $122 per barrel.
Gasoline prices in the US exceeded $5 a gallon. The UK also reported record prices for gasoline.
ECB: the regulator downgraded the GDP growth forecast to come in at 2.8% in 2022 and at 2.1% in 2023. Meanwhile, inflation is now expected to come in at 6.8% in 2022. The ECB will end net asset purchases under its APP as of July and intends to raise the key ECB interest rates by 25 basis points in July.
The IMF is expected to further cut its forecast for global economic growth in 2022. It already slashed the forecast to 3.6% from 4.4%. The IMF says the global economy is at its worst since World War II due to the consequences of the pandemic, the Ukrainian conflict, and trade restrictions among countries.
USD: The euro nosedived yesterday after the ECB decision announcement as well as ahead of a rate increase by the Fed, and due to disappointing macro results in the eurozone. The US dollar index left the range and went up.
Final thoughts: Investors should stay out of the US stock market today, those willing to try aggressive buying, use a stop order.