The University of Michigan sentiment index has plunged to record lows as inflation fears hit new highs. However, the Conference Board measure paints a very different picture – what you ask and how you weight responses can yield very different responses and it is important to remember that what people say and what people do can be very different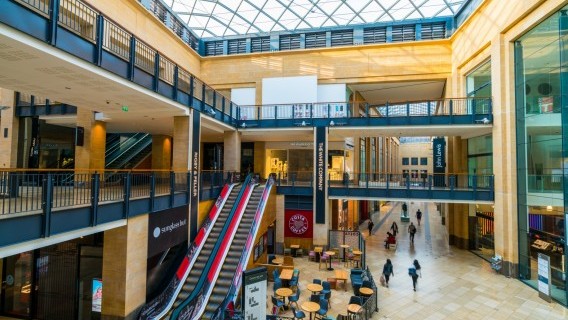 Sentiment plunge highlights the fears of stagflation
We have had an absolutely awful University of Michigan sentiment index. The overall balance in June dropped to a record low of 50.2 from 58.4 rather than dip to 58.1 as the market had been expecting. Both the expectations index (46.8 from 55.2) and the current conditions (55.4 from 63.3) plunged while the 1Y inflation expectations ticked up from 5.3% to 5.4% and 5-10Y inflation expectations jumped from 3% to 3.3%.
On the face of it this is the worst possible combination for the Federal Reserve as it suggests households are really fearing stagflation. The damage was done in the household finances due to the squeeze on spending power from higher inflation – just 30.8% of households think income growth will outpace inflation over the next five years. There is a growing pessimism about people's expectations for how comfortable their retirement will be as well – presumably reflecting the poor equity market performance year to date. Interestingly, the survey suggests people are not especially worried by higher interest rates. It is the higher gasoline price story that is doing the real damage.
Sentiment surveys don't always align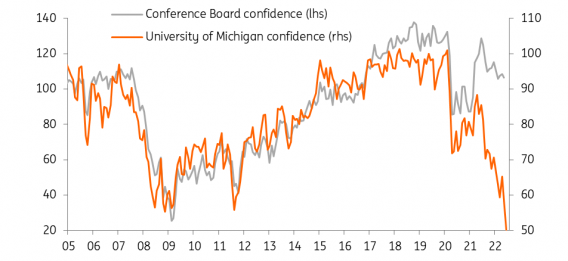 What you ask and how you weight responses plays an important part
We wouldn't get worried about this index though. The chart above shows the divergence between the University of Michigan sentiment index (dreadful) and the Conference Board measure (not too bad). It is important to remember that what you ask and how you weight the response can alter the picture. The University of Michigan arguably focuses more on the inflation/cost of living dynamics, whereas the Conference board measure appears to place greater emphasis on how people see the jobs market and nominal incomes – hence the divide in the indices.
Politics plays a part in sentiment and can distort people's views on the economy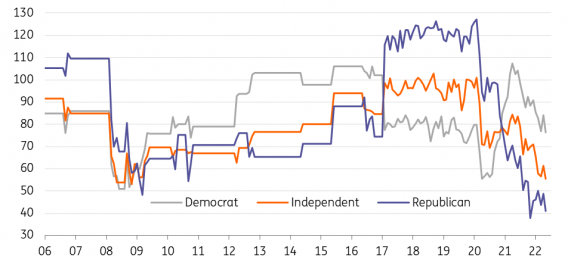 Saying and doing can be very different...
One crumb of comfort – neither survey has a great relationship with consumer spending with consumption set to surge in 2Q based on April data already published and ongoing strong people mobility data around retail and recreation in May and early June. Politics may be an important reason for this with perceptions on where the country is heading influencing sentiment, but not necessarily spending. Republican supporters are feeling the most negative ever and independents aren't exactly happy. Conversely Democrats are feeling pretty much in line as they have for the past 15 years. This could quickly reverse come the mid-term elections...
Read this article on THINK
Tags
US Spending Sentiment Confidence
Disclaimer
This publication has been prepared by ING solely for information purposes irrespective of a particular user's means, financial situation or investment objectives. The information does not constitute investment recommendation, and nor is it investment, legal or tax advice or an offer or solicitation to purchase or sell any financial instrument. Read more