Summary: The US dollar hasn't been able to sustain a new rally after Fed Chair Powell's speech on Friday, with further risk of weakness if incoming data doesn't bring new upside pressure on US yields. A new thaw in risk sentiment has the USD also teetering on the verge of a reversal lower versus the G10 commodity dollars as well, with the technical outlook finely balanced in pairs like AUDUSD and USDCAD. Incoming data could bring a bump ride through the August CPI number on September 13.
---
FX Trading focus: USD bulls on the defensive ahead of key data. EURUSD squeeze risk picks up above 1.0100
EURUSD has squeezed back higher this morning, and looks ready for a poke above 1.0100 if the minor US data points ahead of Friday's US jobs report (today's Consumer Confidence survey and JOLTS survey and Thursday's August ISM Manufacturing survey) don't offer any drama. But conviction is lacking as long as EURUSD remains within the seeming tractor-beam pull of parity and it is tough to develop conviction until we have had a look at the Friday's US jobs report (big Average Hourly Earnings surprises may carry more weight than payrolls due to the inflation angle of earnings), the ISM Services survey on Tuesday (completely at odds with the alternative S&P Global non-manufacturing survey in July when the latter showed a slightly contraction while the July ISM Services was still a robust 56+. The flash August S&P Global reading worsened further to 44.0.), and most of all the August CPI release on September 13, given that the Fed has pre-declared that it is willing to tolerate economic weakness if inflation is not yet under control.
ECB Chief Economist Lane was out yesterday arguing for a "steady" pace of "smaller" rate hikes rather than large moves – presumably a series of 50 basis point moves – to avoid "adverse effects" and as Lane believes that this would make it easier for ECB to course correct. This seemed to help cut short the EUR rally yesterday, but rate expectations for the ECB meeting next week are still around 50/50 for a 75-basis-point move, somewhat lower than they were at the peak yesterday after the hawkish speech from the ECB's Schnabel at the Fed's Jackson Hole conference at the weekend. The German flash August CPI will be out around pixel time for this article.
Chart: EURUSD
The US dollar backing off today and EURUSD pulls back above parity again after bobbing back and forth around that level yesterday and into this morning. The move likely only picks up likely order-driven momentum tactically on a move above 1.0100 and we face a further cavalcade of incoming data tests for the USD through the August US CPI figure as noted above, and for the EUR side of the equation, the test is next Thursday's ECB meeting as well as whether Russia turns the gas back on next week after the purported maintenance of the Nord Stream 1 pipeline in coming days. A squeeze scenario could see 1.0200, with anything above that beginning to suggest at least an intermediate challenge of the down-trend. Short term long option strangles are one way to trade for zany choppiness in coming sessions (A long strangle approach is an idea for the indecisive trader, or the one that believes that we might see a squeeze on a move above 1.0100 but one that won't hold – for example long 1.0125 calls and long 0.9975 puts w/ expiry next Wed. or Thursday, or a trader can simply choose one or the other leg if biased.)
Elsewhere, the tactical situation could not be more in limbo in pairs like AUDUSD and USDCAD, which teased a break in favour of a stronger US dollar, only to dive back into the range, if with insufficient force to suggest a tradable reversal. The trading conditions might remain treacherous there at least until the other side of the US jobs report. A CAD supportive crude rally, meanwhile, is fading fast today.
Table: FX Board of G10 and CNH trend evolution and strength.
The US dollar is still top dog, but the Euro momentum has impressed in the wake of ECB guidance in recent days. Leading the race to the bottom is GBP.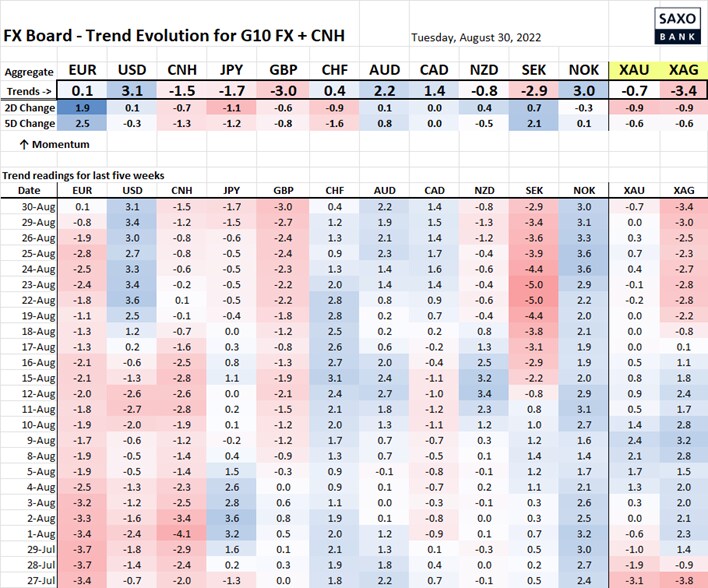 Table: FX Board Trend Scoreboard for individual pairs.
EURCHF is on the verge of flipping to positive for the first time in a very long time (last negative signal an impressive 53 days so far), EURGBP went positive so two sessions ago, and EURJPY did so yesterday. Still some work to get EURUSD there….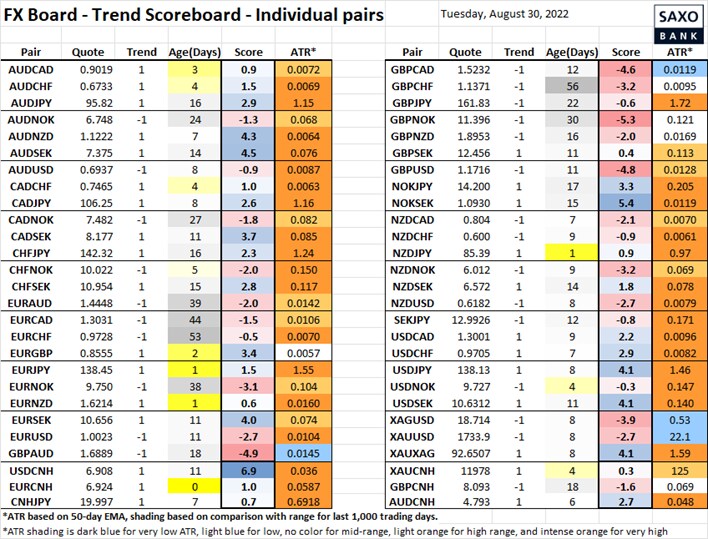 Upcoming Economic Calendar Highlights (all times GMT)
1200 – Hungary Rate Decision
1200 – US Fed's Barkin (Non-voter) to speak
1200 – Germany Aug. Flash CPI
1300 – US Jun. S&P CoreLogic Home Price Index
1400 – US Aug. Consumer Confidence
1400 – US Jul. JOLTS Job Openings
1500 – US Fed's Williams (voter) to speak
1600 – ECB Speakers Holzmann and others
0130 – China Aug. Manufacturing/Non-manufacturing PMI