Relevance up to 13:00 UTC+2 Company does not offer investment advice and the analysis performed does not guarantee results. The market analysis posted here is meant to increase your awareness, but not to give instructions to make a trade.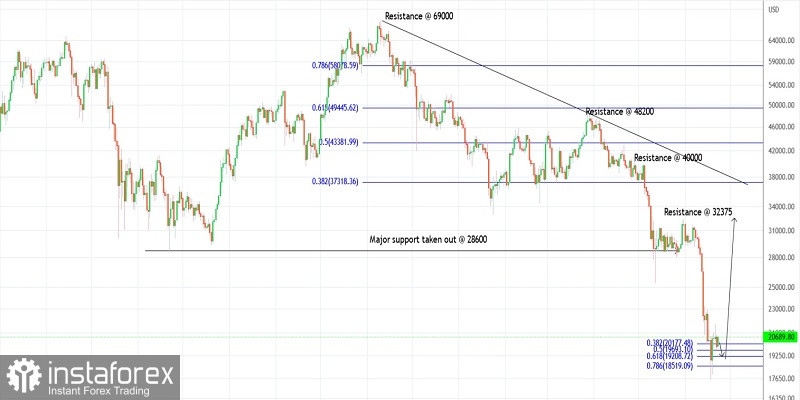 Technical outlook:
Bitcoin climbed above $20,800 intraday on Thursday after finding support at around $19,700 on Wednesday. The crypto is seen to be trading just below $20,700 at this point in writing and is expected to drag lower through $19,200 in the near term. Bears will remain poised to hold prices below $21,700 to keep the structure intact.
Bitcoin has already carved a meaningful downswing between $69,000 and $17,500 in the past several weeks. Ideally, prices should retrace the above drop before the next downswing resumes. Potential targets for the counter-trend rally are towards $33,000 and $37,000 respectively. Also, note that initial resistance is seen at around the $32,300 mark, hence, a break there is encouraging for bulls.
Bitcoin is currently working upon its lower degree upswing between $17,500 and $21,700. Prices are producing a corrective drop, which is expected to terminate at around $19,200 in the next few sessions before the rally resumes higher again. Traders might be preparing to initiate fresh long positions at around the $19,200 zone.
Trading plan:
Potential rally through $33,000 against $17,000
Good luck!