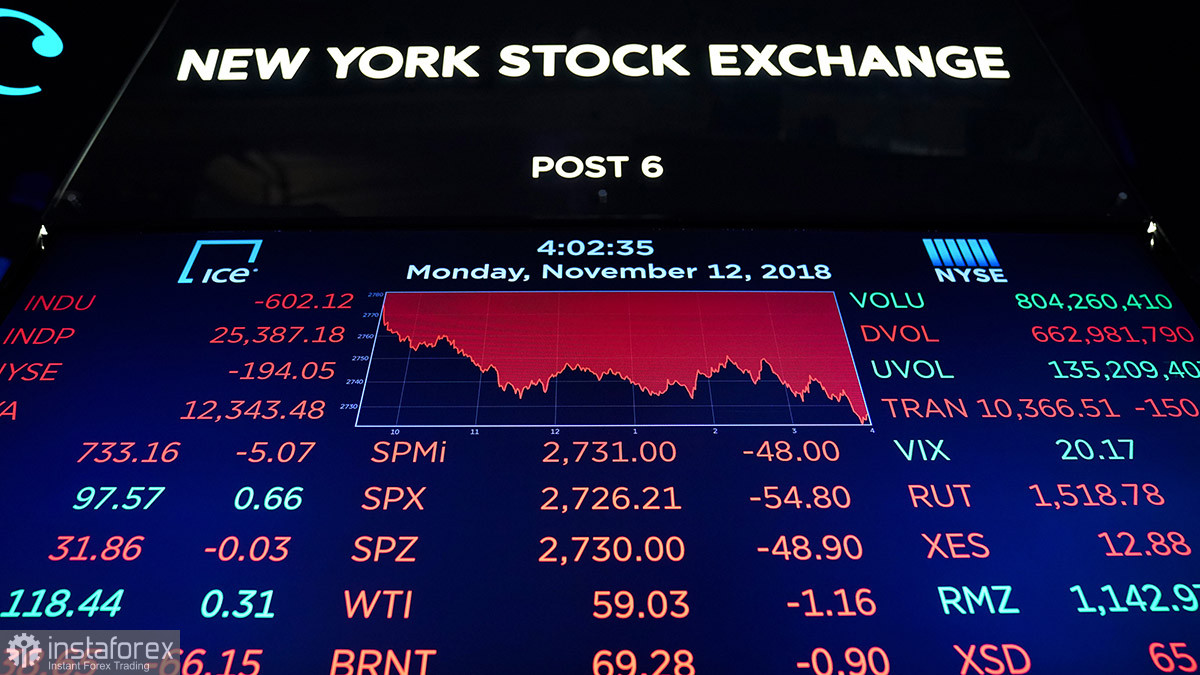 The main US stock indices – DOW Jones, NASDAQ, and S&P 500 – closed lower on Tuesday. Overall, the US stock market has been bearish for three weeks now, in line with our expectations. The upward correction of stock indices a month ago raised a lot of questions. The current movement, however, makes sense. The Fed will remain hawkish and will be hiking rates for a longer period of time than expected previously. It remains to be seen whether inflation slows down further. Under the QT program, almost $100 billion will be withdrawn from the US economy every month. Naturally, in light of all these factors, demand for risk assets decreases but increases for safe havens. That is why bitcoin and other cryptocurrencies cannot show any growth.
In our view, the latest macro reports were quite strong. Thus, the ISM Services PMI and NonFarm Payrolls exceeded market forecasts. Meanwhile, unemployment somewhat increased, but the overall situation remains quite stable to sound the alarm. Although a recession in the United States seems inevitable, the state of the economy is not as bad as it might seem. Anyway, positive macro results are not enough to keep the stock market from falling. We see the main US indices hitting yearly lows by the end of 2022. What happens afterward will depend solely on the FOMC's rhetoric. US inflation for August is due on September 14. In case of a significant slowdown, monetary pressure on the economy could be eased. The Fed does not want the economy to slide into a recession but its main priority now is fighting inflation. If recession risks could be minimized, the regulator would not miss a chance to do that. If inflation keeps going down, there will be no need for 0.75% rate hikes as well as for more aggressive actions. For the stock market, inflation results for August mean almost nothing because the Fed still remains hawkish. We suggest that the bear market will stop when the regulator starts to hint at the end of the rate hike cycle, that is as early as December 2022. As for the tightening cycle itself, it may end in the first six months of next year. In other words, indices still have plenty of time to fall.
Relevance up to 06:00 2022-09-08 UTC+2 Company does not offer investment advice and the analysis performed does not guarantee results. The market analysis posted here is meant to increase your awareness, but not to give instructions to make a trade.