Yesterday, the pound gained 48 points. The price is winding up with a wavy line to the level of 1.1525, which started in the final days of August. Consolidation below the level opens the nearest target at 1.1385, then 1.1305. Most likely, the strong movement on the 13th was the start of a new phase of the medium-term decline.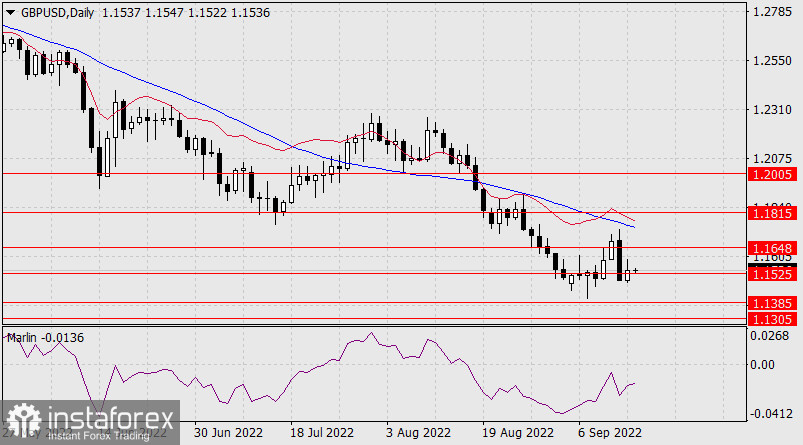 The pair's vigorous growth from yesterday was associated with the release of inflation data, which showed a slight weakening. In particular, the overall August CPI fell from 10.1% y/y to 9.9% y/y, which significantly softened the gloomy expectations of a "hard landing" of the British economy. Today, the main news will be the release of US data on retail sales for August. Growth by 0.2% is expected against 0.0% in July. It is likely that good data will strengthen the dollar throughout the market.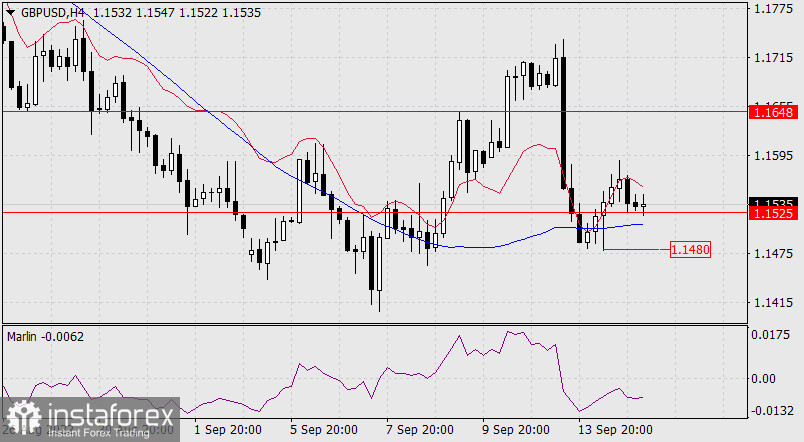 The price lingers above the MACD indicator line on the four-hour chart. However, the situation is more downward, as the price has not gone above the balance line, which indicates the development of yesterday's growth as a correction, and the Marlin Oscillator is kept in the downward trend zone. The final confirmation of the price's return to the downward medium-term channel will be its departure under yesterday's low (1.1480).
Relevance up to 04:00 2022-09-16 UTC+2 Company does not offer investment advice and the analysis performed does not guarantee results. The market analysis posted here is meant to increase your awareness, but not to give instructions to make a trade.