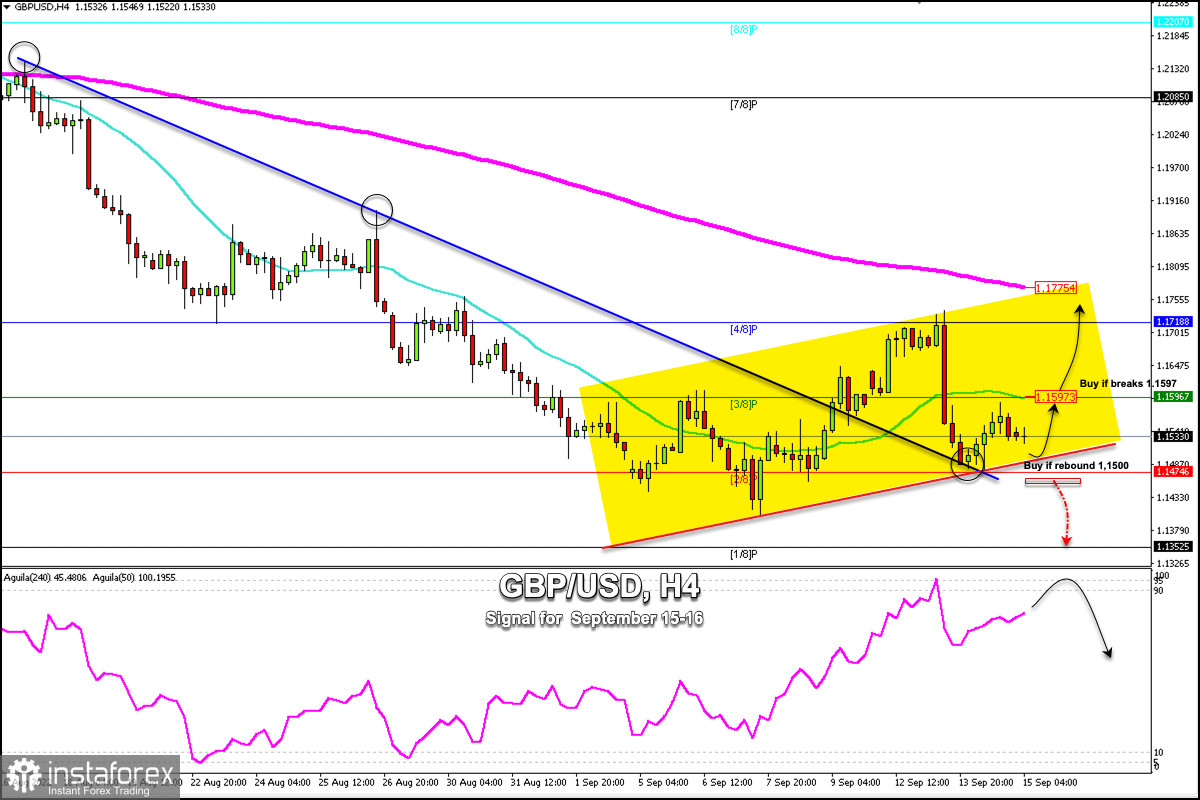 Early in the European session, the British pound is trading at around 1.1533, below the 21 SMA located at 1.1597 and supported by 2/8 Murray located at 1.1474.
Investors believe that the Bank of England will raise its official interest rate by 0.75% on September 22 in light of yesterday's inflation data. An increase in the interest rate expected by analysts could offer a rebound in the British pound and it could reach the area of 200 EMA located at 1.1790. It could even reach 5/8 Murray at 1.1840.
On the 4-hour chart, we can see that the British pound is trading within an uptrend channel which has been in progress since September 6th. Yesterday in the American session, we could see that the pound reached the bottom of the uptrend channel and the top of the bearish channel formed on August 15.
The GBP/USD price is trading above the 2/8 Murray support which could offer a buying opportunity. In case it consolidates above 1.1474, it will be viewed as a buying opportunity. If the pound rebounds around 1.1500 in the next few hours, it is a good sign to buy with targets at 1.1597 (21 SMA).
Additionally, if the pound manages to return above 3/8 Murray, it will be a positive sign. The trading instrument is likely to resume the bullish cycle and could reach 4/8 Murray at 1.1718 and could even reach the 200 EMA located at 1.1775.
On the contrary, if in the next hours the pound closes and consolidates below 2/8 Murray around 1.1474, it is expected to fall towards the critical support of 1/8 Murray located at 1.1352.
The outlook for the pound remains negative as investors expect the Fed to raise its interest rate next week. As a result, the pound is expected to continue trading in a range zone between 1.1455 - 1.1606 in the coming days.
The eagle indicator reached extremely overbought levels on September 12. After this signal, we saw a sharp drop in the GBP/USD pair and it fell to cover the gap at 1.1580. The slight recovery of the GBP/USD pair could be considered an opportunity to sell only if it consolidates below 1.16 (21 SMA).
Our trading plan for the next few hours is to buy the British pound above the psychological level of 1.1500 with targets at 1.1597 and 1.1718.
Relevance up to 06:00 2022-09-18 UTC+2 Company does not offer investment advice and the analysis performed does not guarantee results. The market analysis posted here is meant to increase your awareness, but not to give instructions to make a trade.