Summary: This year has been brutal for growth and technology stocks in the US, and many investors are asking themselves whether the recent declines are a buying opportunity. The short answer is no. Financial conditions are still tightening and we are in a regime that is typically associated with negative equity returns. The most frothiest parts of the US equity market are also still valued at equity valuations above their pre-pandemic levels suggesting more downside risks.
---
Pre-pandemic valuation levels have not been reached yet
With Nasdaq 100 futures down 27% from its late 2021 peak many clients are asking whether it is time to aggressively get into the equity market and especially US technology stocks. Our view on US equities has not changed and thus we remain defensive favouring themes such as commodities, defence, logistics, India, cyber security, semiconductors, and high quality companies. Financial conditions are still tightening and we have entered a level of financial conditions that is typically associated with negative equity returns. India's export ban on wheat over the weekend due to a failed harvest will continue add inflationary pressures impacting interest rates and equity valuations.
It is interesting to note that the 4% most expensive part of the US equity market, which are companies with the 12-month forward EV/Sales ratio above 8x, is still more expensive than its pre-pandemic equity valuation level despite the recent significant declines in US technology stocks. Even if this group of very expensive stocks get back to their pre-pandemic level, which would require another 15% drop, that level would again be twice the equity valuation level from the period late 2013 to late 2016. In other words, if the frothiest part of the US equity market has to come back to those levels the declines in front us will be quite substantial. We recommend investors to begin planning for which technology stocks to buy based on business model analyses and wait for equity valuations to come down further. In our view, there is no time to rush. It is better to get it right than getting there fast.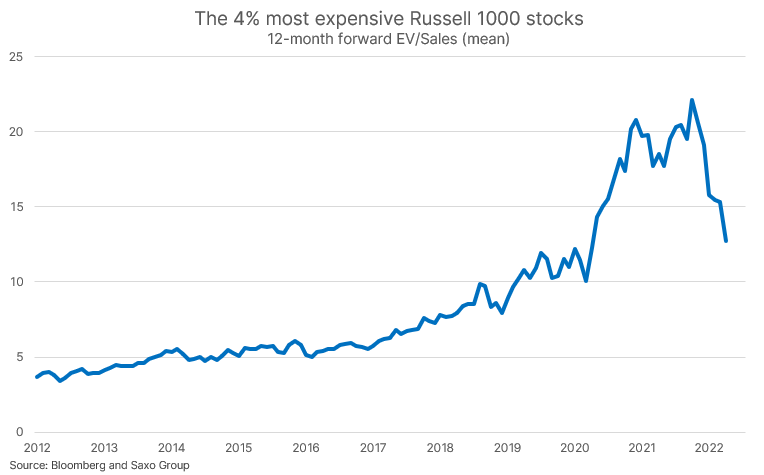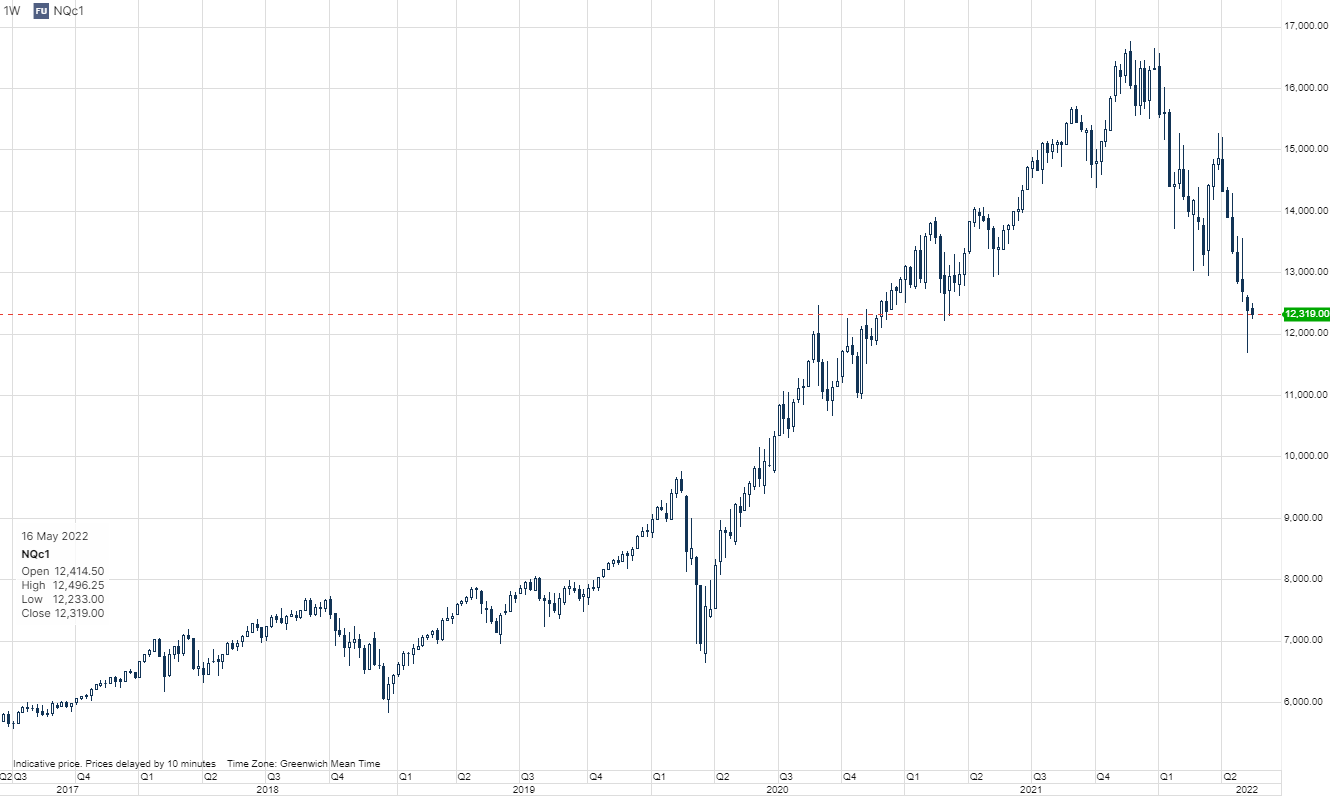 The table below shows the companies in the Russell 1000 Index with a 12-month forward EV/Sales above 8. There are 43 companies that match this criteria after we have removed Liberty Broadband due to erroneous analyst data which corresponds to 4.2% of the total universe size in the index. The median 5-year total return for this group is 271% and the median trailing P/E ratio is 51x which is significantly above the S&P 500 P/E ratio of 20x.
| | | | | | |
| --- | --- | --- | --- | --- | --- |
| Name | F12M EV/Sales | 5Y total return (%) | Market cap (USD mn.) | Last price | P/E |
| Cloudflare Inc | 19.75 | | 21,656 | 66.38 | |
| Snowflake Inc | 19.60 | | 49,820 | 158.36 | |
| Datadog Inc | 18.12 | | 34,293 | 108.86 | |
| Zscaler Inc | 15.46 | | 21,619 | 153.23 | |
| Crowdstrike Holdings Inc | 14.80 | | 36,262 | 156.29 | |
| Switch Inc | 14.69 | | 8,187 | 33.47 | 801.3 |
| MongoDB Inc | 14.51 | | 19,326 | 286.03 | |
| Atlassian Corp PLC | 14.10 | 412.76 | 48,022 | 188.90 | |
| Visa Inc | 14.10 | 122.26 | 428,313 | 199.23 | 33.3 |
| Mastercard Inc | 14.06 | 191.97 | 323,696 | 332.80 | 36.0 |
| Trade Desk Inc/The | 13.95 | 900.39 | 25,250 | 51.92 | 247.2 |
| Aspen Technology Inc | 13.90 | 183.96 | 11,040 | 165.75 | 37.9 |
| Bill.com Holdings Inc | 13.48 | | 12,360 | 118.54 | |
| VeriSign Inc | 12.54 | 85.29 | 18,087 | 165.11 | 23.2 |
| NVIDIA Corp | 11.86 | 460.46 | 443,361 | 177.06 | 45.6 |
| Paycom Software Inc | 11.77 | 343.87 | 17,387 | 288.56 | 75.7 |
| Anaplan Inc | 11.68 | | 9,655 | 64.16 | |
| ServiceNow Inc | 10.96 | 367.13 | 90,738 | 452.65 | 380.7 |
| Cadence Design Systems Inc | 10.88 | 333.08 | 39,279 | 142.44 | 50.6 |
| ANSYS Inc | 10.56 | 112.32 | 22,145 | 254.57 | 48.7 |
| Monolithic Power Systems Inc | 10.44 | 374.83 | 20,134 | 431.67 | 73.7 |
| Bentley Systems Inc | 10.26 | | 10,192 | 32.09 | 84.6 |
| Adobe Inc | 10.04 | 196.29 | 191,575 | 405.45 | 40.3 |
| Manhattan Associates Inc | 9.94 | 169.48 | 7,686 | 121.78 | 65.8 |
| Paycor HCM Inc | 9.32 | | 3,934 | 22.49 | |
| Fortinet Inc | 9.32 | 619.71 | 45,196 | 281.55 | 73.8 |
| Wolfspeed Inc | 9.32 | 247.13 | 9,652 | 78.07 | |
| Enphase Energy Inc | 9.25 | 19014.47 | 21,306 | 157.79 | 134.2 |
| Paylocity Holding Corp | 9.25 | 280.78 | 9,370 | 169.98 | 108.0 |
| Five9 Inc | 8.78 | 363.53 | 7,055 | 101.42 | |
| Paychex Inc | 8.74 | 143.33 | 43,210 | 119.69 | 32.4 |
| HubSpot Inc | 8.69 | 412.41 | 17,000 | 355.87 | |
| Microsoft Corp | 8.60 | 309.09 | 1,952,925 | 261.12 | 28.9 |
| Dynatrace Inc | 8.46 | | 10,113 | 35.39 | 135.7 |
| Autodesk Inc | 8.35 | 106.59 | 42,868 | 197.07 | 82.0 |
| Tyler Technologies Inc | 8.30 | 114.30 | 14,863 | 358.36 | 82.0 |
| Marvell Technology Inc | 8.29 | 287.57 | 48,974 | 57.57 | |
| Broadcom Inc | 8.24 | 194.09 | 240,167 | 588.24 | 32.6 |
| Black Knight Inc | 8.22 | 77.34 | 10,815 | 69.34 | 20.4 |
| Synopsys Inc | 8.14 | 270.85 | 42,254 | 275.99 | 51.3 |
| nCino Inc | 8.11 | | 3,524 | 32.00 | |
| Procore Technologies Inc | 8.05 | | 6,397 | 47.19 | |
| Intuit Inc | 8.01 | 205.04 | 105,138 | 371.76 | 47.1 |
Source: Bloomberg and Saxo Group