Summary: These are remarkable times as the Riksbank manages to surprise the market with a full 100 basis point rate hike and yet EURSEK trades unchanged within half an hour of the decision. This is likely on faltering risk sentiment this morning in Europe as the market mulls the risk that the Powell Fed has come to realize that actions speak far louder than guidance, as we mark up the odds for a 100 basis point hike at tomorrow's FOMC meeting.
---
FX Trading focus: Fed's obsession with not surprising may be a thing of past: look for 100 basis points after Riksbank went 100 bps this morning.
The Swedish Riksbank surprised today with a 100 basis point hike to take the rate to 1.75%, a move only a minority were looking for. This, in addition to guidance that the Riksbank would look to continue hiking rates, took Swedish yields higher, but didn't do much for the currency. The reaction there, in fact, was remarkable as EURSEK fell well over a percent on the decision only to trade above the level prevailing immediately before the announcement within five minutes and then rising to new cycle highs since March a bit over half an hour after the decision. As I wrote in this morning's Quick Take, I suspect SEK weakness (EURSEK top of range, USDSEK near all-time highs of 11.04 from 2001) might have tipped the scales, though the krona was not mentioned explicitly in the Riksbank's statement today.
That takes us to the FOMC meeting tomorrow. I have suggested in recent comments that it is less material whether the Fed moves 75 or 100 basis points at tomorrow's meeting, provided that the Fed maintains sufficiently strong guidance on the terminal rate by the end of this year and an even higher rate forecast for 2023, but my thinking has evolved this morning and I am already leaning far more in favour of the Fed delivering 100 basis points. One aspect that in the past might have held back the Fed from hiking more than the market has priced (80-85 bps priced in this morning, depending on the measure of expectations) was the seeming Fed obsession with having the rate decision fully priced before the fact as was so patently obvious ahead of the June 16 FOMC meeting, which saw the leak of a WSJ article by noted Fed whisperer Nick Timiraos suggesting a 75 basis point move when the market was priced for only a 50-bp move. Given the stark Jackson Hole speech from Fed Chair Powell and the strong CPI data and other resilient US data, I wonder if this Fed is happy to change behaviour and let a proper surprise rip the market with a 100-bp move tomorrow together with a strong lifting of guidance and a 2024 PCE core forecast lift from its 2.3% level. Even better would be a 112.5 move that does away with the silly quarter-point upper-lower bound of the Fed policy rate and sets the rate to 3.50%. Already, given that the market's thinking is shifting in the direction of a 100-bp move tomorrow, the Fed almost has to do so or it will be delivering a dovish surprise with anything less. Fed actions will speak louder than guidance.
Chart: USDJPY
Get ready for chaos in USDJPY as US 10-year yields are already rising to new cycle highs ahead of the FOMC meeting and the Bank of Japan meeting only hours later in Asia's Thursday session. The Bank of Japan and Ministry of Finance achieved a modicum of respect with their latest verbal intervention, as fresh highs in long US treasury yields haven't seen USDJPY challenge the 145.00 level yet, but if the Bank of Japan fails to shift after a more hawkish Fed (our bias), then watch out for significant volatility risk to the upside, followed by a likely intervention fight to follow, as discussed in my colleague Charu's latest excellent piece.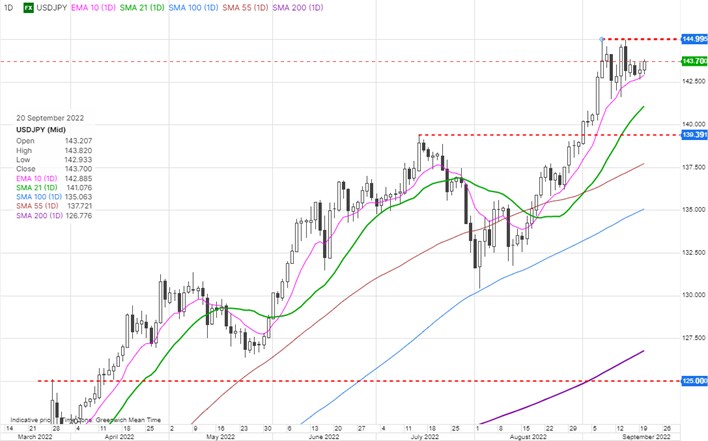 RBA minutes overnight were nothing to write home about for Australian rates, but AUDNZD jumped higher through the key 1.1250 area resistance, a possibly seismic move we have been out the lookout for since the pair approached that level a few weeks ago. We have argued that a significant resetting higher of the currency pair is possible – possibly toward 1.2000 and higher – given the diverging trajectories of the two countries' current accounts.
Table: FX Board of G10 and CNH trend evolution and strength.
The kiwi is getting squashed and the RBNZ may have to change its mind about where the policy cycle may have to go at some level of NZD weakness. Elsewhere, watching the G3 over the FOMC to see if a hawkish surprise can continue to drive USD strength there as well as versus the weaker currencies. If we are set to test new equity bear market lows, SEK may be set for extended weakness and USDSEK may be set for a go at its all time high above 11.00 as EURSEK is also threatening higher.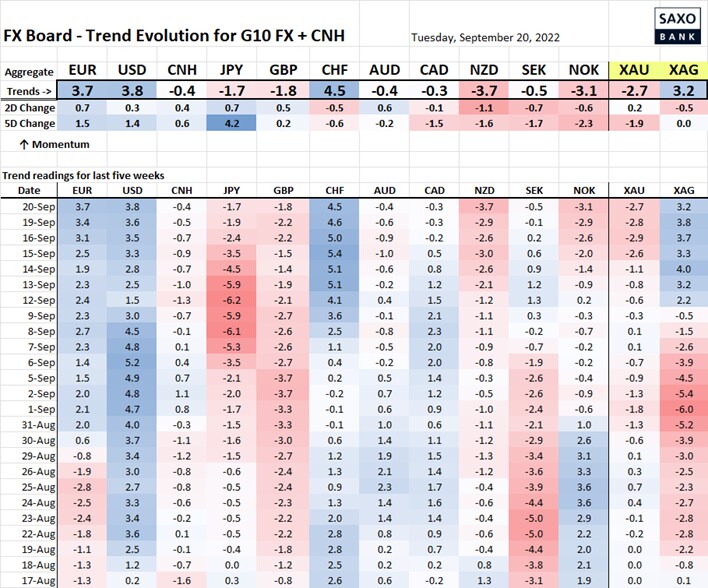 Table: FX Board Trend Scoreboard for individual pairs.
AUDNZD has torn above resistance – big development there, even if nominally, there are some shreds of resistance up to 1.1430 before the big space opens up on the chart. Elsewhere, EURSEK trades top of range despite and USDSEK is 2% from all time level of 2001 ahead of FOMC meeting tomorrow. Interesting that USDJPY remains range-locked despite US 10-year yield at new highs this morning – helmets on there as noted above.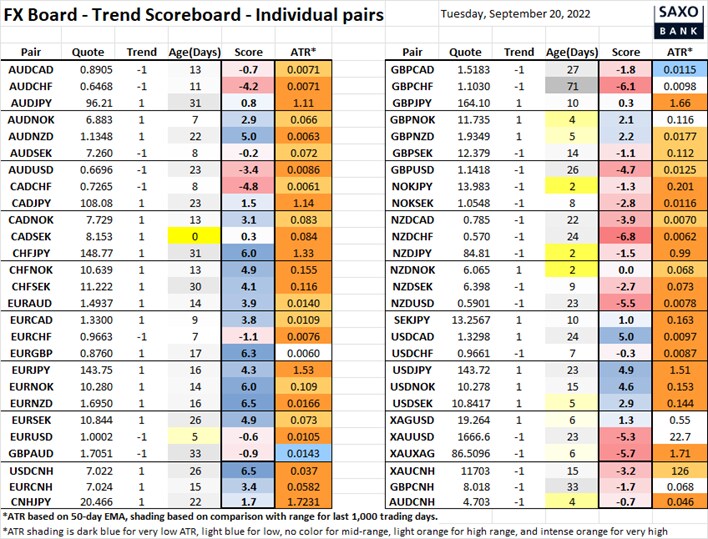 Upcoming Economic Calendar Highlights
1230 – Canada Aug. Teranet/National Bank Home Price Index
1230 – US Aug. Housing Starts & Building Permits
1230 – Canada Aug. CPI
1700 – ECB President Lagarde to speak
Source: https://www.home.saxo/content/articles/forex/fx-update-riksbank-raises-risk-of-100-bp-hike-from-fomc-20092022