Summary: Equities extended their gains yesterday closing a winning streak over four trading sessions as we see clear signs that the market across equities, bonds, and currencies are positioning itself for a weaker than estimated inflation print in August. If the market gets want it wants in the form of a lower core inflation rate compared to July and hourly wages are not surprising to the upside, then there is enough room and energy for US equities to push even higher with the 4,200 level in S&P 500 futures being the big level to watch. In today's equity note we also cover Nintendo's record sales of its newest Switch game Splatoon 3 pushing its shares 6% higher in Japanese trading.
---
US equities extend momentum ahead of CPI print
S&P 500 futures gained another 1.5% yesterday extending the winning streak to four sessions and the good mood continues today ahead of the US August CPI print later today at 12:30 GMT with the index futures trading around the 4,145 level. It is very clear that the market is positioning itself for risk-on in the expectation that August inflation came in lower than current consensus by economists. The current estimates for the headline and core CPI m/m are -0.1% and +0.3% respectively telling the story of food and especially energy costs coming down from their peaks, but the core CPI will continue to tell a story of sustained inflationary pressures outside the volatile commodity markets. If US inflation indeed was lower than consensus in August then our best guess is that there is enough room and momentum to extend S&P 500 futures to around the 4,200 level.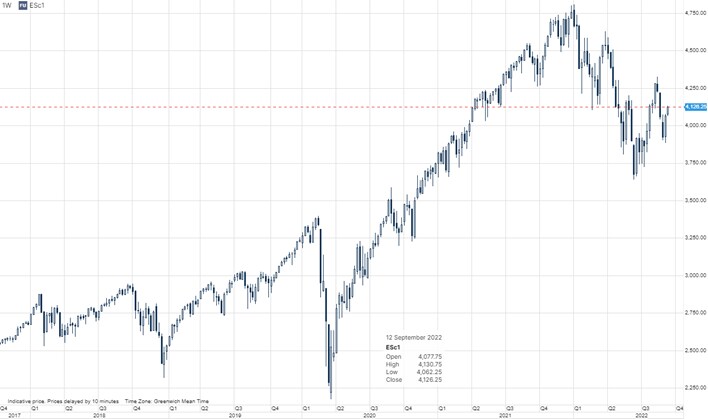 The medium outlook for inflation will not change today regardless of the inflation figure. The US will not be able to continuously releasing their oil reserves and as the winter approaches the energy crisis will continue to haunt the US, European, and Chinese economies. Outside the inflation figure today we also get hourly wages figures for August and central bank literature indicates that nominal wage growth is a key driver of inflation dynamics in the future, so we could get a situation today with a weaker than estimated inflation print, but higher than estimated hourly wages causing the market to price a more hawkish policy rate trajectory for 2023. In any case, today's inflation and wage reports will be key for sentiment in equities in the weeks ahead.
Nintendo is running ahead of forecasts
The gaming industry has had a tough 2022 with our Saxo gaming theme basket covering the industry being down 27% year-to-date driven by many factors such as reopening of the economy after the pandemic, iOS change policy on privacy limiting online advertising targeting, cost-of-living crisis, and higher interest rates compression equity valuations in the gaming industry. But inside the dark clouds there is one bright story and that is Nintendo. The Japanese gaming and console developer announced today that its newest game to its Switch console Splatoon 3 has beaten all previous records selling 3.45mn units in its first week. Shares reacted in today's session gaining 6%.
Nintendo's performance is continuing a long series of successes for the company exceeding analysts estimates. It looks like the company can defy the economic and market gravity extending its gains to a new all-time time high. Time will tell whether investors are agreeing about the positive outlook. Analyst estimates on revenue at 0.7% revenue growth in the current fiscal year ending 31 March 2023 might be too negative. Nintendo has been one of the most successful gaming companies over the past 10 years with a total return of 21.5% annualized over this period.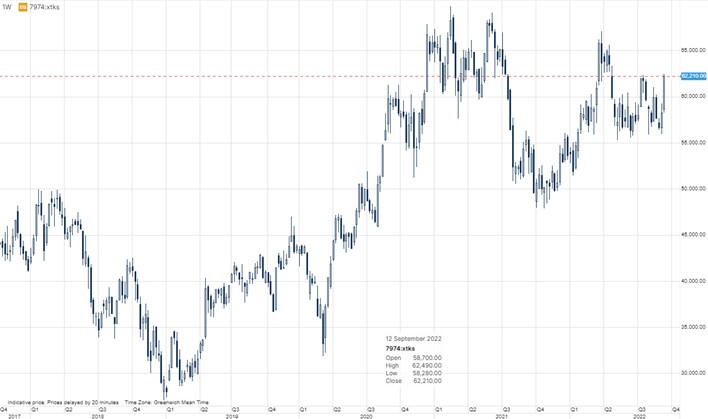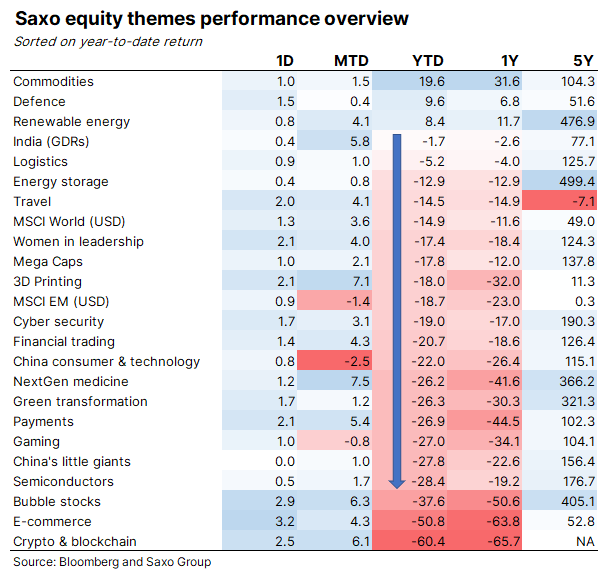 Source: https://www.home.saxo/content/articles/equities/us-cpi-print-to-dictate-sentiment-nintendo-shines-with-splatoon-3-launch-13092022