Has alt season arrived? It just might have. Stellar Lumens (XLM) has appreciated dramatically over the past week.
Before altcoin season commences, bitcoin and ether may need to see drastic price increases. Bitcoin has already broken the $35,000 handle for the first time, and ether is up over 50% in the last week.
Although the number one and two cryptocurrencies have been stealing the show, Stellar's XLM token has been the biggest gainer of the week, by far. In the last seven days, XLM is up over 140%, increasing its price by over 90% in the last 24 hours alone.
According to CoinGecko, an online cryptocurrency market capitalization aggregator, this makes XLM the top-performing cryptocurrency out of the 100 largest tokens.
What Caused the Recent Price Spike?
It's hard to pinpoint what caused XLM to take off, as there have been few announcements that would point to such a massive increase in growth.
The US Treasury of the Office of the Comptroller of the Currency (OCC), the largest US-based banking regulator, recently issued guidance on banks using stablecoins for settlement. Some users think Stellar is particularly positioned well for adoption.
Since the announcement doesn't point to any specific blockchain protocol, those users are mostly just speculating, though.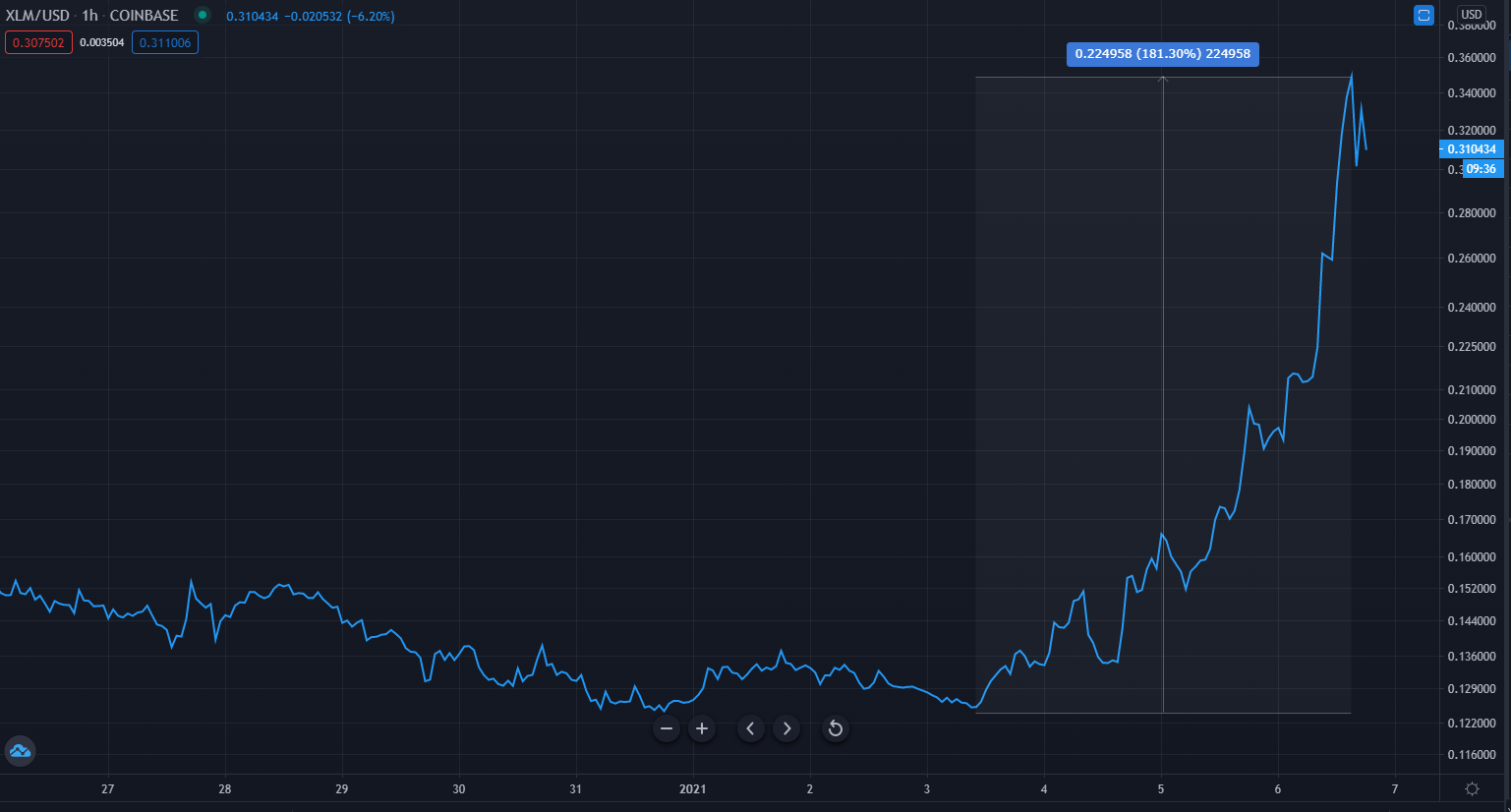 What is Stellar and XLM?
The Stellar network is a decentralized, open-source protocol that allows cross border transactions between any pair of currencies.
Its native cryptocurrency, XLM, is a governance token that serves as a reward mechanism for users who help secure the network.
As the ninth-largest cryptocurrency by market capitalization with a current valuation of almost $9 billion (according to CoinGecko), the Stellar network is one of the biggest players in the blockchain space.
Managed by the Stellar Foundation, a non-profit oversight board, Stellar is looking to position itself as an easy and accessible bridge between cryptocurrency and fiat currencies.
Since the inception of the Stellar network in 2015, the network has processed over 450 million unique transactions made by over four million individuals.
With Stellar's open-source and decentralized technology, both small-sized developers and gigantic conglomerates can take advantage of the network to potentially increase transaction efficiency.
Stellar is looking to continue its mainstream adoption growth by offering users transactions with any currency on the blockchain. It's unclear whether Stellar will rise at the astronomical rate it currently is, but it may be a project to keep an eye on.
The post Stellar's XLM up Almost 150% in Last 7 Days appeared first on BeInCrypto.