Headline inflation rose to 5.6% in May, prompting the deployment of a relief package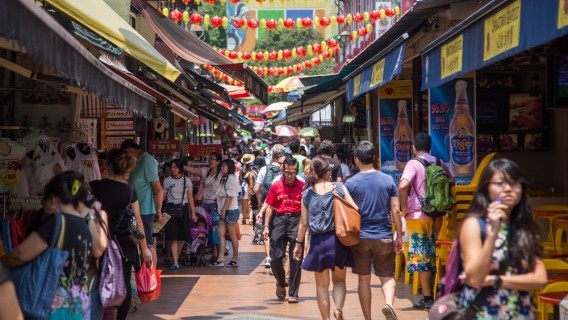 3.6%

May core inflation

As expected
May core inflation rises to 3.6%
Price pressures remained elevated in May, pushing Singapore's headline inflation to 5.6%, slightly higher than market expectations. Surging global commodity prices alongside improving domestic demand conditions tag-teamed to drive inflation higher.
Core inflation, the gauge closely monitored by the Monetary Authority of Singapore (MAS) accelerated to 3.6% and is expected to average between 2.5-3.5% for the year. Food and transport inflation were high, reflecting the commodity price crunch while faster inflation for recreational activities (3.5%) points to robust demand-side pressures.
Last Tuesday, authorities unveiled a spending package to help cushion the impact of higher prices with subsidies to be deployed to vulnerable households. The additional outlay from the government highlights the likely impact current inflation dynamics will have on the growth trajectory.
Core inflation now faster than MAS full year forecast average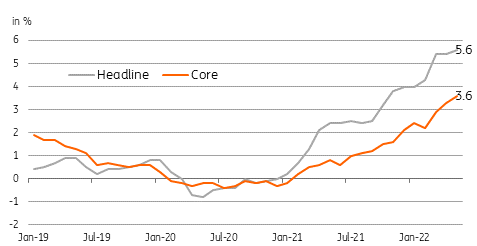 Source: Singapore Department of Statistics
Elevated inflation to keep MAS on notice
Elevated price pressures are likely to persist into 3Q and should keep MAS on notice for the rest of the year. MAS moved deliberately at the onset of the price spike, delivering several tightening measures highlighted by an aggressive adjustment in 1Q.
Energy and food prices could very well stay pricey given current indications as countries resort to protectionist policies at the expense of global supply. If prices stay elevated by mid-3Q, we are not counting out the possibility of additional tightening from MAS in October.
Read this article on THINK
Tags
Singapore inflation MAS Emerging Markets
Disclaimer
This publication has been prepared by ING solely for information purposes irrespective of a particular user's means, financial situation or investment objectives. The information does not constitute investment recommendation, and nor is it investment, legal or tax advice or an offer or solicitation to purchase or sell any financial instrument. Read more