Relevance up to 09:00 2022-06-24 UTC+2 Company does not offer investment advice and the analysis performed does not guarantee results. The market analysis posted here is meant to increase your awareness, but not to give instructions to make a trade.


Markets await the report of Fed Chairman Jerome Powell to the US Senate Banking Committee as it would contain hints on the future of monetary policy. The US central bank already raised interest rates by 0.75% last week, the first time in decades. But Powell made it clear that rates might not rise further at such a pace, making markets relieved.
Surprisingly, although there was another collapse last Thursday, many still hope that rates will rise by about 0.50%, then stop as inflationary pressure decreases. Powell may talk about this during his report to the Senate Banking Committee, in relation to high inflation and its impact on the economy.
Powell may also mention the disruption of transport links, which has already led to a drop in imports and the like. But investors will be more interested on how exactly the Fed will act in July and beyond.
There are two opinions on the market right now. The first has already been described above, which is a kind of soft option. But there is another, tougher one. According to Reuters, many market participants expect the Fed to increase the rate again by 0.75% in July, then raise it by 0.50% in September. Under these conditions, the market may again experience sharp sell-offs, while dollar and Treasury yields will see further growth. In this case, the ICE dollar index may again test the recent local high of 105.56.
Which option will be implemented is difficult to determine as both have a high potential. This is why traders should wait for Powell's speech before making any move in the market..
Forecasts for today: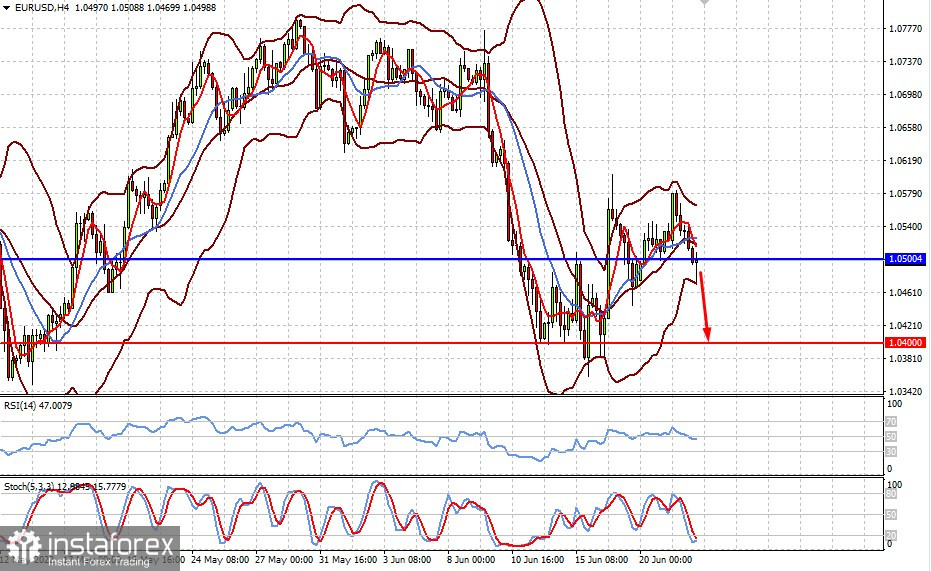 EUR/USD
The pair has overcome 1.0500. A consolidation below may lead to its further decline to 1.0400.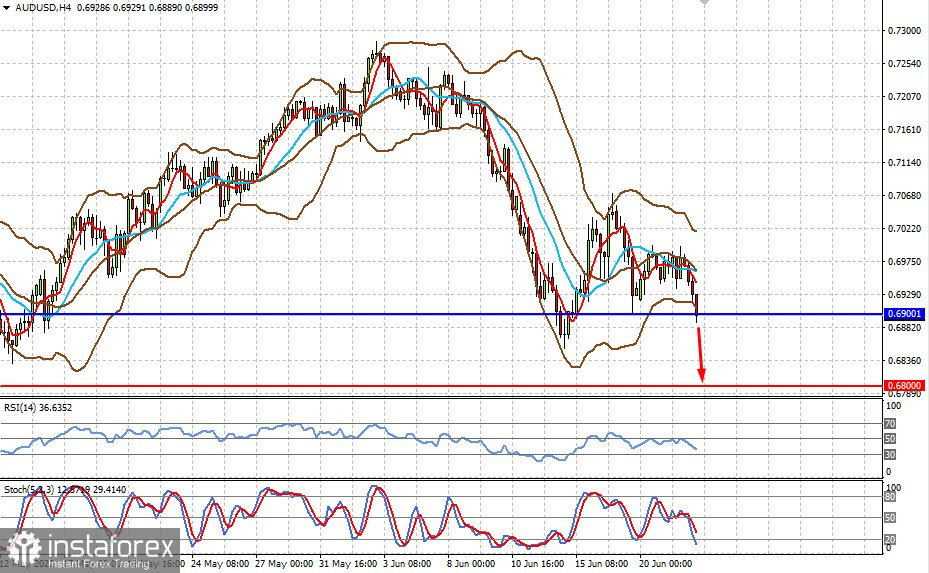 AUD/USD
The pair broke through 0.6900, which may lead to a further decrease to 0.6800. The driver will be the declining commodity prices and negative sentiment in the stock markets.