Summary: The US dollar continues to drive higher together with the pricing for the Fed's terminal policy rate reaching new highs near 4.50%. The JPY managed to hold the line and then some against a surging greenback as the market seems unwilling to challenge the Bank of Japan for now despite the higher US yields. Elsewhere, the descent in sterling is verging on scary, with GBPUSD staking out new record lows since 1985 below 1.1400 as EURGBP broke the range highs.
---
FX Trading focus: Sterling descent getting scary after weak UK Retail Sales. USDJPY stays tame even with stronger USD and higher US treasury yields.
The USD arched to new highs this morning versus a majority of G10 currencies, with USDJPY the notable pair not participating in the move as the market seems unwilling to challenge the Bank of Japan for now. One of the proximate triggers for a shift lower in risk sentiment late yesterday was the weak result and guidance from FedEx after US trading hours. As well, US short treasury yields continue to rise and provide plenty of pressure on markets. As for USDJPY, arguably longer yields are a more important coincident indicator, and US long yields have not yet broken to new cycle highs (3.50% for the US 10-year Treasury benchmark) although they are pushing hard on that level. The short end of the US yield curve, continues to rise apace even as the predictions for next week's meeting pulled back slightly, meaning that the "terminal rate" for the cycle is getting priced higher – and has nearly hit 4.50%, more than a hundred basis points above where it was in early August.
Data from the US yesterday was mixed. The headline US August Retail Sales report was slightly stronger than expected at +0.3% MoM vs. -0.1% expected, but July was revised down to -0.4% from 0.0%. The core Retail Sales data was slightly weaker than expected at +0.3% ex Autos and Gas, likewise with a negative revision (down to +0.3% for July after +0.7% was reported). Important to note that the US reports Retail Sales in nominal dollar changes, so this report suggests stagnating volumes. The latest weekly jobless claims data point yesterday was the lowest since late May, extending the recent falling trend.
The UK August Retail Sales data this morning, on the other hand, was distinctly weak and set off an extension lower in sterling, as EURGBP broke above 0.8722 for the first time since early 2021 UK reports Retail Sales in volumes, not in nominal prices, and the month-on-month data developments were extremely weak, pointing to a steep real growth slowdown. Sales including petrol fell -1.6% MoM in August and -1.5% ex petrol. The August Ex Petrol volumes dip takes the data below the 2019 level in August, the first time that has happened in this calendar year.
Waiting for the close of trade today for next steps as we have quarterly "witching" of massive derivatives exposures in the US today and with it, possibly erratic trading. Very interesting to see the combination of USDJPY unwillingness to move today together with USDCNH on the rise (so CNHJPY dropping), while EURUSD is also a bit stuck and backing up after trying lower in the European morning today. Some USD exhaustion creeping in at least within the G3? And if risk sentiment continues to deteriorate, will it remain always a function of the rising Fed expectations, or can it jump horses to concerns for the economic cycle? In other words, the eventual chief question may be: what happens to the USD if bond and stocks diverge in direction?
Chart: GBPUSD
GBPUSD declines took on extra energy this morning in the wake of the weak August UK Retail Sales data that showed a sharp contraction in volumes in August, a sign of real GDP contraction. This took EURGBP to new highs since early 2021 (pointing that out as an indication of isolate GBPS weakness), while GBPUSD drove down to record lows since the mid-1980's. Not sure what can bring relief for sterling here save for a halt to the relentless rise in US yields and/or thawing risk sentiment after the steep plunge this week. As for next level, only round, psychological ones seem relevant as the 1985 lows near 1.0500 are impossible to compare in real effective terms after 37 years. Bulls will have to hope that sentiment shifts here and for a quick rejection of the new lows to confirm a divergent momentum scenario (stochastic indicator turning back higher after new price lows posted with indicator not at new lows).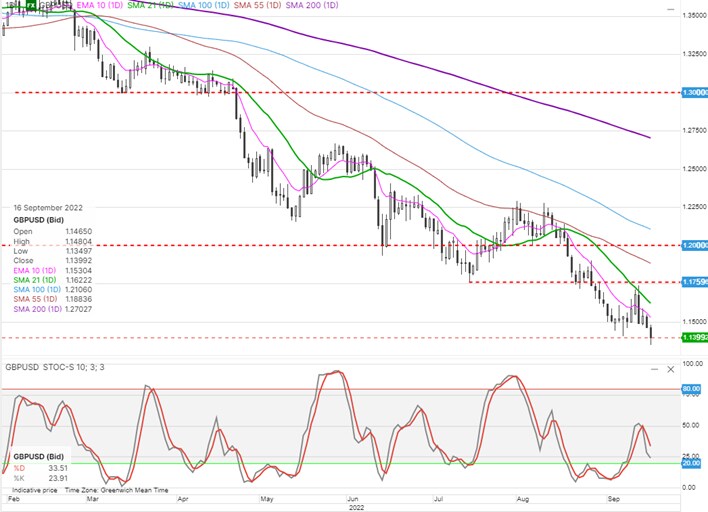 EURCHF hit new cycle lows yesterday below 0.9550, but these were rapidly rejected. Without any catalyst I could identify, this looks like possible intervention – perhaps as energy prices have calmed, meaning that the SNB wants to lean a bit the other way now? Very curious to hear the SNB next Thursday.
Table: FX Board of G10 and CNH trend evolution and strength.
The stronger euro beginning to stick out, as does the JPY resilience, as the smaller currencies and sterling have traded weakest. Gold hit the skids on breaking below the big range level around 1,680. CNH is on the weak side, which is interesting, given the strong US dollar, but let's watch 7.20 in USDCNH to see if there is any real fireworks potential.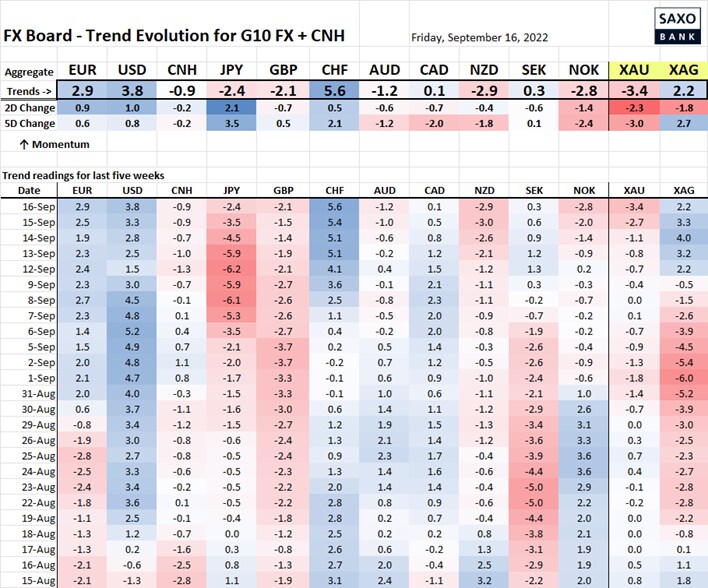 Table: FX Board Trend Scoreboard for individual pairs.
JPY has strengthened enough to have a go at flipping stronger versus NOP and NZD today. More interested in whether the CNHJPY rate flips negative next week.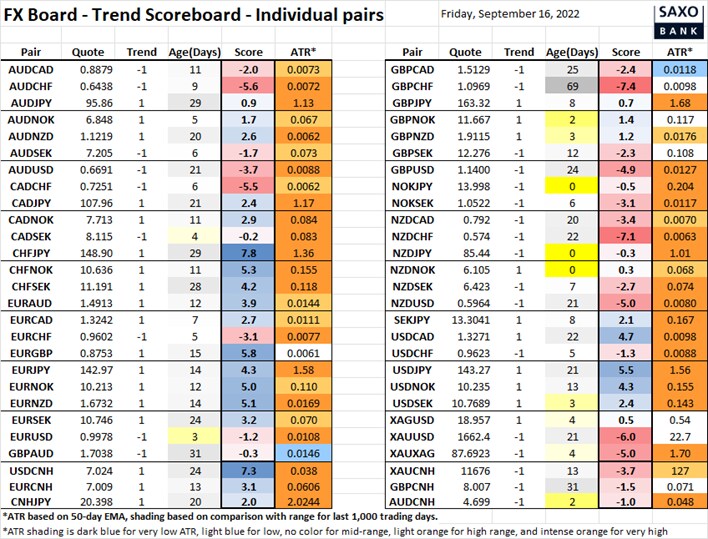 Upcoming Economic Calendar Highlights
1200 – Poland Aug. Core CPI
1215 – Canada Aug. Housing Starts
1400 – US Sep. Preliminary University of Michigan Sentiment
Source: https://www.home.saxo/content/articles/forex/fx-update-sterling-descent-takes-gbpusd-to-historic-low-16092022