Summary: The US economic data is worsening, and the Fed has not even started to tighten liquidity in a meaningful way yet. Starting June 1, the Fed will begin reducing the size of its balance sheet, amplifying its tightening beyond the rate hike measures. We continue to watch incoming economic data from the US to look for further signs of a slowdown after Richmond Fed survey, May services PMI and new home sales missed expectations. Fed's communication will be key as well especially with the choppy equity markets.
---
Mixed US economic data raising recession concerns.
The recession/stagflation rhetoric is gaining momentum, relatively more so than the inflation rhetoric which has been predominant since November now. Overnight we had a host of dismal economic data from the US including a miss in the services PMI (which is still in the expansion zone at 53.5 in May), Richmond Fed manufacturing index and new home sales. Gold has resumed its uptrend, suggesting stagflation concerns are on the rise, while Copper continues to be weak (China's demand compression is into play as well). However, some of the other indicators of the US economy such as retail sales and Chicago Fed national activity index are still holding up well. Household balance sheets remain strong and labor markets are still robust. Even if we see a deterioration in labor markets as the Fed raises rates, the strength of the private sector balance sheets will likely smoothen the slowdown in consumption levels, thereby limiting the extent of a recession if one was to occur.
Inflation will be sticky.
While the year-on-year CPI levels will be distorted by base effects, it will be more important to watch month-on-month prints to gauge how far the Fed will go with its tightening cycle. Energy prices continue to underpin underlying price pressures, and the rising food protectionism around the world also means food inflation will be sticky. China still doesn't have a clear exit plan from its zero Covid policy and while port congestions may have passed the peaks, labor shortages are still hurting everything from production to logistics to supply chains.
Looking beyond Fed's rate moves.
Fed minutes of the May meeting are due later today. While consecutive 50bps of rate hikes remain locked over the next two policy meetings and another 25bps rate hike is fully priced in for September, the odds of a sixth 25bps rate hike in September have dropped to 37%, from 65% on Monday, following Fed Atlanta President Bostic's comment suggesting an interest-rate pause in September. With markets being choppy, the Fed needs to be extra cautious on its communication if it intends to tighten liquidity. For instance, Powell ruling out a 75bps rate hike at the May meeting actually saw some loosening of financial conditions on the day after the meeting even though we saw the first 50bps rate hike of this cycle, which goes against the objective of demand slowdown and anchoring inflation expectations.
The warnings from consumer staples.
The slew of poor retailer earnings in the past week is sending a warning sign not just on the consumers trading down or the cost pressures sustaining, but also on their inventory build-ups for these essentially defensive plays. Inventory build-up is a typical sign of a slowdown as it generally indicates drier liquidity conditions hampering demand. What this means is that the retailers will need mark-down prices going forward to clear their inventory, suggesting further earnings pressures. While strong household balance sheets may help retailers sail through with these higher inventory levels, especially after the stock outs of the last two years due to supply disruptions, it is certainly something to watch as a leading indictors of economic momentum.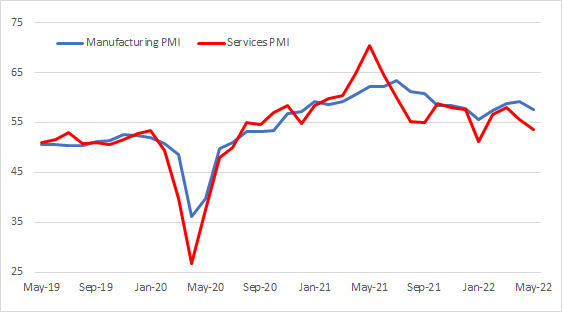 Source: Bloomberg
Source: Saxo Bank