Yesterday, the British pound closed down 75 points. The lower shadow of the daily candle has broken through the target level of 1.1525. Consolidation below the level will open the next target – 1.1385. The Marlin Oscillator is close to the oversold zone, but still has room for decline.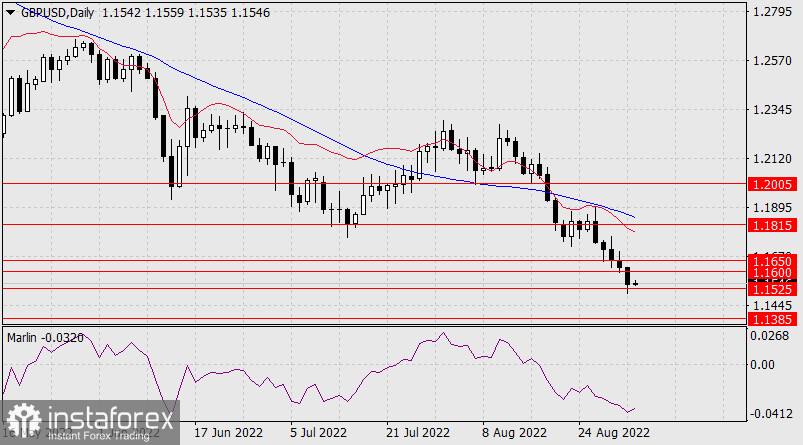 The price is consolidating above the support at 1.1525 on the four-hour chart, the decrease is taking place exactly, under the balance and MACD indicator lines. The Marlin Oscillator is declining in waves in downward trend territory. We are waiting for further development of the downward local trend.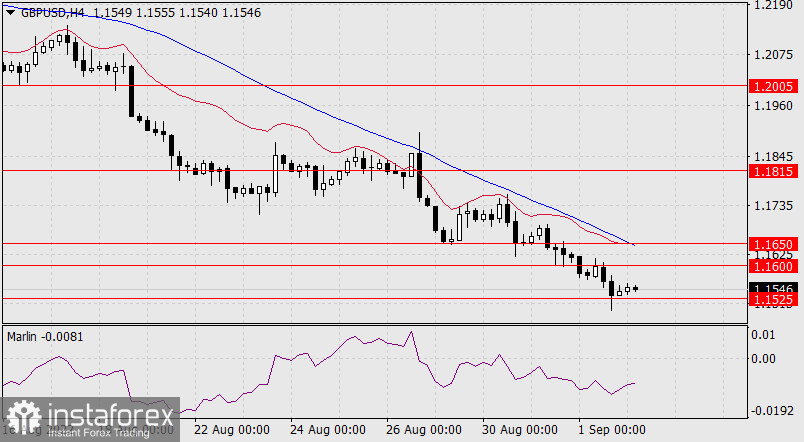 The US employment data for August is due out tonight, including nonfarm payrolls and the overall unemployment rate. The forecast for Nonfarm payrolls is 295-300,000, the unemployment rate is expected to remain unchanged at 3.5%. But the business media is raising fears about the data setback, as ADP Private Sector Employment Data came in at just 132,000 on Wednesday, versus an expectation of 300,000. And here we note two things: ADP Non-Farm Employment Change expectations were clearly too high, and , the second point is that ADP changed the data collection and analysis model in August, which led to a "weak" indicator.
The most accurate predictive indicator of Nonfarm payrolls is still not ADP Non-Farm, but weekly claims for unemployment benefits - Unemployment Claims. And this indicator shows a decline from month to month; Thus, the sum of the latest applications for four weeks amounted to 987,000, and for the other previous four months in June and August - 1,011,000. At the same time, the employment index in the manufacturing sector (ISM Manufacturing PMI sub-index) showed an increase from 49.9 to 54, 2, and the ISM Manufacturing PMI itself for August remained at the previous 52.8 against expectations of a fall to 52.0.
Thus, general market expectations for today's weak employment data in light of the looming global recession are likely to be disappointing. We are waiting for strong non-farms and the strengthening of the US dollar.
Relevance up to 05:00 2022-09-03 UTC+2 Company does not offer investment advice and the analysis performed does not guarantee results. The market analysis posted here is meant to increase your awareness, but not to give instructions to make a trade.