Summary: Commodity markets are commanding the most attention across markets and may be dragging bond yields down on the implications for easing inflation. In turn, then, shouldn't JPY find a bit more support, as it did today when EU core bond yields cratered on weak flash June PMIs? Also, today the Norges Bank surprised many with a 50 basis point hike, although the NOK price action in the wake of the decision is underwhelming.
---
FX Trading focus: Fresh pressure on JPY as BoJ losing control. USD triangulating.
The JPY jumped overnight in the wake of comments by a prominent ex-Ministry of Finance official suggesting that intervention from the MoF can't be ruled out, though he indicated the bar is high for intervention as it generally requires a sense of crisis. This price action came after the USDJPY rate managed to peak out at 136.70 on Tuesday despite softer US treasury yields this week, yields that are breaking down further today, as the 10-year benchmark US Treasury yield looks like it is in reversal mode, though a more profound sense of reversal would require a drop through 3.00% (trading near 3.10% as of this writing). Today, the weaker than expected flash June PMIs in Europe (France: 51.0 Manufacturing and 54.4 Services vs. 54.0/57.5 expected and 54.6/58.3 previous and Germany 52.0 Manufacturing and 52.4 Services vs. 54.0/54.5 expected and 54.8/55.0 previous, and Eurozone at 52.0 Manufacturing, 52.8 Services and 51.9 Composite) have brought EU core yields tumbling aggressively and taken EURJPY down several notches, a deserved re-alignment with the fundamentals.
With or without intervention jawboning from Japan (and this is from an ex-official with no contact to the MoF personnel actually in charge), shouldn't BoJ YCC policy per se should only pressure the JPY as a function of rising global yields, and when these head lower, the pressure should come off the JPY, after all? A massive sell-off in crude oil, even if a big chunk of the fall was retraced since late yesterday, is also a nominal JPY positive. Longer bond yields are likely in part reinforced by weak commodity prices as the latter are seen at the forward edge of the inflation drivers. And then the question becomes – if inflation pressures are seen as receding, will risk sentiment eventually celebrate that development or fret the reasons that price pressures are abating: on fears of recession? The easiest read is that commodity-related FX should struggle as long as the narrative is that commodity prices are retreating due to recession-induced demand destruction. On that note – watching the 1.3000 area in USDCAD and the cycle lows in AUDUSD near 0.6830.
Chart: EURUSD
EURUSD is weighing back on the 1.0500 area that has been the approximate mid-point of the range since 1.0600 fell about two weeks ago after weaker than expected flash June PMI survey figures out of the EU this morning. Interesting as well that EURUSD is breaking down as the key US 10-year treasury benchmark it breaking down through local support, but that is likely on core European yields beating an even more severe retreat on the soft data this morning. The EURUSD sell-off here likely to correlate with general risk sentiment and is showing signs getting any real downside momentum until we are closer to threatening the 1.0400 area, with the latest price action emphasizing the tactical importance of the 1.0600+ resistance.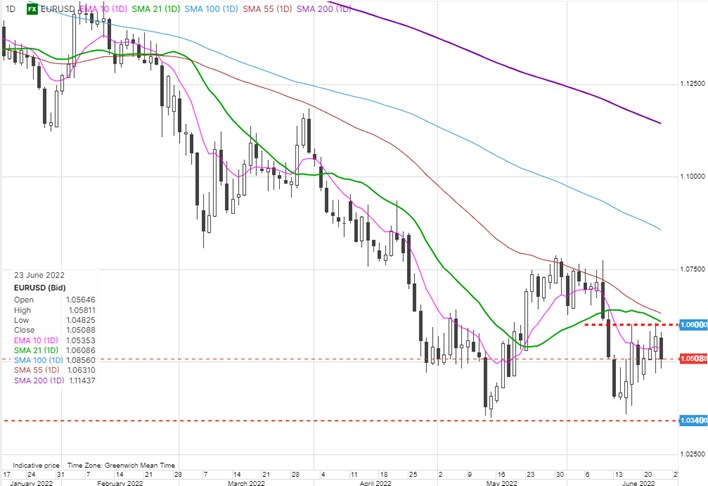 Source: Saxo Group
Norges Bank hiked the deposit rate 50 basis points, a nominal surprise as observers were split on whether they would hike 25 bps again or 50 bps. I imagine USDNOK trading near 10.00 and EURNOK trading near the 10.50 area weighed in the decision to go with the bigger hike, as a weak currency is doing the Norges Bank's inflation fighting intentions no favors. Governor Wolden did note that the krone has been weaker than expected. Interesting in the Norges Bank forward economic projections that the bank is far more concerned about persistent inflation than the ECB and Fed are, as the 2023 "underlying" CPI forecast was raised to 3.3% from 2.4% and the 2024 forecast was raised to 3.0% from 2.5%. GDP forecasts were lowered and the path of the policy rate was steepened and raised: in March, the Norges Bank forecast the policy rate to 2.5% at the end of 2023, and today's statement sees the rate at "around 3.0% in the period to summer 2023. The NOK pulled off support, but the price action was not overwhelming, likely on the massive turmoil in the oil market.
Table: FX Board of G10 and CNH trend evolution and strength.
While the CHF posts the strongest trend reading, nothing has happened in the key EURCHF And USDCHF pairs since the shock SNB move to hike 50 bps last week. Watching the commodity currencies, AUD in particular, for more downside risk if the recent commodity corrections deepen – and as a flip-side of that, whether the JPY could start flipping positive in places as well.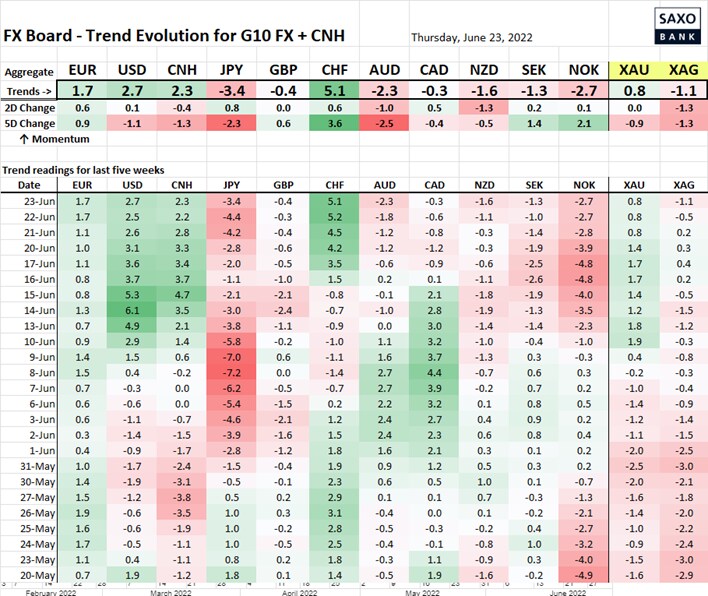 Source: Bloomberg and Saxo Group
Table: FX Board Trend Scoreboard for individual pairs.
Lots of odd crosses criss-crossing trends – chief focus on JPY pairs like AUDJPY and CADJPY if commodity correction continues, and on whether the USD rally is set to extend.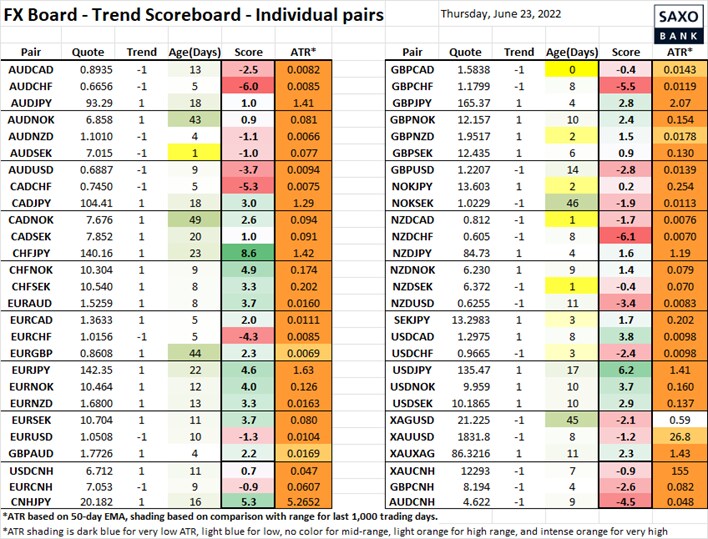 Source: Bloomberg and Saxo Group
Upcoming Economic Calendar Highlights (all times GMT)

1100 – Turkey Rate Announcement
1230 – US Weekly Initial Jobless Claims
1345 – US Jun. Flash Services and Manufacturing PMI
1400 – US Fed Chair Powell to testify before House Panel
1800 – Mexico Rate Announcement
1800 – ECB's Villeroy to speak
2301 – UK Jun. GfK Consumer Confidence
2330 – Japan May National CPI
Source: FX Update: Commodities to lead bonds to lead JPY? | Saxo Group (home.saxo)