USDJPY experienced a "Flash correction" Thursday before bouncing back strongly and has now broken above resistance at 135.60.
There is still divergence on RSI, but trend is up and remember the trend is your friend.
To reverse the bullish picture USDJPY needs to break below 131.40.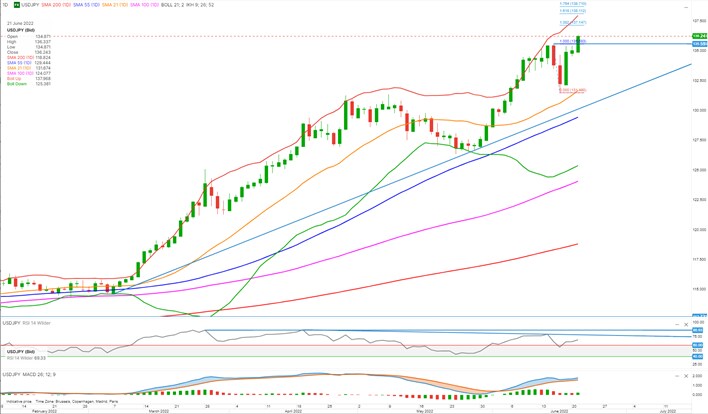 Source: Saxo Group
USDJPY is testing its strong resistance around 136. A cluster of resistance/projection levels are placed around this level.
It was the peak in January 2002, it is 1.382 Fibonacci projection of the Symmetrical Triangle break out, and if you take the peak to bottom of the Triangle and add that difference to the break-out price (illustrated by the two vertical arrows). If USDJPY can close the day above 136.20 there could very well be more upside potential.
However, RSI (Relative Strength Index) has reached and exceeded the value level it did at the peak before USDJPY started forming the corrective Triangle pattern in June 2015.
Going back 30 years every time, the RSI has reached values around 80 a larger correction has set in. At the time of writing, Monthly RSI is above 84.
However, the two other times where RSI was close to 80 the correction did not occur before divergence had been recorded. There is currently no divergence on RSI during this uptrend i.e., we could see another leg higher after a quite possible minor downward correction.
An exhaustive move higher could reach 142-147. Keep an eye on RSI, if it breaks its steep rising trend line it could be a strong indication of a correction.
Source: Saxo Group
Source: Technical Update - USDJPY testing strong resistance, can it close above? | Saxo Group (home.saxo)