Relevance up to 11:00 2022-07-14 UTC+2 Company does not offer investment advice and the analysis performed does not guarantee results. The market analysis posted here is meant to increase your awareness, but not to give instructions to make a trade.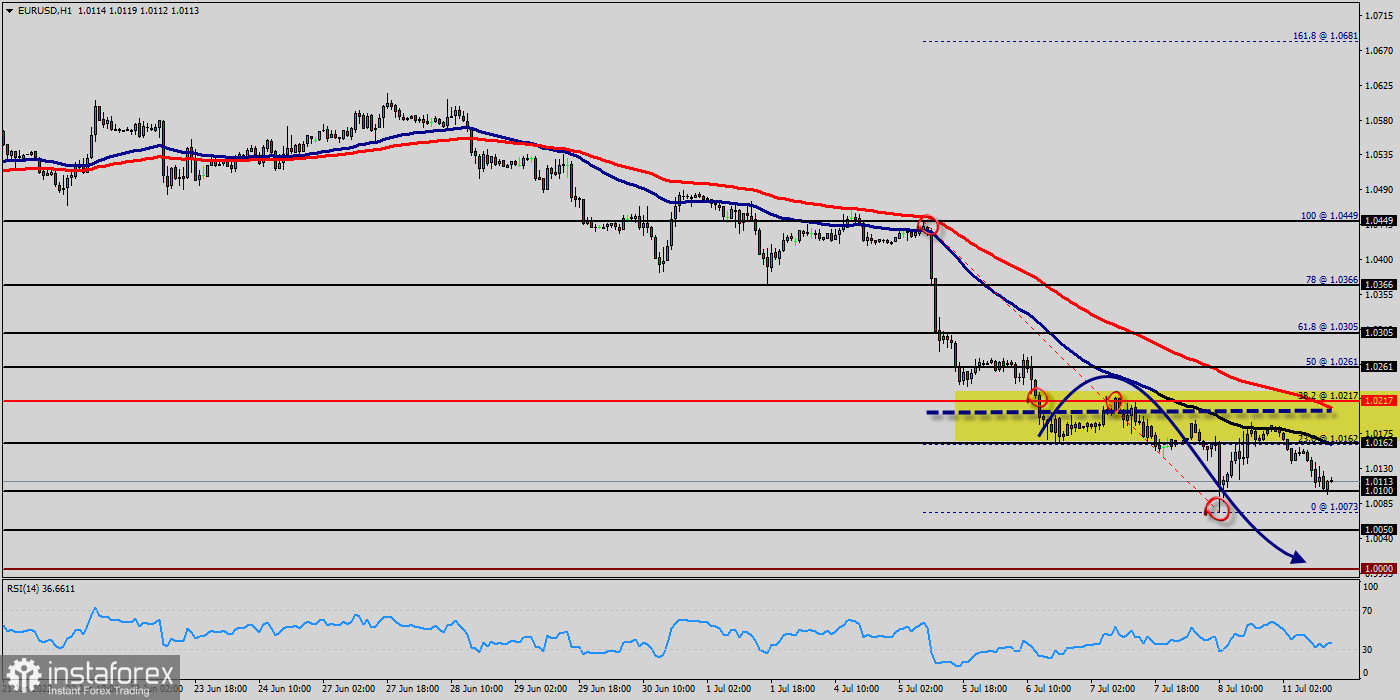 Overview :
The EUR/USD pair stayed below the psychological level of 1.0217 over the weekend, indicating a lack of urgency to accumulate at the current levels. The bears are attempting to extend EUR/USD pair's decline below 1.0217 to bottomed at 1.0100 right now.
The EUR/USD pair remains downside for consolidation below 1.0160 temporary low. Down side of recovery should be limited by 1.0160 support turned resistance to bring another fall.
The Euro pair depreciated further to 1.0100, the lowest level in 20 years, falling towards parity against the dollar on concerns the energy crisis would lead Europe's region to a deep recession, placing the ECB between a rock and a hard place as it tries to curb inflation and rest a slowing economy.
The EUR/USD pair decreased within adown channel. Closing below the pivot point (1.0217) could assure that the EUR/USD pair will move lower towards cooling new lows. Then, the bears must break through the price of 1.0100 n order to resume the downrend.
Alosn it should notice that the Euro is edging lower against the U.S. Dollar late in the session this morning in a volatile session that saw the single currency posting an early loss before continuing after data in the U.S. showed the world's largest economy created more jobs than expected this month.
If the pair fails to pass through the level of 1.0160, the market will indicate a bearish opportunity below the strong resistance level of 1.0160.
The trend is still calling for a strong bearish market from the spot of 1.0160. Sellers are asking for a high price.
In this regard, sell deals are recommended lower than the 1.0160 level with the first target at 1.0050. It is possible that the pair will carry on downwards continuing the development of the bearish trend to the level 1.0000.
However, stop loss has always been in consideration thus it will be useful to set it above the last double top at the level of 1.0217 (notice that the major resistance today has set at 1.0217). Please check out the market volatility before investing, because the sight price may have already been reached and scenarios might have become invalidated.