Relevance up to 04:00 2022-08-18 UTC+2 Company does not offer investment advice and the analysis performed does not guarantee results. The market analysis posted here is meant to increase your awareness, but not to give instructions to make a trade.


After a daily delay of the Australian dollar at 0.7015 today, since the opening of the session, the price resumed its decline, heading towards the nearest target of 0.6950. With the price going below the level, an attack will start to develop at 0.6870 – a low on August 5. The decline in stock indices on Asian markets (China A50 -0.38%, S&P/ASX 200 -0.09%) and lower prices for metals and oil (Brent -0.27%) helps the Australian currency to fall.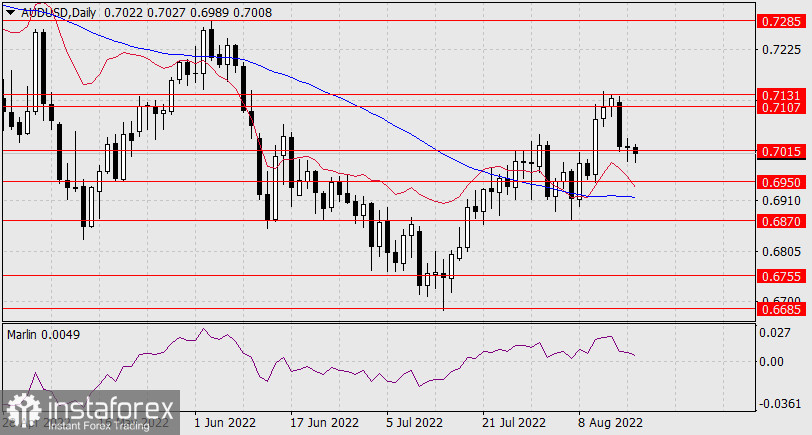 The Reserve Bank of New Zealand raised the rate from 2.50% to 3.00%, but this did not help even the New Zealand dollar. The daily Marlin Oscillator is getting closer and closer to the zero line, while maintaining the bears' optimism.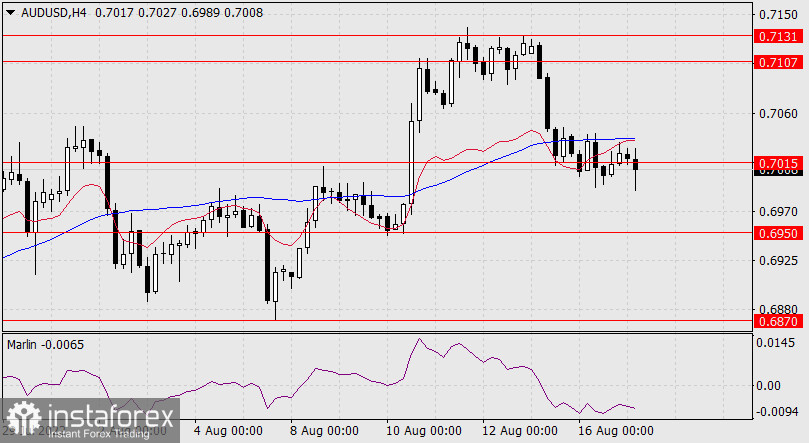 In order to develop the decline, the price still needs to settle below the level of 0.7015 on the four-hour chart. Here we see that Tuesday's consolidation took place under the MACD indicator line and when the Marlin Oscillator was in the negative area. This tells us about the likely imminent resumption of the downward movement of the Australian dollar.