With all Covid-19 travel restrictions lifted in western Europe, public transport traffic has surpassed 80% of pre-pandemic levels. But large differences among countries remain. While government initiatives in France and Germany have boosted the use of public transport, the UK and Netherlands have been impacted by work-from-home policies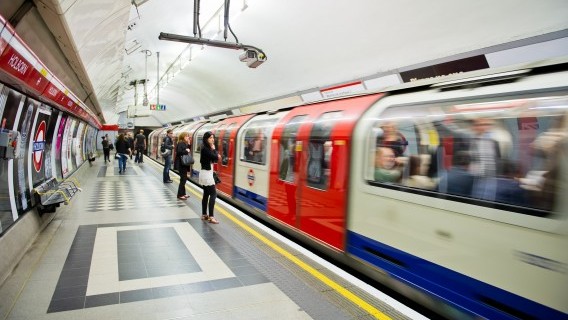 The working-from-home trend means fewer people are commuting to work in London
Public transport traffic across Europe shows recovery
European bus, train and metro traffic suffered heavily in the pandemic with passenger losses of 60-80% during the first wave and 20-60% during subsequent waves. After lifting all travel restrictions across Europe, and with the full reopening of economies and people travelling back to work in offices, the second quarter of 2022 is the first real picture of what the new normal looks like. The restart has pushed trips to transit stations up by 20%, compared to the first quarter of the year, leading to a recovery of at least 80% on average in all countries.
Public transport recovers from pandemic setback, but traffic differs across countries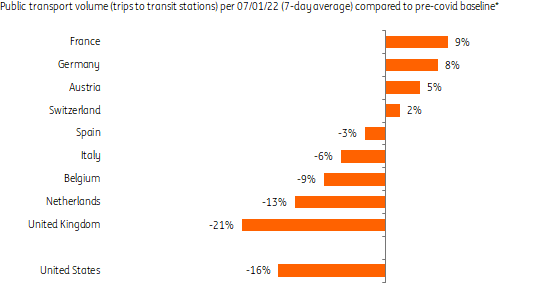 Source: Google mobility, ING Research *1/3/20-2/6/20
Mixed picture: travel figures range from -20% to +10% compared to previous levels
The recovery of public transport is uneven across European countries. Due to strict lockdown regimes, Italy, Spain and France saw the largest initial drop in 2020, but public transport volumes have picked up rapidly since then in these countries and they are now close to recovery. France even shows clear growth compared to the mid-2020 pre-Covid baseline, despite the use of masks being re-advised. On the other hand, passenger volumes in the Netherlands and the UK are still significantly below previous levels (up to -20%). In the US, traffic volumes are showing modest recovery but remain also below previous levels.
Government initiatives in Germany and France boost use of public transport
The cost of living crisis caused by soaring inflation pushed the German government into introducing €9 tickets for full-day train travel from 1 June for the summer as a green alternative to driving a car. This immediately pushed up travel figures and led to a recent growth surge. In France, domestic air travel for durations of up to two-and-a-half hours was banned in 2021 on trips with a rail alternative. This has also supported public transport usage.
Leisure travel bounced back stronger than commuting as hybrid working takes off
Transit station figures over the second quarter of 2022 show a remarkable difference between week and weekend days. Western European countries' weekend days show a stronger recovery than week averages. This suggests people are making more leisure trips than commuting to work. Some of the difference is also down to the fact that passengers started driving more over fears of Covid-19 spreading on public transport. Many of these commuters have not returned to taking public transport. In city centres, people also tend to cycle and walk more often than taking the bus, tram or metro.
Leisure travel during weekends picked up more than commuting during week days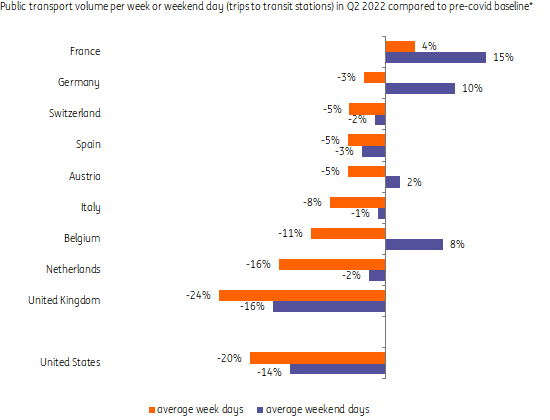 Source: Google mobility, ING Research *1/3/20-2/6/20
Country differences also explained by economic structure and cultural preferences
Economic structure is another factor behind differences in recovery across European countries. A relatively large share of workers employed in sectors including ICT, financial services and consultancy worked remotely during the pandemic and will continue to do so. For many large corporates, working from home for at least 20-50% of the time is part of the new hybrid working mode, although the optimal way of working is still evolving. In the UK and the Netherlands – which both have economies with large services sectors – public transport passenger volumes lag the most, and this is also linked to (sub-)urban traffic. London metro and bus figures, for example, show a larger loss than the country average. Population density, therefore, contributes to differences as well. Apart from this, cultural preferences and general preferences for private and business travelling* also have their impact, e.g remote working seems less common in France compared to the UK, which contributes to the gap.
*In the Netherlands, for example, research shows that a relatively large share of people working from home used to commute on public transport.
Reset for public transport outlook – full recovery in the Netherlands and UK will take time
Public transport figures tend to show structural growth with increasing (urban) populations and workforces, and this remains a driving force. Nevertheless, travel behaviour has changed and a full recovery of public transport volumes will take time in countries like the UK and Netherlands. While government support programmes are likely to help, post-pandemic growth scenarios look different and come with more uncertainty as public transport remains sensitive to new waves of infections and social distancing measures.
Public transport recovery since 2020 is uneven across western European countries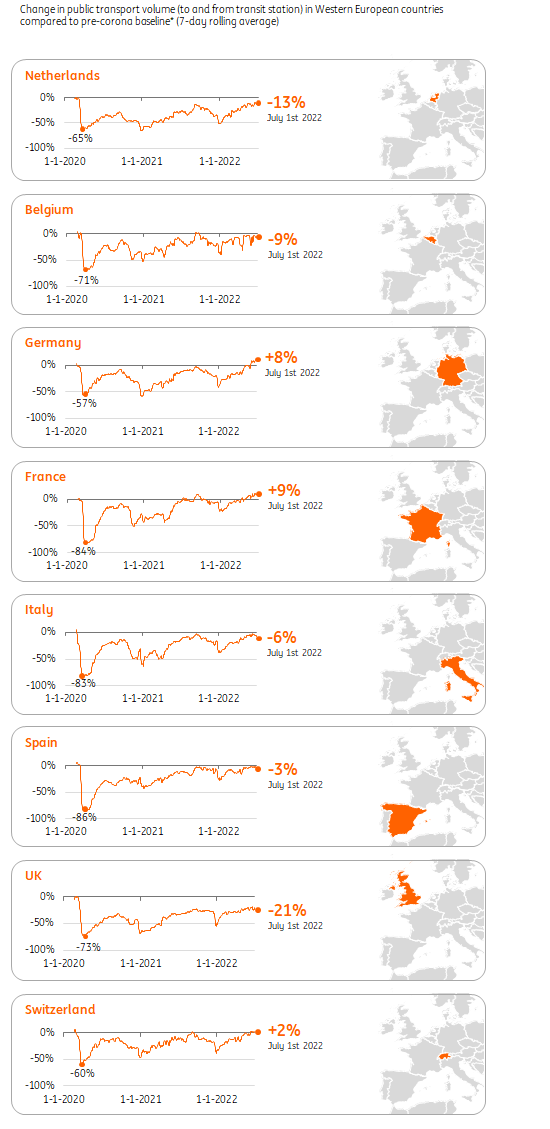 Source: Google mobility, ING Research *1/3/20-2/6/20
Read this article on THINK
Disclaimer
This publication has been prepared by ING solely for information purposes irrespective of a particular user's means, financial situation or investment objectives. The information does not constitute investment recommendation, and nor is it investment, legal or tax advice or an offer or solicitation to purchase or sell any financial instrument. Read more