Relevance up to 09:00 2022-06-30 UTC+2 Company does not offer investment advice and the analysis performed does not guarantee results. The market analysis posted here is meant to increase your awareness, but not to give instructions to make a trade.


The currency market continues to move in a tight horizontal channel, driven by many factors that balance each other. They prevent the formation of a distinct trend, but since dollar already halted its growth, euro has every chance of rising noticeably in the short term. This is also possible in other currencies pair with dollar.
In principle, the reason why the market is like this right now is because dollar is overbought and Treasury bonds eased its sell-offs, leading to the stop of yield growth. Another factor is the rate hikes implemented by world central banks, as well as the impending increase of ECB's cost of borrowing, which reduces the difference in interest rates and supports the exchange rates of currencies traded against dollar.
While relative calm has been established in the forex market, the crypto market continues to suffer significant problems, ruining not only holders of bitcoins and other crypto instruments, but also companies. For example, the well-known crypto hedge fund Three Arrows Capital defaulted on a loan in the amount of more than $670 million. Problems in the crypto market arose after the factors supporting it earlier changed dramatically at the beginning of this year. Most likely, if central banks continue to tighten policies and trigger a stagflation, the market will collapse further. This is why many are closely monitoring the data on inflation, as well as business activity indices in Europe and the United States.
Forecasts for today: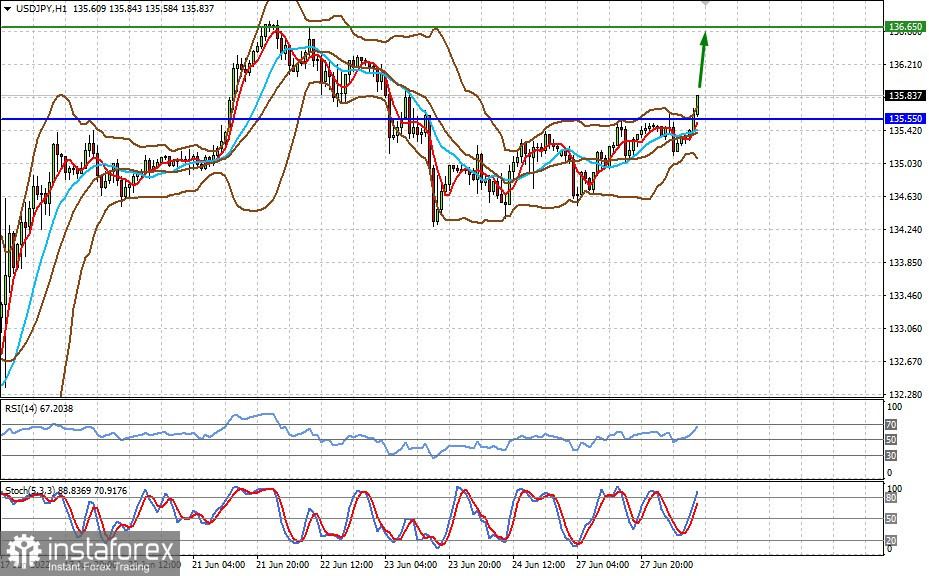 USD/JPY
The pair is trading upwards, thanks to lower market tensions and growing risk appetite. Further increase above 135.55 will bring the pair to 136.65.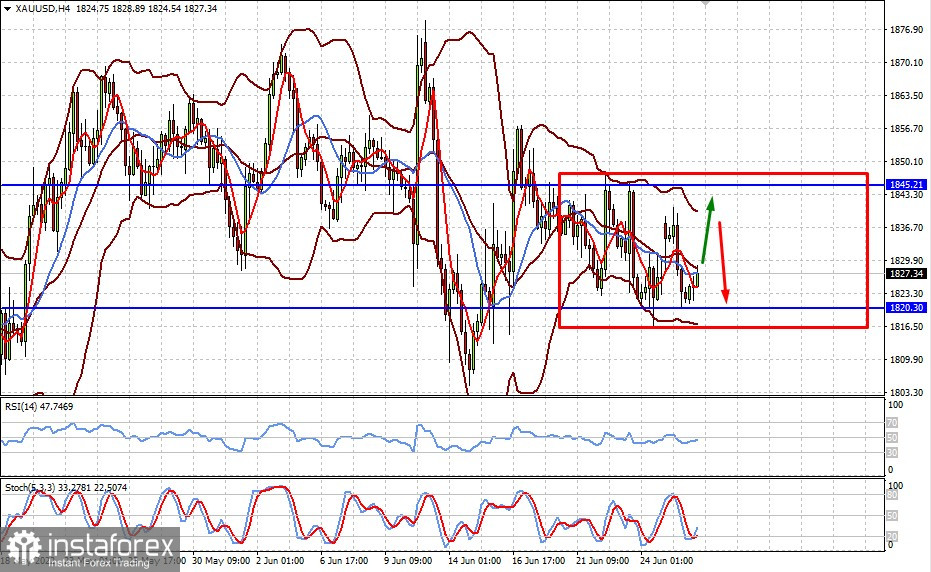 XAU/USD
Spot gold is consolidating in the range of 1820.30-1845.20. There is a high chance that it will remain trading within these levels until the end of this week.