Australian coking coal exports lagging

Source: Australian Bureau of Statistics, ING Research
Chinese imports still struggling to get back to pre-2020 levels
Since the unofficial ban on Australian coal, China's coking coal imports have struggled to reach pre-ban levels. This is despite China importing larger volumes from Russia in recent months. Given the prospect of several countries increasingly shunning Russian coal, we could very well see Russian volumes to China continue to grow. But up until now, clearly no other origin has been able to make up the shortfall from Australia. Reduced flows from Mongolia due to Covid-19 restrictions have also had an impact on overall imports. The only period that we saw Chinese coking coal imports go back towards pre-ban levels was when the government agreed to clear a lot of the stranded Australian coal cargoes at Chinese ports towards the end of last year and early this year.
China coking coal imports by origin (m tonnes)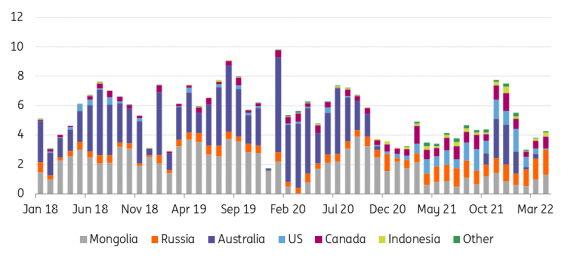 Source: NBS, ING Research
Despite lower Chinese imports, the spread between Chinese domestic futures and Australian coking coal has narrowed from the US$200 plus levels seen in 2021. In fact, we have seen periods this year when Chinese domestic coking coal futures have traded at a discount to Australian coking coal.
There are a number of reasons behind the weakening in the spread. In China, domestic coal output has ramped up given concerns over domestic energy supply. In addition, demand has been under pressure. Policy to cap steel output should weigh on demand. China aims to reduce steel output further this year after seeing a decline in output in 2021 for the first time since 2015. In addition, Covid-related restrictions this year have hit demand although the Covid impact should start to subside as restrictions are gradually eased. If China continues with its zero-Covid policy, however, this will remain a downside risk for demand.
These more bearish developments in the Chinese market have come at a time when Australian exports have been under pressure whilst there has been a fair amount of support due to bans and self-sanctioning of Russian coal.
China coal output surges, whilst steel output lags last year

Source: NBS, WSA, ING Research
Tags
Steel Russia-Ukraine Met coal Coal Australia
Disclaimer
This publication has been prepared by ING solely for information purposes irrespective of a particular user's means, financial situation or investment objectives. The information does not constitute investment recommendation, and nor is it investment, legal or tax advice or an offer or solicitation to purchase or sell any financial instrument. Read more