Summary: Yesterday's earnings from Meta and Qualcomm is the story of a cheetah at its maximum speed and a pause after an intense hunt. Based on Meta's own Q2 revenue guidance growth will go negative for the first time in the company's history as lack of tracking on iPhones is putting massive pressure on ads pricing. Qualcomm on the other hand is expected to 30% y/y in the current quarter as the company's products are in high demand with no slowdown in sight.
---
Meta to hit negative growth in Q2 for the first time ever
Meta shares are up 17% y/y as investors were relieved about the Q1 figures showing revenue came in line with estimates at $27.9bn and EPS at $2.72 vs est. $2.56. The investor reaction is unusual because the Q2 revenue guidance at $28-30bn was below estimates of $30.7bn something investors would typically have punished hard. It shows that sentiment was significantly worse than expressed by analysts in their estimates.
If we take Meta's revenue guidance at the mid-point then the company will experience its first y/y decline in revenue in the company's history which is a significant event. As the revenue growth chart shows, the declining revenue growth was already a trend before the pandemic, and the pandemic actually bought Meta a couple of years more with high growth masking the underlying structural issues. Maybe why investors and Meta themselves have surprised by the impact from TikTok? Another disturbing fact about Meta's result was 1) the $3bn operating loss in its Reality Labs segment (metaverse/Oculus bet), and 2) that advertising pricing was -8% vs est. -4% which means that the way Meta mitigated the falling prices, likely stemming from losing tracking ability on iPhones, were to serve more ads which they did by serving 15% more ads compared to 12.8% estimated by analysts.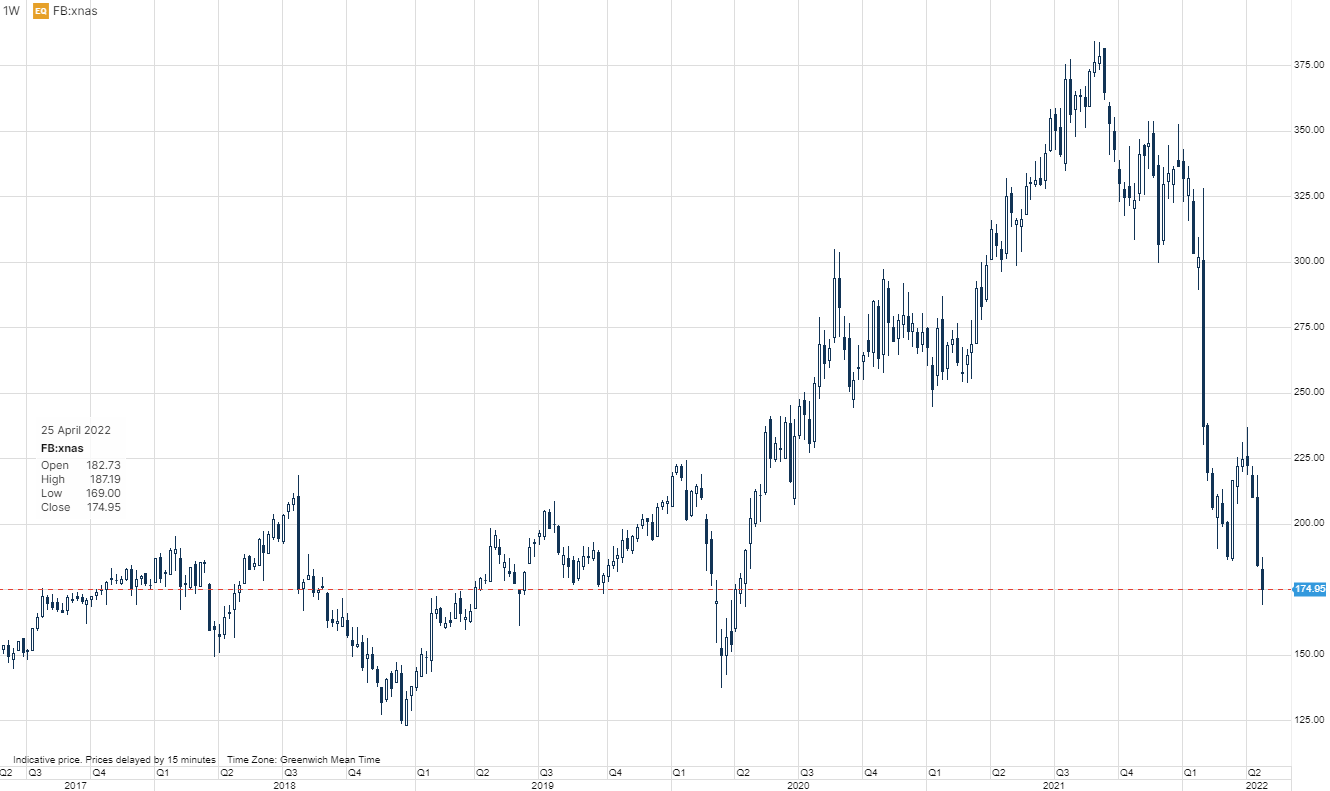 Source: Saxo Group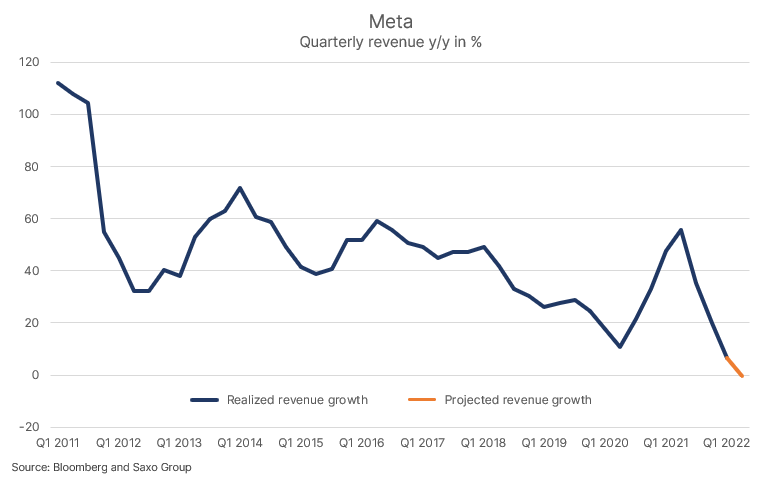 Qualcomm is not running out of demand anytime soon
As with Nvidia, Qualcomm is one of those companies in the semiconductor supply chain that is riding all the big trends from headsets, electric vehicles (use more semiconductors), and Internet of Things (IoT). The wireless communication and chip maker delivered revenue of $11.2bn vs est. $10.6bn and sees current quarter revenue at $10.5-11.3bn vs est. $10bn and current quarter EPS of $2.75-2.95 vs est. $2.60 with the CEO saying demand is looking strong across all end-markets and that supply is improving. Qualcomm shares are up 8% in pre-market trading.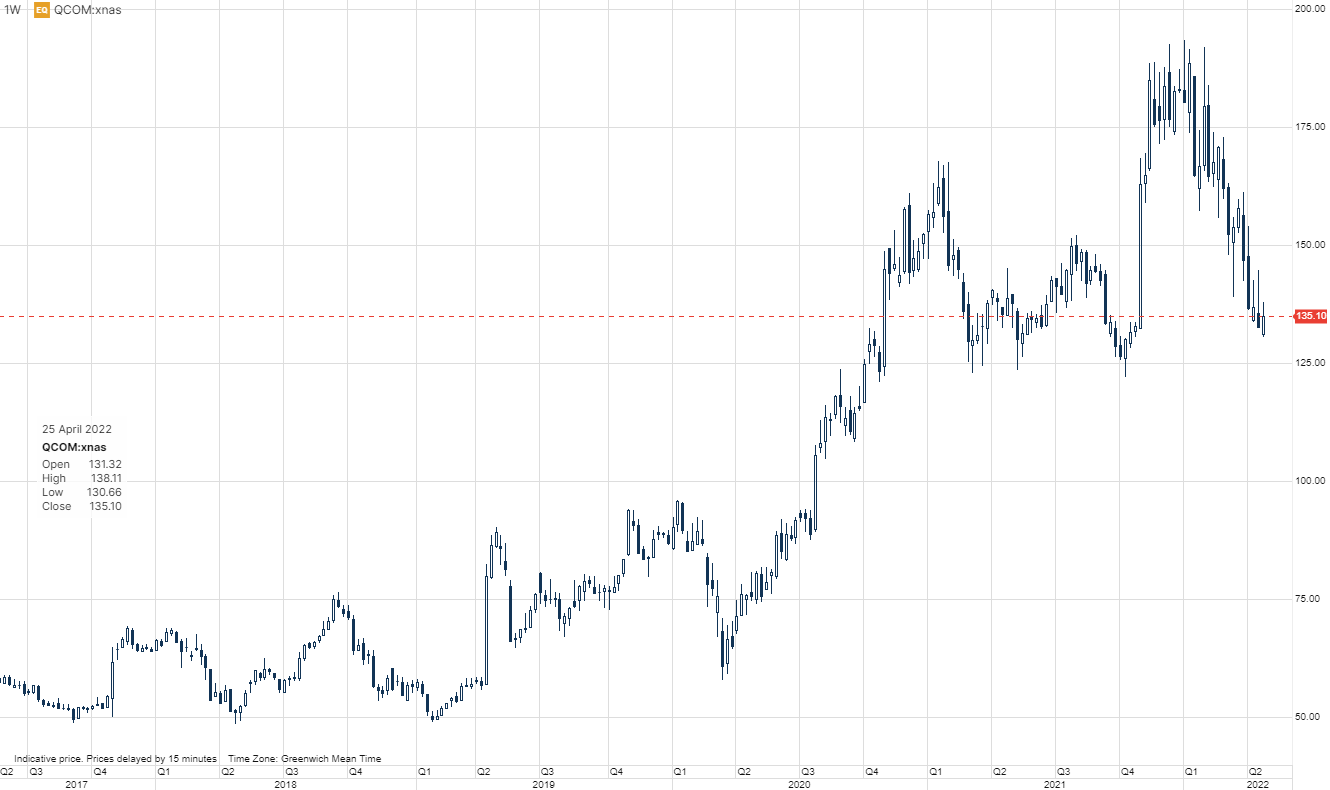 Source: Saxo GroupWith the earnings releases yesterday EPS growth q/q is now negative both MSCI World, S&P 500, and Nasdaq 100 suggesting rising input costs are having a real negative impact on aggregate earnings.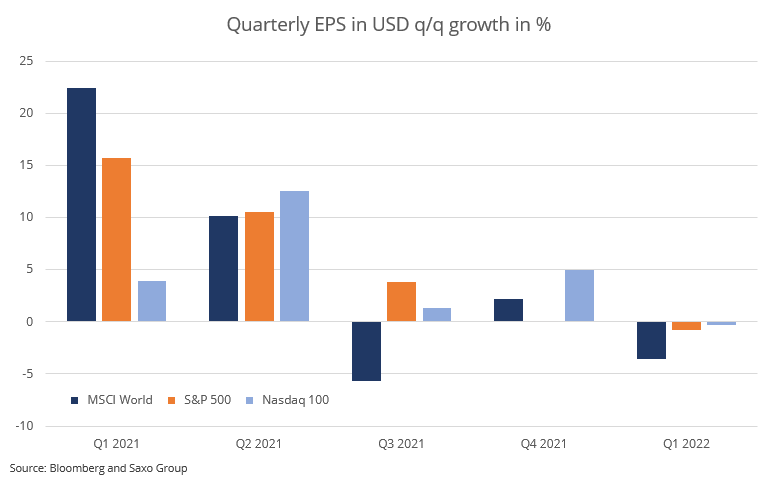 Source: Saxo Bank