Equities 8 minutes to read
Summary: By sheer coincidence we launched our current bubble stocks basket on the 12 February 2021 which happened to be the exact day when the Ark Innovation ETF peaked on close prices. Since then our bubble stocks basket is down 55.2% in what has been a bloodbath among these speculative growth stocks as interest rates have charged higher on rising inflationary pressures. The plunge in bubble stocks has caused a dramatic cleanup of the basket as former bubble stocks are no longer meeting the criteria with 26 out 40 stocks leaving the basket.
---
Echo from the past
Our bubble stocks basket was a high-flying basket in the beginning of last year, but the gradually higher interest rates and inflation pressures driven by higher energy prices forced investors to rethink equity portfolios. As a result a rotation process was set in motion which led to bubble stocks (speculative growth stocks) to be shredded in masse while commodity and value related stocks were increased in portfolios. This rotation is very clear when you look at 1-year performance and year-to-date performance among our theme baskets.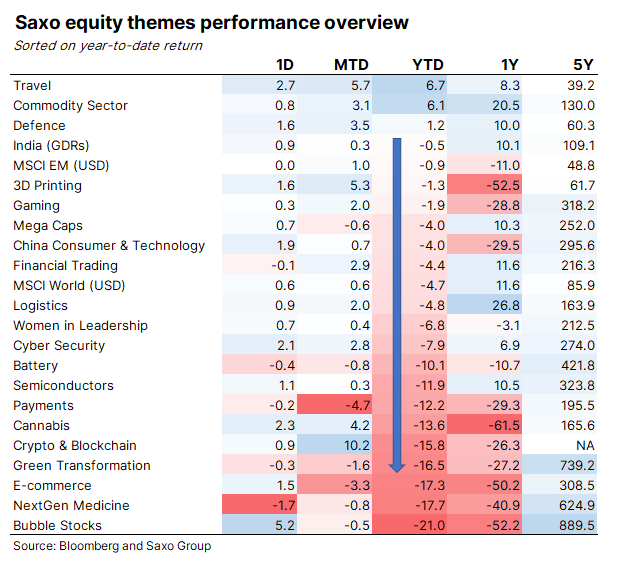 We introduced our bubble basket on 8 January 2021 and updated our methodology during early February publishing a renewed basket on 12 February 2021 in which we warned of bubble stocks. In a striking coincidence the 12 February 2021 happened to be the day when the Ark Innovation ETF peaked on close prices. Since that day almost a year ago, our bubble stocks basket is down 55.2%, slightly more than the Ark Innovation ETF down 53.4%, basically behaving as we warned about in February 2021 that higher interest rates due to inflation pressures would severely pressure these stocks. In many ways the collapse in bubble stocks fell like an echo from the dot-com bubble days and the downward pressure may continue.
As the long-term chart also show, the bubble stocks basket is currently back to levels from September 2020, but still up significantly over a five-year period. However, the key risk remains higher interest rates as this group of stocks has a high equity duration, meaning that their terminal value is very sensitive to changes in the discount rate.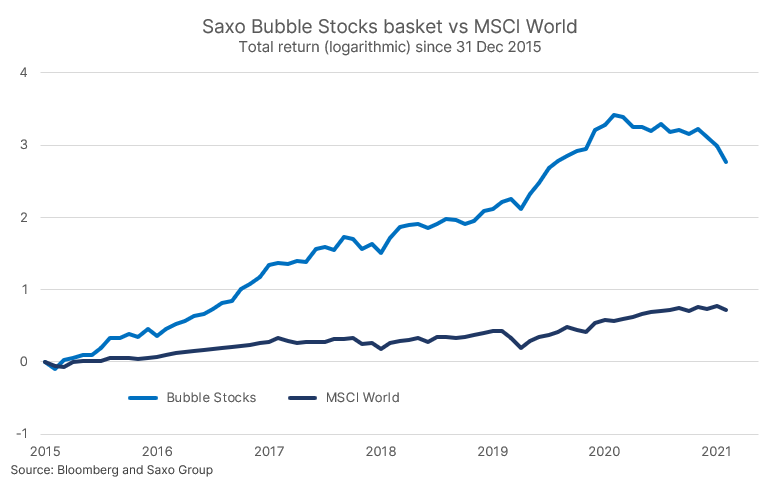 Source: Saxo Group
Significant changes to the bubble basket
The methodology behind the bubble stocks basket is not changing and thus we are still selecting the 40 largest stocks on market capitalization with the following characteristics:
Market capitalization above $2bn
Listed on exchanges in North America, Western Europe, Singapore, Japan, Australia, and Hong Kong
12-month forward EV/Sales above 8x
12-month forward EPS less than 0
Based on a current screening there are 26 stocks out of 40 stocks leaving the bubble stocks basket:
Kuaishou Technology
Sea Ltd
Airbnb Inc
NIO Inc
Snowflake Inc
DoorDash Inc
Roku Inc
Bilibili Inc
Teladoc Health Inc
XPeng Inc
Cloudflare Inc
Splunk Inc
Exact Sciences Corp
Gaotu Techedu Inc
Farfetch Ltd
DraftKings Inc
GDS Holdings Ltd
Ping An Healthcare and Technology Co Ltd
Innovent Biologics Inc
Zai Lab Ltd
Kingsoft Cloud Holdings Ltd
Yatsen Holding Ltd
Oak Street Health Inc
C3.ai Inc
Canopy Growth Corp
Appian Corp
Many of these companies still have market capitalization above $2bn and negative earnings expectations, but they have fallen a lot over the past year combined with revenue growing such that their 12-month forward EV/Sales ratio has gone below 8x.
The 26 new stocks entering the basket are:
Rivian Automotive Inc
Lucid Group Inc
NU Holdings Ltd/Cayman Islands
Cellnex Telecom SA
Okta Inc
SenseTime Group Inc
Grab Holdings Ltd
Confluent Inc
Qualtrics International Inc
Brookfield Renewable Corp
SentinelOne Inc
Robinhood Markets Inc
Samsara Inc
Gitlab Inc
Asana Inc
Monday.com Ltd
Biohaven Pharmaceutical Holding Co Ltd
Procore Technologies Inc
Kingdee International Software Group Co Ltd
Guidewire Software Inc
Ginkgo Bioworks Holdings Inc
Smartsheet Inc
Novocure Ltd
Shanghai Junshi Biosciences Co Ltd
Ascendis Pharma A/S
Intellia Therapeutics Inc
The table below shows the new updated bubble stocks basket and some key statistics. The bubble stocks basket now represent $687bn in market value down from $1,565mn a year ago highlighting the shareholder value destruction that has taken place in the part of the equity market. A year ago, the bubble stocks basket had a median 12-month forward EV/Sales ratio of 21.3x which has now declined to 14.6x.
| | | | | | | |
| --- | --- | --- | --- | --- | --- | --- |
| Name | Mkt Cap (USD mn.) | 12M Fwd EPS | 12M Fwd EV/Sales | Diff to PT (%) | 5yr return (%) | YTD return (%) |
| Rivian Automotive Inc | 54,874 | -4.97 | 14.8 | 118.1 | NA | -41.2 |
| Lucid Group Inc | 45,160 | -1.02 | 17.7 | 61.6 | NA | -27.9 |
| NU Holdings Ltd/Cayman Islands | 41,017 | -0.02 | 14.9 | 29.9 | NA | -5.1 |
| Unity Software Inc | 31,483 | -0.13 | 19.7 | 47.6 | NA | -24.7 |
| Cellnex Telecom SA | 30,482 | -0.08 | 10.6 | 67.5 | 277.2 | -23.3 |
| Okta Inc | 29,623 | -0.45 | 16.5 | 43.5 | NA | -15.0 |
| SenseTime Group Inc | 29,154 | -0.03 | 31.5 | 7.8 | NA | 23.3 |
| MongoDB Inc | 27,998 | -0.90 | 23.8 | 32.8 | NA | -20.8 |
| Seagen Inc | 25,598 | -0.49 | 10.3 | 29.5 | 132.7 | -9.5 |
| Bill.com Holdings Inc | 24,468 | -0.48 | 31.9 | 32.2 | NA | -5.2 |
| BeiGene Ltd | 23,748 | -11.04 | 13.7 | 80.2 | 486.6 | -22.0 |
| Grab Holdings Ltd | 19,491 | -0.25 | 17.2 | 88.4 | NA | -26.9 |
| Confluent Inc | 19,079 | -0.75 | 33.8 | 24.6 | NA | -5.4 |
| Affirm Holdings Inc | 18,336 | -1.44 | 10.5 | 55.9 | NA | -35.1 |
| Alnylam Pharmaceuticals Inc | 17,658 | -3.35 | 12.4 | 42.3 | 224.0 | -12.9 |
| Qualtrics International Inc | 17,559 | 0.00 | 11.7 | 33.8 | NA | -13.1 |
| Argenx SE | 15,084 | -19.10 | 67.2 | 30.4 | 1,494.6 | -19.8 |
| Plug Power Inc | 12,657 | -0.24 | 9.4 | 98.5 | 1,761.0 | -22.2 |
| Brookfield Renewable Corp | 12,373 | -0.17 | 13.1 | 24.7 | NA | -6.8 |
| Wolfspeed Inc | 11,849 | -0.16 | 12.6 | 25.4 | 269.4 | -14.8 |
| SentinelOne Inc | 11,568 | -0.68 | 28.2 | 48.9 | NA | -14.2 |
| Robinhood Markets Inc | 11,559 | -1.07 | 9.3 | 59.1 | NA | -24.7 |
| Samsara Inc | 11,031 | -0.31 | 21.9 | 35.1 | NA | -22.1 |
| Gitlab Inc | 10,773 | -1.04 | 29.1 | 64.1 | NA | -14.5 |
| Asana Inc | 10,246 | -0.98 | 19.9 | 58.9 | NA | -26.3 |
| 10X Genomics Inc | 10,118 | -0.24 | 13.6 | 109.8 | NA | -39.2 |
| Avalara Inc | 9,383 | -0.19 | 10.2 | 68.3 | NA | -16.4 |
| Monday.com Ltd | 9,141 | -2.44 | 17.9 | 78.1 | NA | -32.9 |
| Biohaven Pharmaceutical Holding Co Ltd | 8,570 | -5.16 | 9.3 | 20.8 | NA | -5.1 |
| Elastic NV | 8,497 | -0.45 | 8.2 | 73.6 | NA | -25.5 |
| Procore Technologies Inc | 8,358 | -0.76 | 11.4 | 68.5 | NA | -20.8 |
| Kingdee International Software Group Co Ltd | 8,770 | -0.04 | 9.7 | 57.5 | 529.5 | -18.0 |
| Guidewire Software Inc | 8,042 | -0.24 | 9.2 | 36.1 | 76.9 | -15.0 |
| Ginkgo Bioworks Holdings Inc | 8,028 | -0.15 | 21.7 | 118.5 | NA | -35.0 |
| Smartsheet Inc | 7,952 | -0.25 | 10.3 | 46.7 | NA | -19.0 |
| Novocure Ltd | 7,818 | -0.38 | 13.0 | 73.5 | 960.6 | 0.3 |
| Shanghai Junshi Biosciences Co Ltd | 7,609 | -0.89 | 14.9 | 61.7 | NA | -19.4 |
| Guardant Health Inc | 7,353 | -4.38 | 14.4 | 116.5 | NA | -27.7 |
| Ascendis Pharma A/S | 7,021 | -8.05 | 65.0 | 53.5 | 423.9 | -8.2 |
| Intellia Therapeutics Inc | 6,940 | -4.10 | 163.0 | 69.2 | 617.9 | -21.1 |
| Aggregate / median | 686,470 | | 14.6 | 56.7 | 455.3 | -19.6 |
Source: Bloomberg and Saxo Group