Crypto Industry News:
The cryptocurrency industry has lost a trillion dollars in recent months as Bitcoin plunged below $ 20,000. Famous investor Peter Schiff says the fierce competition from altcoins is taking its toll.
Less than a month ago, the price of Bitcoin soared above the $ 23,000 mark. The sharp decline in the cryptocurrency in the remainder of August until this week saw a correction of about 20% of its total market capitalization.
Schiff Gold Fund CEO and Austrian economist Peter Schiff says Bitcoin is losing market share to competing altcoins:
"BTC dominance has dropped to 38.1%, its lowest level since June 2018. Competing against nearly 21,000 other intrinsically worthless digital tokens, NFT and cryptocurrency-related stocks is taking its toll. Even though Bitcoin is unique, its alternatives are not."
Several crypto Twitter commentators were quick to disagree with Peter Schiff's claims. Even his son Spencer has questioned his father's claim that all competition in the crypto markets is flooding with Bitcoin.
It is true that many new cryptocurrencies do not have a known supply limit of 21 million coins on the Satoshi Blockchain. However, Bitcoin does not necessarily compete with its peers in the cryptocurrency sector. The fast-growing market offers a wide variety of virtual financial services.
Moreover, as Peter Schiff himself pointed out, not all Bitcoin "peers" offer users a currency based in part on the economy of digital scarcity. So they don't really compete for the same users.
Technical Market Outlook:
The BTC/USD pair had bounced form a new swing low located at the level of $18,553 and is trading back above the $20k level. The last local high was made at $20,822 (at the time of writing the analysis) and the next target for bulls is seen at $21,368 (100 DMA). The market conditions are now neutral as the bounce was made from the extremely oversold conditions. The main trend remains down and the next target for bears is located at $17,600.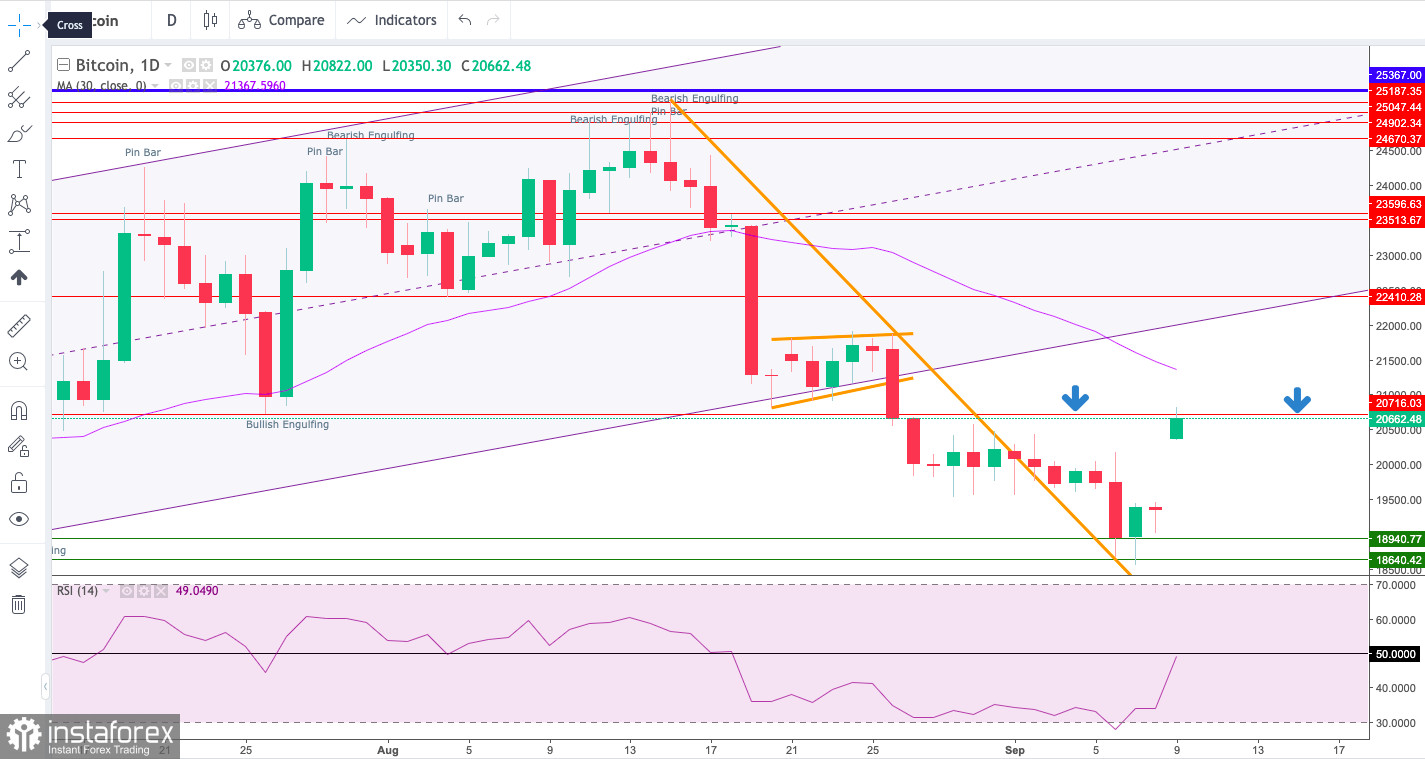 Weekly Pivot Points:
WR3 - $20,411
WR2 - $20,111
WR1 - $19,911
Weekly Pivot - $19,840
WS1 - $19,610
WS2 - $19,509
WS3 - $19,209
Trading Outlook:
The down trend on the H4, Daily and Weekly time frames continues without any indication of a possible trend termination or reversal. So far every bounce and attempt to rally is being used to sell Bitcoin for a better price by the market participants, so the bearish pressure is still high. The key long term technical support at the psychological level of $20,000 had been violated, the new swing low was made at $17,600 and if this level is violated, then the next long-term target for bulls is seen at $13,712. On the other hand, the gamechanging level for bulls is located at $25,367 and it must be clearly violated for a valid breakout.
Relevance up to 09:00 2022-09-10 UTC+2 Company does not offer investment advice and the analysis performed does not guarantee results. The market analysis posted here is meant to increase your awareness, but not to give instructions to make a trade.