Summary: The equity market is not prepared for a 75 basis points rate hike tonight by the FOMC judging from retail investors behaviour over the past week. The buy-the-dip mentality and hopes of a V-shaped recovery are so ingrained after a decade of relentlessly higher equities interrupted a few times by a quick recovery, that the tightening of financial conditions will come as a shock. Bank of Japan will also be forced to reconsider its yield-curve-control policy and if BoJ pivots then a hidden force might be unleashed as Japanese investors might move into selling mode on its foreign assets.
---
Bank of Japan decision could unleash selling of foreign assets
Today at 1800 GMT the FOMC could surprise the majority of economists with a 75 basis points rate hike as between the lines leaked in the Wall Street Journal yesterday (perceived to be the primary source for the Fed to leak information). The market has already priced in a 75 basis points rate hike with a 90% probability so if the FOMC wants to be in line with the market and retain its credibility it must follow through. Despite the Fed Funds Rate futures are pricing in a 75 basis points rate hike the equity market in particularly is not prepared. We still observe a high degree of complacency among retail investors still exhibiting buy-the-dip mentally and that things will soon normalize. They are in for reckoning.
One thing is the Fed's need to move fast but even more importantly other central banks such as BoE, ECB, and BoJ must change cause or else creating a far bigger problem down the road. Maintaining a too loose monetary policy vs the Fed will weaken the GBP, EUR, and JPY against the USD importing even more inflation as the world's natural ressources are priced in USD. Bank of Japan is probably the central bank with most at stake and Kuroda has fought hard to maintain its yield-curve-control (YCC) with its 25 basis points upper limit on the Japanese 10-year yield. The policy is becoming to costly now for Japan that import too much inflation due to its weaker currency (see chart) and weakening the credibility of BoJ. If BoJ breaks away from its YCC policy then a hidden force will be unleashed.
Japan has a large net international investment position (NIIP) which has risen dramatically since 2017 which was introduced in September 2016 reaching 70.7% of GDP by September 2021 up from 59.5% in 2017. These foreign assets represent $3.4trn. If Bank of Japan pivots on its monetary policy we could see a large reversal of the JPY which in theory could increase the propensity of Japanese investors to sell their foreign assets. Japanese investors have recently been the main source of selling in Danish mortgage bonds suggesting some "smart" investors are anticipating the death of the YCC policy. An eventual policy pivot by Bank of Japan could unleash large selling pressure in USD and EUR assets, so Friday's rate decision in Bank of Japan is crucial to monitor for investors.
USDJPY | Source: Saxo Group
Is the market even prepared for what is coming?
In many ways it feels surreal to observe market behaviour and pricing across certain pockets given the policy trajectory from the Fed and the already now visible cracks the current tightening of financial conditions have already caused. Asking prices on houses are coming down in several countries and companies are freezing hiring. Meanwhile sell-side analysts have a 12-month forward EPS estimate on S&P 500 of $236.84 implying an EPS growth of 18.4% over the next 12 months. It just makes no sense at all. The dividend futures market which prices expected dividends is pricing future profitability and here we observe a 6% decline in S&P 500 dividends in 2023 from the peak last year responding to margin pressure that we observed in the Q1 earnings releases. But is 6% decline in dividends even enough? It reflects of course that energy companies will likely increase dividends to attract capital and investors, but the pricing seems a bit off relative to much tighter financial conditions expected over the coming 12 months.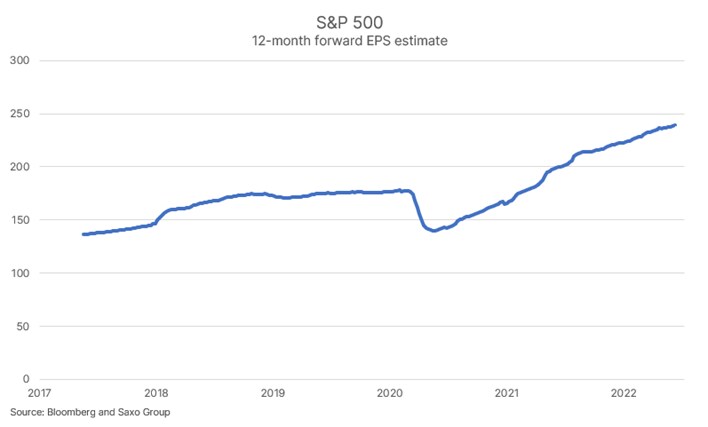 S&P 500 earnings estimate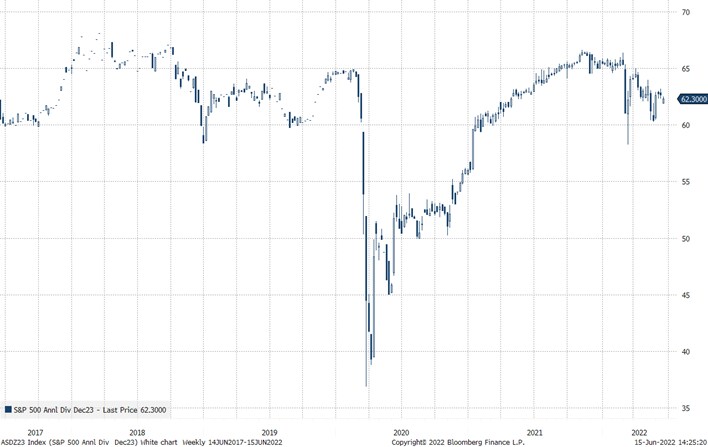 S&P 500 dividend futures Dec23 | Source: Bloomberg
Source: A hidden force could soon be released dividend futures live in la-la land | Saxo Group (home.saxo)