While manufacturers and builders still seem vulnerable to geopolitical developments, services businesses and retailers are possibly benefiting from a re-opening effect, helped by tourism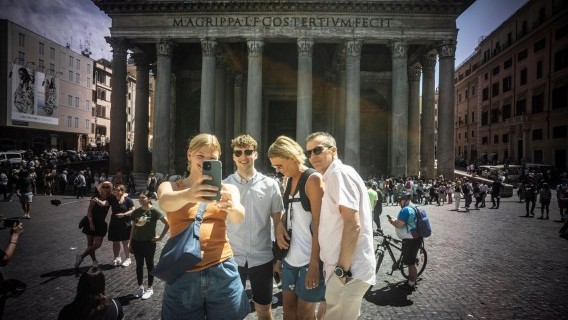 Italy's economy will benefit from a very positive tourism season this year
Consumer confidence rebounds after four consecutive monthly falls
After posting four consecutive monthly falls, consumer confidence rebounded in May to 102.7 (from 100 in April), propelled by a marked gain in current conditions. Respondents seem less worried about the risk of future unemployment and slightly less negative about the opportunity to purchase durable goods. We suspect that the rebound in consumer spirit has something to do with the government's decision to temporarily cut taxes on energy, which resulted in a sharp decline in the price of petrol at the pump over the month.
Manufacturing and construction still vulnerable to external developments
On the business front, confidence contracted further in the manufacturing and construction sectors but improved markedly in services. Here the discriminating factor seems to lie with the different exposure to the consequences of energy price increases and renewed supply chain disruptions materialising in China. For manufacturers, the decline in confidence started well before the war and goes hand-in-hand with softening orders. Interestingly, unlike producers of intermediate and investment goods, producers of consumer goods had confidence and orders slightly improved, possibly suggesting that some form of consumption smoothing is at work.
Service businesses more upbeat, possibly helped by the re-opening effect
The most notable part of today's confidence report is that of services. After two consecutive declines, the index gained more than six points on the month, clearly driven by the tourism component, but with transport, communications and services to businesses all posting healthy gains. The clear improvement in the orders component seems encouraging as 3Q22 developments are concerned. More specifically, the indications coming from the survey seem consistent with anecdotal evidence of a very positive tourism season. Improved confidence among retailers suggests that to some extent this is already happening.
A short-lived and soft technical recession remains our base case
All in all, confidence indicators are suggesting that uncertainty about the actual state of the economy remains elevated, but also that some of the measures put in place by the government to help households weathering the energy inflation shock are at least temporarily working. This does not make the forecasting exercise any easier. Still, lacking any hard data but inflation for Q2, we are still pencilling in a small quarterly decline in 2Q22 GDP, but feel comforted by the anticipation of a rebound in 3Q22, as support to households could compound with a good tourism season.
Read this article on THINK
Disclaimer
This publication has been prepared by ING solely for information purposes irrespective of a particular user's means, financial situation or investment objectives. The information does not constitute investment recommendation, and nor is it investment, legal or tax advice or an offer or solicitation to purchase or sell any financial instrument. Read more