Headline inflation in Italy stabilised in November, still very much driven by goods, with the energy component starting to reflect an improving base effect. Beware core inflation, though, as its persistence will likely slow down the decline in headline inflation over the first part of 2023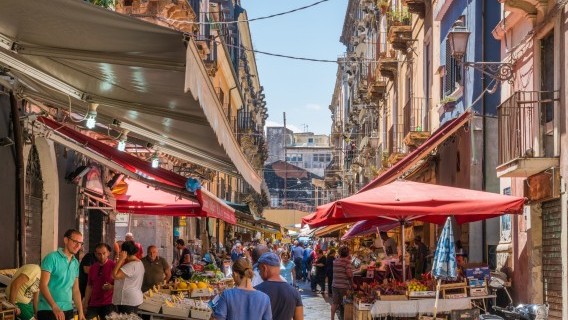 Consumer headline inflation came in at 11.8% year-on-year in November, unchanged from October, and in line with our forecasts. This results from a decline in the non-regulated energy component, of fresh food and transport services, and an acceleration of regulated energy goods, transformed food, other goods and recreational and cultural services. The wide gap between goods inflation (at 17.5% YoY) and services inflation (at 3.8% YoY) remains stable from October. The harmonised HICP measure was also stable at 12.5% YoY.
Favourable base effects in energy, but the core measure continues to inch up
We are at a time of the year when the base effect starts to be favourable. This was the case with aggregated energy goods, where inflation declined to 67.3% in November from 71.1% in October. However, this is not the case with underlying inflation, which accelerated to 5.7% (from 5.3% in October) signalling that the pass-through of past energy inflation pressures is not over yet. As wage dynamics have so far remained almost unaffected (1.2% YoY in September is the latest reading), risks of further gains in the core component over the next few months should not be dismissed.
Peak possibly close, but pace of decline still uncertain
Looking ahead, we suspect that the energy component might have reached its peak, but will remain exposed to the vagaries of administrative decisions. For instance, the current €0.30 rebate on fuels will be reduced to €0.18 from December, which will have an impact on the headline measure. More encouragingly, in October producer price inflation recorded a clear deceleration to 28% YoY from 41.7% in September, suggesting that price pressures in the pipeline started to finally cool down.
November business surveys seem to confirm this, with the selling price component (over the next three months) declining both in manufacturing and services. This does not mean that the headline peak has now passed. We currently project inflation to remain at the current level into December, and to start a gradual decline thereafter as the deceleration in the energy component should outweigh the inertia in the core measure. For the time being, we are sticking with our average yearly inflation forecast at 8.2% in 2022 and 6.7% in 2023.
Read this article on THINK
Tags
Italy
Disclaimer
This publication has been prepared by ING solely for information purposes irrespective of a particular user's means, financial situation or investment objectives. The information does not constitute investment recommendation, and nor is it investment, legal or tax advice or an offer or solicitation to purchase or sell any financial instrument. Read more