Relevance up to 14:00 UTC+2 Company does not offer investment advice and the analysis performed does not guarantee results. The market analysis posted here is meant to increase your awareness, but not to give instructions to make a trade.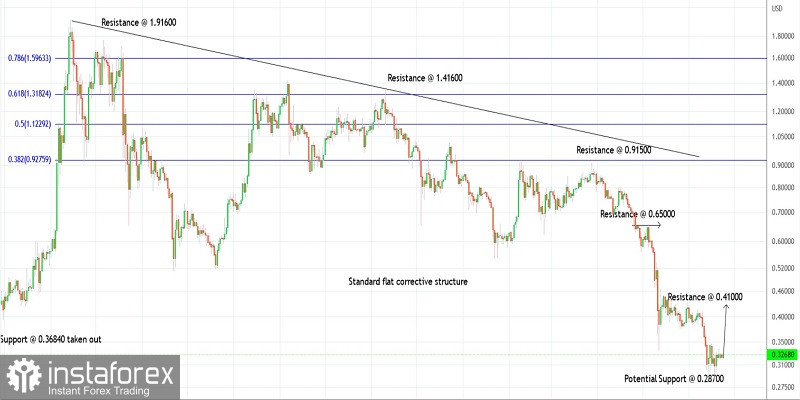 Technical outlook:
Ripple prices climbed above the $0.33000 high intraday on Thursday after finding interim support close to $0.31800 earlier. The crypto is seen to be trading close to $0.32700 at this point in writing and is expected to drag towards $0.30600 in the near term. Bears will be poised to hold prices below the $0.33700 mark to keep the structure intact.
Ripple might have already completed its larger degree corrective decline, which began from the $1.91600 highs earlier. The standard flat corrective drop (3-3-5) terminated at around the $0.28700 lows as marked on the chart here. If the above structure holds well, bulls will be back in control and push through the $0.41000 initial resistance in the near term.
Ripple has also carved a lower degree upswing between $0.28700 and $0.33000 which is being worked upon at the moment. The crypto is expected to find support at around $0.30600 which is the Fibonacci 0.618 retracement of the above rally (not shown on the chart here). Bulls will be poised to be back in control thereafter.
Trading plan:
Potential rally through $0.41000 against $0.28700
Good luck!