Polygon's NFT market shows signs of significantly increased adoption. Apple plans to allow iOS apps from external sources, which could benefit NFT apps. Donald Trump released a collection of fantasy NFTs.
New Project Spotlight
NFT Collectibles
[COMING SOON] "WEN" is inspired by the joy and misery that can potentially be experienced in a not-so-distant metaverse. The artist Felipe Posada's work has previously been commissioned and published by Vogue, Elle, Glamour, and Forbes. This collection drops exclusively on Crypto.com NFT on 19 December 2022.
[COMING SOON] Sergi's "Puppetz – Genesis Collection" represents various highly sought-after personalities in the Puppetz private club, a club for those who dare to live freely. Dropping on 21 December, the collection features 100 NFTs that are ultra-rare, genesis editions from the Puppetz collection.
Blockchain Games
[LIVE] "The Crypto.com Land – The First Frontier" private sale went live on 13 December 2022, with 20,000 land NFTs out of the total supply of 25,000 being sold at breakneck pace. After 48 hours, all the Crypto.com land NFTs were sold. Now, users can go and purchase land in the secondary market in the Crypto.com NFT Marketplace.
[COMING SOON] The sixth batch of the Cronos Ecosystem Grants recipients includes Snook, a multiplayer Snake-like game and Legends of Bezogia, a play-to-earn MMORPG based in the world of Bezogia. Gamers will be able to play both games natively on the Cronos chain.
NFT Metrics
The following table shows select top collections (by weekly sales volume on each platform) and a sample of their art:
Platform
Collection
Sales Volume (USD)
Floor Price
(USD)
Sample
OpenSea
Valhalla
$5,157,000
(+65%)
$1,400
OpenSea
CryptoPunks
$2,677,000
(-39%)
$80,900
Crypto.com NFT
Crypto.com Land – The First Frontier
$1,400,000
(—)
$140
Crypto.com NFT
Loaded Lions
$391,000
(+29%)
$2,000
Minted
VVS Miner Mole
$17,000
(+42%)
$240
Minted
Bored Candy
$15,000
(+19%)
$50
Source:
DappRadar
Gaming Token Performance
The total market cap for gaming tokens now stands at US$5.85 billion, down -1% from last week.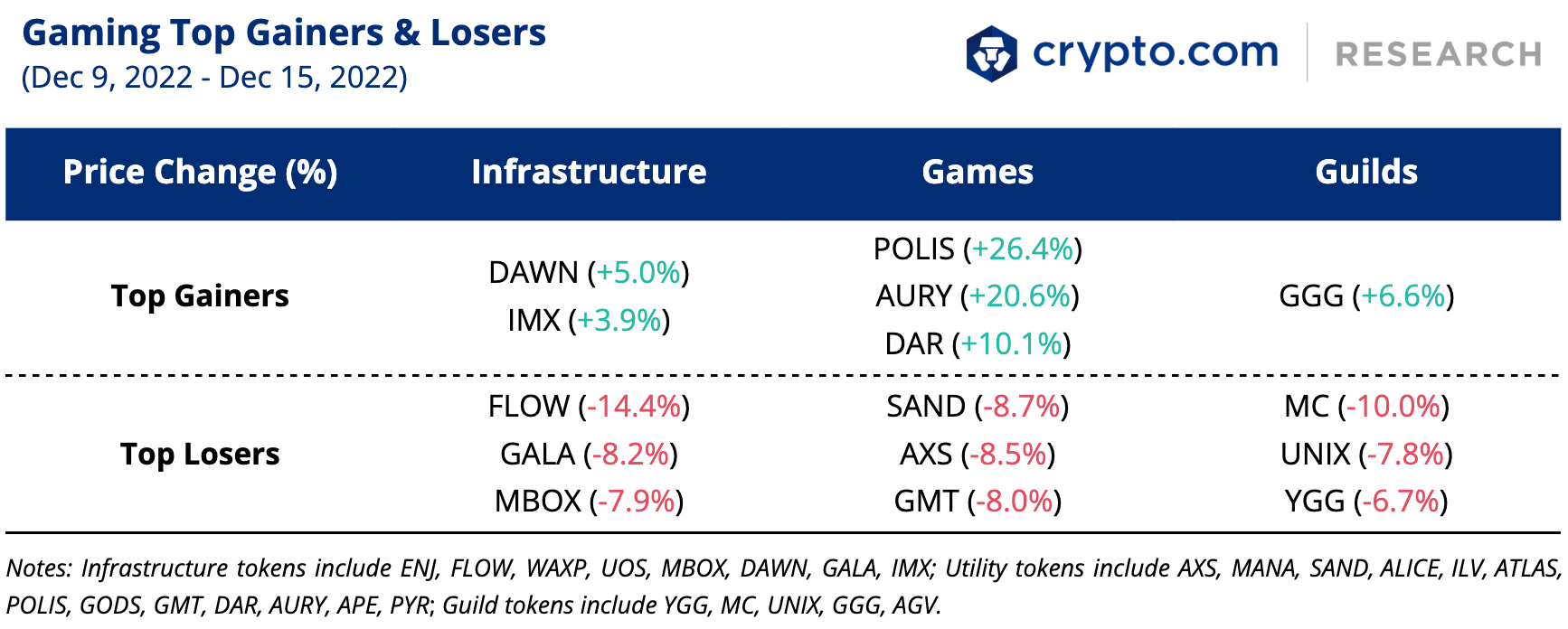 News Highlights
Polygon's NFT market shows signs of significantly increased adoption following collaborations with top companies such as Reddit. Despite crypto winter, the number of daily buyers reached new all-time highs in December, even as NFT ecosystems on other chains such as Ethereum and Solana experienced declines.
Apple plans to allow the installation of iOS apps from external sources. This move could make it easier for developers to build apps around NFTs, benefitting NFT apps that are currently limited by App Store requirements. Currently, the iOS apps for marketplaces like OpenSea only allow users to browse NFTs, where they cannot buy or sell them.
Former U.S. President Donald Trump released a collection of 45,000 fantasy NFTs. The NFTs are minted on Polygon and consist of digital trading cards depicting himself as a superhero, an astronaut, and an Old West sheriff, among other characters.
| | | |
| --- | --- | --- |
| | | |
| Alpha Navigator (November 2022): Risk assets were up in November, with the exception of crypto amid the FTX collapse and contagion. Could potentially slower rate hikes provide some Christmas cheer? | Social Graph and Digital Identity in Web3: Relationships and identities are key elements that make up social networks. In this report, we put a spotlight on the roles that decentralised social graphs and digital identity play in Web3 social. | Decentralised Social Networks: An Overview: Decentralised social networks aim to enable participants to take back ownership of and better monetise their content and data. We explore the project landscape. |
Disclaimer
The information in this report is provided as general market commentary by Crypto.com and its affiliates, and does not constitute any financial, investment, legal, tax, or any other advice. This report is not intended to offer or recommend any access to products and/or services. While we endeavour to publish and maintain accurate information, we do not guarantee the accuracy, completeness, or usefulness of any information in this report nor do we adopt nor endorse, nor are we responsible for, the accuracy or reliability of any information submitted by other parties.
This report is not directed or intended for distribution to, or use by, any person or entity who is a citizen or resident of, or located in a jurisdiction, where such distribution or use would be contrary to applicable law or that would subject Crypto.com and/or its affiliates to any registration or licensing requirement.
The brands and the logos appearing in this report are registered trademarks of their respective owners.
Nothing in this report is intended to suggest that NFTs are investment products, nor securities, nor anything similar or "financial" of any description. NFTs are to be reserved for fun only and NOT with any expectation of "value", "profit", "yield" or "investment". You are also aware that NFTs are not a store of value, are not a generally accepted medium of exchange, and are considered very illiquid and volatile.
---
Authors
Research and Insights Team
---
Get fresh market updates delivered straight to your inbox:
Be the first to hear about new insights: