ccording to market expectations, the transition of Ethereum from Proof-of-work to Proof-of-stake should take place today. Some say that this may lead to the fact that the second cryptocurrency will begin to take market share from BTC.
Famous Bitcoin supporters have criticized the update and urge those who prefer the main cryptocurrency to prepare for war.
Michael Saylor Criticizes "Misinformation" About BTC Energy Uses
MicroStrategy Executive Chairman Michael Saylor argues that bitcoin mining can become a clean, profitable, and modern industry that generates hard currency for remote places in the developing world.
Ahead of Ethereum's transition to proof-of-stake, Saylor spoke out against what he calls "misinformation and propaganda" about the environmental impact surrounding proof-of-work (PoW) BTC mining.
On September 14, he shared a lengthy post on his Twitter account detailing his seven "high-level thoughts" on BTC mining and its impact on the environment.
One of his key arguments was against PoW BTC mining being energy efficient. Instead, Saylor claims it is "the cleanest industrial use of electricity and is improving its energy efficiency at the fastest rate in any major industry."
He backed up his argument with numbers taken from the Global Bitcoin Data Mining Review for the second quarter. The one was published in July by the Bitcoin Mining Council, a group of 45 companies that claim to represent 50.5% of the global network.
Saylor emphasized:
"Our metrics show ~59.5% of energy for bitcoin mining comes from sustainable sources and energy efficiency improved 46% YoY."
An attempt to distract the authorities from the "inconvenient truth"
Saylor's argument comes from the fact that the BTC mining industry has come under a lot of pressure due to its perceived environmental impact. This has even led some US states to take steps to ban cryptocurrency mining.
Saylor claims that the continuous improvement of the network and the "relentless improvement in the semiconductors" make mining much more energy efficient than big tech companies like Google, Netflix or Facebook.
"Approximately $4-5 billion in electricity is used to power & secure a network that is worth $420 billion as of today," Saylor said.
"This makes Bitcoin far less energy intensive than Google, Netflix, or Facebook, and 1-2 orders of magnitude less energy intensive than traditional 20th century industries like airlines, logistics, retail, hospitality, and agriculture."
Saylor also stated that 99.92% of the world's carbon emissions come from industrial uses of energy other than bitcoin mining.
Looking at the numbers, Saylor doesn't think environmentalists' arguments condemning PoW mining are fair.
Rather, in his opinion, this is an attempt to "focus negative attention on Proof-of-Work mining" and distract authorities from the "inconvenient truth that Proof-of-Stake crypto assets are generally unregistered securities trading on unregulated exchanges."
Saylor concludes by saying that all the negativity about PoW mining is detracting from the potential benefits for the world.
"Bitcoin mining can bring a clean, profitable and modern industry that generates hard currency to remote locations in the developing world, connected only via satellite link."
Jack Dorsey Questions Ethereum Merge
Twitter co-founder Jack Dorsey also chose his side in the Bitcoin vs. Ethereum debate. Dorsey, a well-known supporter of the main cryptocurrency, questions the Ethereum merge.
On Twitter, he posted a popular post by another popular Bitcoin maximalist, Scott Sullivan. In the very first line, Sullivan calls Ethereum a shitcoin and asks Bitcoin supporters to prepare for war.
Sullivan believes that after the Ethereum merger, a narrative war will begin between Bitcoin and Ethereum. Sullivan believes that bitcoiners should be prepared to fight back in the event of such a war.
While Sullivan's post is now a month old, Dorsey's timing is definitely surprising.
What is the problem with the Ethereum merge?
The Ethereum merge will change the Ethereum consensus mechanism from Proof-of-work to Proof-of-stake. Proof-of-Work, which is the consensus mechanism used by the top cryptocurrency, is considered to be extremely energy intensive. A recent White House report went so far as to consider a total ban on BTC mining.
The Proof-of-stake model reduces PoW power consumption by 99%. However, Dorsey and Sullivan have serious questions about this model. Sullivan believes that PoS is based on the principle of disincentives. PoS cuts staked funds from validators in case of dishonest behavior.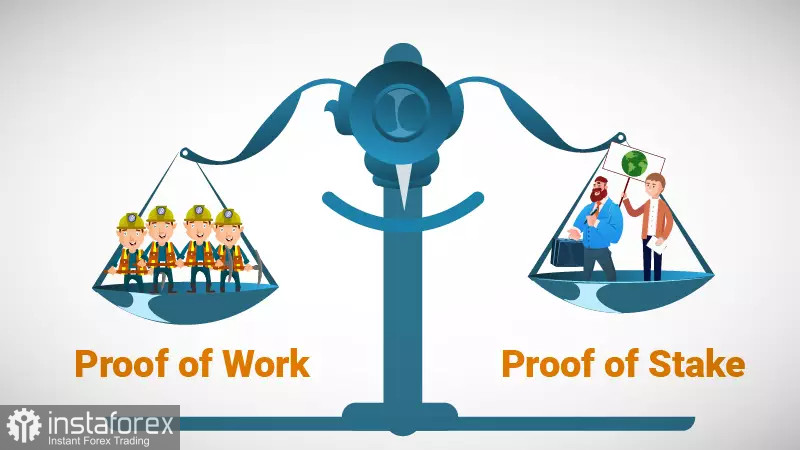 He also has claims that PoS is a permissionless system without rules that relies on subjective truth. He also believes that in PoS, money is power and the threat of centralization is a real problem. Sullivan and Dorsey point to OFAC's censorship of Tornado Cash as one such example.
On the other hand, they believe that a PoW system is the answer that solves PoS problems. Dorsey is at odds with several influential figures because he believes Proof-of-work is the only correct system.
Right now, Bitcoin dominance is at its lowest level in a very long time. Ethereum supporters believe that the second cryptocurrency has the potential to bypass Bitcoin after the merge. Dorsey's comments indicate that there is likely to be a major redistribution of power between the two largest cryptocurrencies.
Earn on cryptocurrency rate changes with InstaForex
Download MetaTrader 4 and open your first trade
Relevance up to 08:00 2022-09-18 UTC+2 Company does not offer investment advice and the analysis performed does not guarantee results. The market analysis posted here is meant to increase your awareness, but not to give instructions to make a trade.