Crypto Industry News:
Iran's Ministry of Industry, Mines and Trade has approved the use of cryptocurrencies for imports amid ongoing international trade sanctions.
According to local press reports, Trade Minister Reza Fatemi Amin has confirmed that detailed regulations have been approved specifying the use of cryptocurrencies in trading and the supply of fuel and electricity to cryptocurrency miners in the country.
Amin unveiled the rule change at an auto industry show on Sunday, just a week after the country placed its first-ever $ 10 million vehicle import order using cryptocurrency as a payment method. The Iranian ministry of commerce previously indicated that the use of cryptocurrencies and smart contracts would be widely used in foreign trade until September 2022.
After allowing cryptocurrency-financed imports, the Iranian import association has called for clear regulatory parameters to ensure local businesses and importers are not paralyzed by changing directives.
The minister noted that the new regulations define all issues related to cryptocurrencies, including the licensing process and the supply of fuels and energy to cryptocurrency excavator operators in the country.
Understandably, local companies will be able to import vehicles into Iran and a range of different imported goods using cryptocurrencies instead of paying in US dollars or euros.
International trade sanctions against Iran were largely driven by opposition to its nuclear program, which essentially cut the country off from the global banking system.
Technical Market Outlook:
The BTC/USD pair had tested the level of $19,546 and it looks like a Double Bottom price pattern of the H4 time frame chart. Currently, the market is consolidating in a narrow zone and only a clear and sustained breakout below this level might extend the drop towards the next target for bears that is seen at the level of $18,940 (technical support from July 13th) and $18,640 (technical support from July 1st). The momentum remains weak and negative, however, there is a bullish divergence seen on the H4 time frame chart between the price action (last low) and momentum. The larger time frame trend (daily and weekly) remains down until further notice.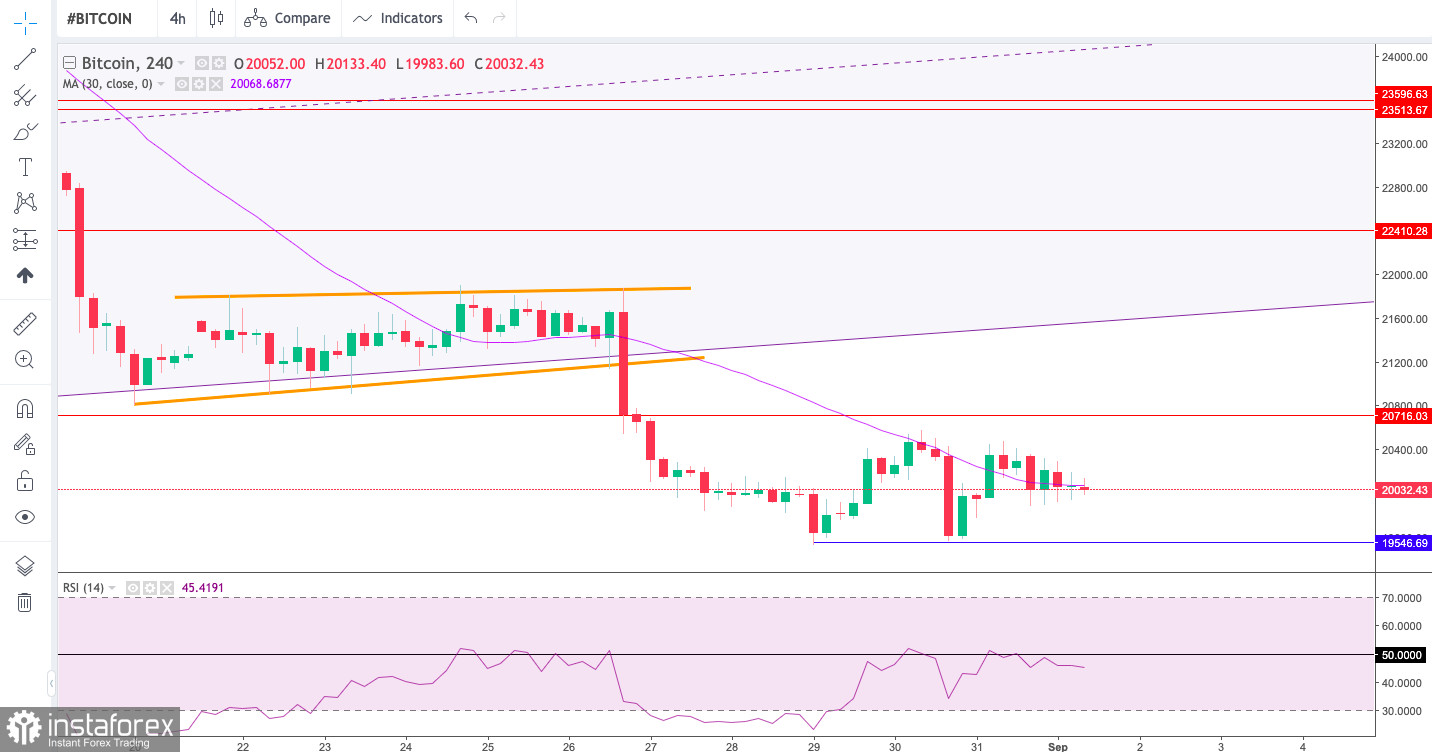 Weekly Pivot Points:
WR3 - $20,566
WR2 - $20,144
WR1 - $19,963
Weekly Pivot - $19,722
WS1 - $19,540
WS2 - $19,300
WS3 - $18,878
Trading Outlook:
The down trend on the H4, Daily and Weekly time frames continues without any indication of a trend termination or reversal. So far every bounce and attempt to rally is being used to sell Bitcoin for a better price by the market participants, so the bearish pressure is still high. The key long term technical support at the psychological level of $20,000 had been violated, the new swing low was made at $17,600 and if this level is violated, then the next long-term target for bulls is seen at $13,712. On the other hand, the gamechanging level for bulls is located at $25,367 and it must be clearly violated for a valid breakout.
Relevance up to 08:00 2022-09-02 UTC+2 Company does not offer investment advice and the analysis performed does not guarantee results. The market analysis posted here is meant to increase your awareness, but not to give instructions to make a trade.