Terraform Labs introduces a revolutionary stablecoin liquidity pool. Wave Financial launches a new $100M liquidity fund on ADA. Single Finance's Cronos dApp goes live.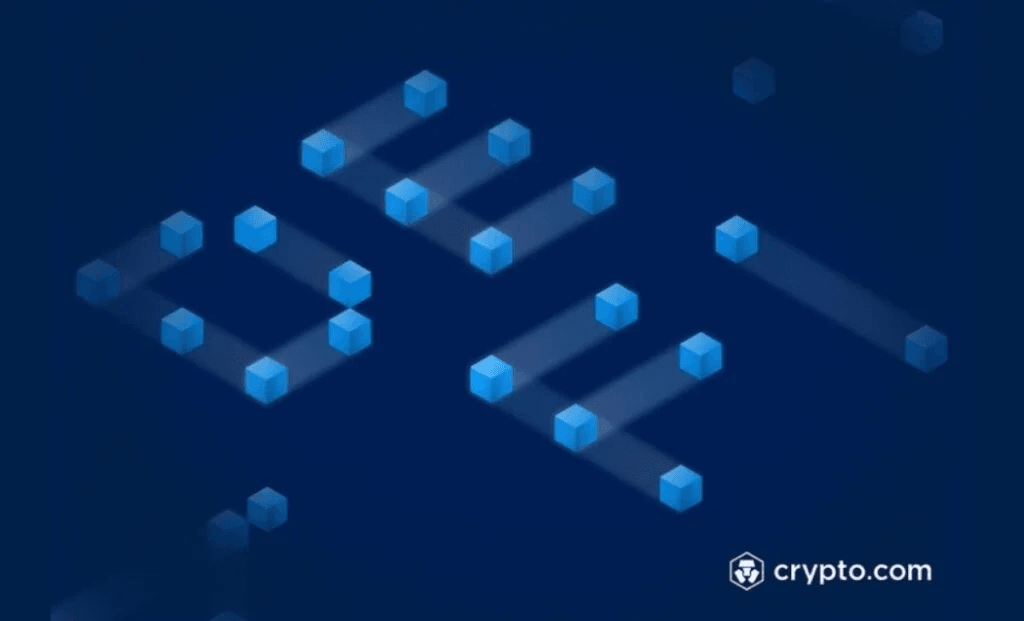 Key Takeaways
Do Kwon, CEO and founder of Terraform Labs, announced the launch of a revolutionary liquidity pool with major stablecoins UST, USDT, USDC, and FRAX.
Wave Financial is launching a US$100 million fund to offer liquidity for new DeFi platforms built on Cardano (ADA) ecosystem.
6S Capital, a commercial lender powered by MakerDAO (MKR), closed a real estate financing deal worth US$7.8 million for Tesla, the world's leading electric vehicle company. Since March 2022, MakerDAO has been embracing real-world assets (RWAs) by integrating with under-collateralised lending protocols.
Single Finance (SINGLE), the first DeFi protocol offering USD-based capital-protecting strategies for leveraged yield farmers built on Cronos chain, has officially gone live with its dApp.
This week's price, volume, and volatility indices were all positive at +17.52%, +82.55%, and +106.92%, respectively.
Highlights
Top Token Metrics
| | | |
| --- | --- | --- |
| Metrics | Top 20 DeFi tokens market cap | Top 100 DeFi tokens market cap |
| Current | $110.6B | $140.98B |
| 7-Day Change | +11.73% | +11.72% |
| 14-Day Change | +19.28% | +21.65% |
*Top DeFi tokens based on CoinGecko
Source:
CoinGecko
DeFi Index Tokens
Metrics
Price
Volume
Volatility
Top Gainers
FXS (+99.42%)
AAVE (+48.80%)
JOE (+42.89%)
FXS (+694.82%)
AAVE (+240.63%)
COMP (+222.87%)
FXS (+364.18%)
ANC (+318.18%)
YFI (+294.64%)
Top Losers
–
SPELL (-12.32%)
LDO (-0.07%)
SPELL (-39.24%)
LDO (-11.80%)
LINK (-6.74%)
Benchmark
ETH (+9.86%)
ETH (+28.81%)
ETH (+136.16%)
*DeFI index tokens: AAVE, ANC, BAL, CAKE, COMP, CRV, CVX, FXS, JOE, LDO, LINK, MKR, OSMO, REN, SNX, SPELL, SUSHI, UNI, VVS, YFI
Notable Events
DEX Metrics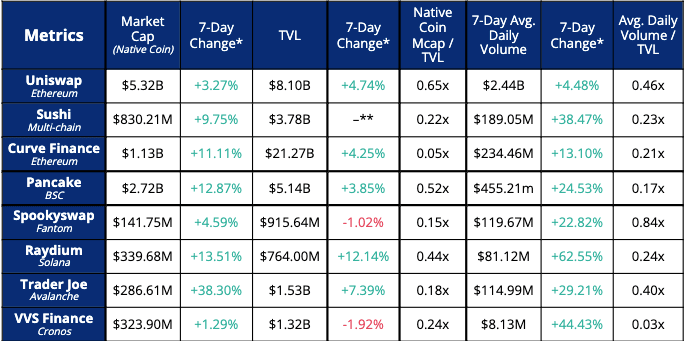 Notable Events
Source: Crypto.com