Relevance up to 14:00 2022-06-10 UTC+2 Company does not offer investment advice and the analysis performed does not guarantee results. The market analysis posted here is meant to increase your awareness, but not to give instructions to make a trade.


Crypto Industry News:
While New York State is pushing through a bill that will ban Proof of Work mining, members of the crypto community are voicing their opposition via social media.
Jake Chervinsky, head of policy at the Blockchain Association, explained in a Twitter thread that the move would not "reduce carbon emissions" at all. According to Chervinsky, the mining ban will force New York miners to operate elsewhere where the state has no control over them.
Chervinsky hopes New York Governor Kathy Hochul will veto the bill "for the sake of New York." The lawyer noted that the move sends a message that "crypto is not in a welcome state". Chervinsky added that if the law was implemented, it would be a political mistake on the part of the world's financial capital.
In addition to Chervinsky, this was opposed by US Senatorial candidate Bruce Fenton. In a tweet, he said governments have no right to control the specific software that citizens use. He noted that "code is speech," implying that the ban is a movement against freedom of speech.
Ethereum founder Vitalik Buterin also agreed with Fenton. Sharing his thoughts on the subject, Buterin said the government should not decide which uses are "okay" for electricity. He suggested introducing carbon prices.
On June 3, a bill to ban mining was approved by the New York State Senate. After approval by the governor, the law will ban mining in the state and make it difficult to renew previously issued cryptocurrency mining permits.
Technical Market Outlook:
The range bounded trading conditions are still being developed on the BTC/USD pair, full of fake-outs and blow-outs and false movements. The market participants has still not decided whether the down trend should be continued or terminated and keep trading in a narrow range between the levels of $32,892 - $28,741. The first indication of the deeper correction would be a clear breakout above the range high located at the level of $32,892, however all the current attempts to rally are being faded and the Pin Bar candlesticks inside the range zone are present already.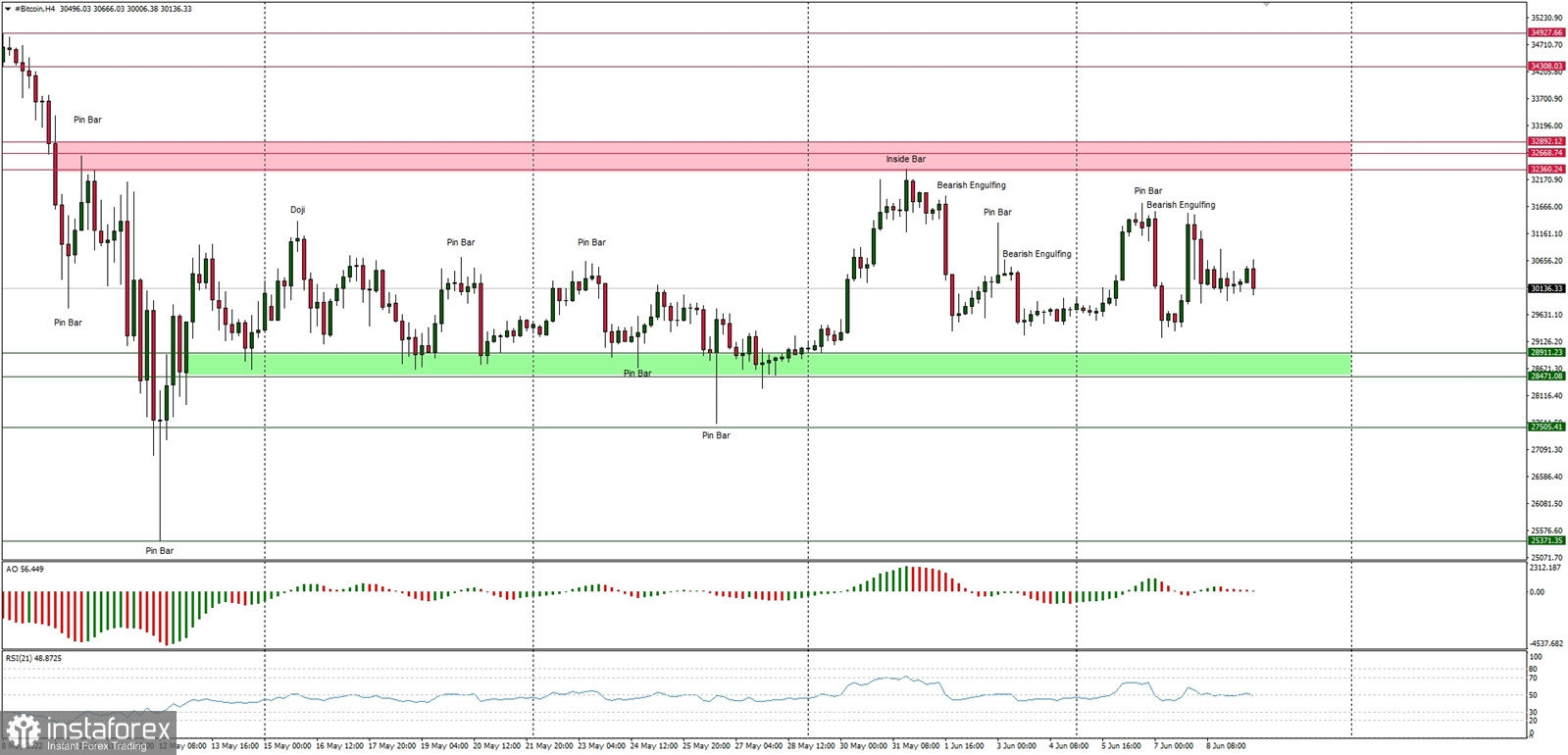 Weekly Pivot Points:
WR3 - $34,666
WR2 - $33,580
WR1 - $31,452
Weekly Pivot - $30,233
WS1 - $28,222
WS2 - $27,019
WS3 - $24,877
Trading Outlook:
The down trend on the H4, Daily and Weekly time frames continues. So far every bounce and attempt to rally is being used to sell Bitcoin for a better price by the market participants, so the bearish pressure is still high. The key long term technical support is seen at the round psychological level of $20,000.